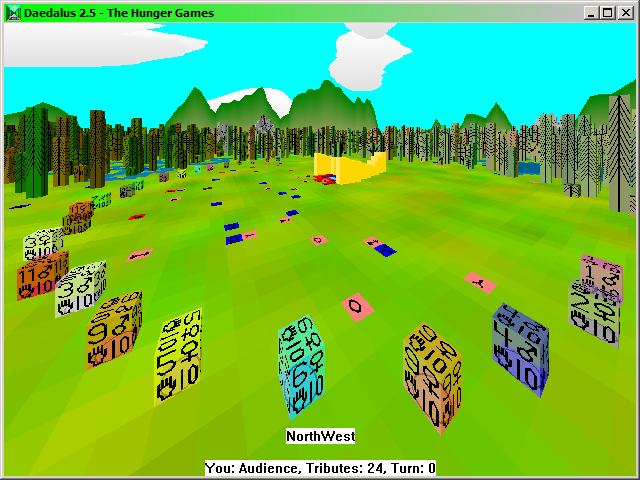 The new version 2.5 of The Hunger Games Simulation is downloadable here, and features the following additions over the previous version 2.4 that was released in March:
New Arenas:

In addition to Forest like before, you can also play in Mountain, Desert, Plains, Swamp, and Maze arenas. Choose your arena type and size, or have them randomly chosen for you. In additon to trees like before, you can also encounter rivers, lakes, hills, and meadows in whatever arena.

New Actions:

Climb trees, cliffs, and walls (and potentially fall from them), chop down trees with axes, wade or swim in water (and potentially drown in it), catch fish in water, and track tributes and mutts by following their footprints/pawprints.

New Items:

Nets can be used to entangle other tributes. Picks can be used to chisel away cliffs or dig up items, including the landmines around the starting platforms, which can be reset to lay explosive traps for your opponents.

New Enemies:

In addition to the other tributes also trying to win the Hunger Games, aggressive "muttation" monsters are roaming the arena.