Hey all! Long time no see!
Lots has happened since i last posted news on here, so i'll just start by saying:

GAME HAS BEEN RELEASED AS EARLY ACCESS ON ITCH.IO !:D
Here are some of the many new screenshots: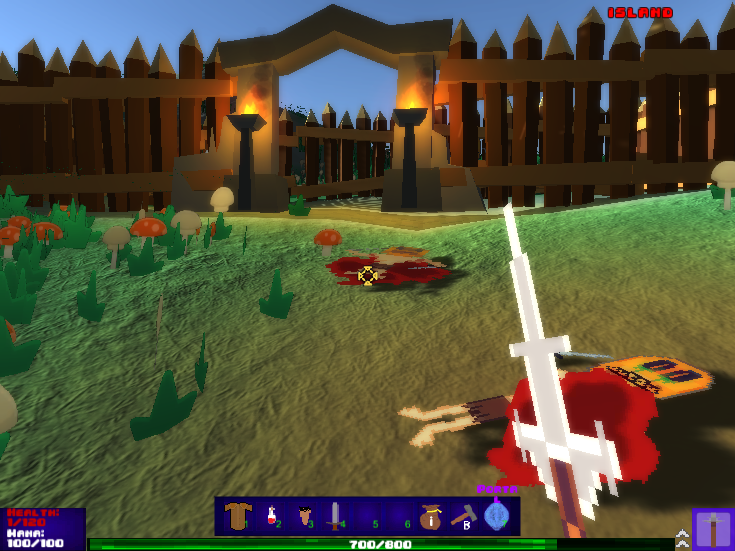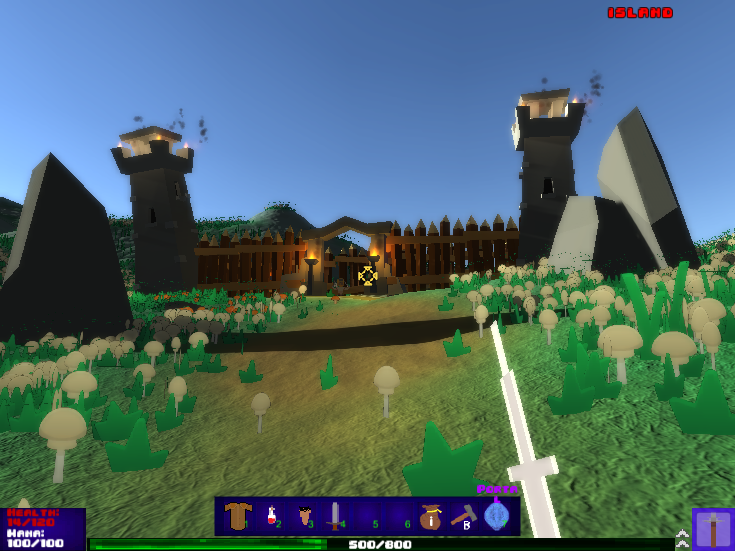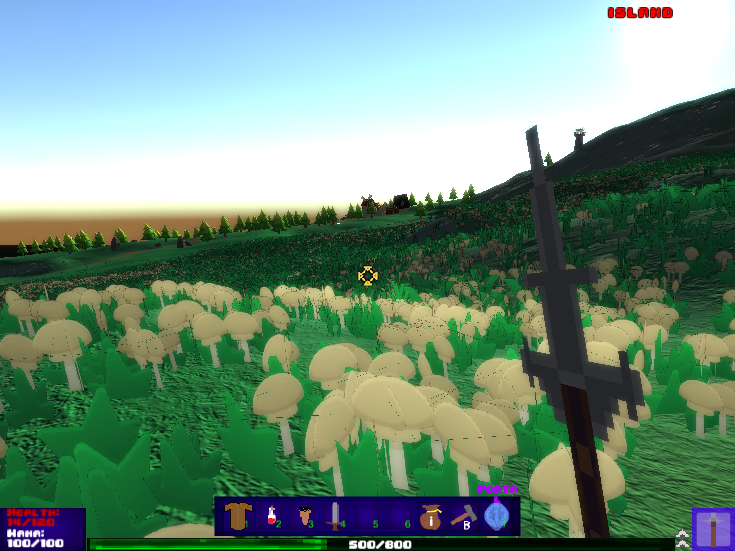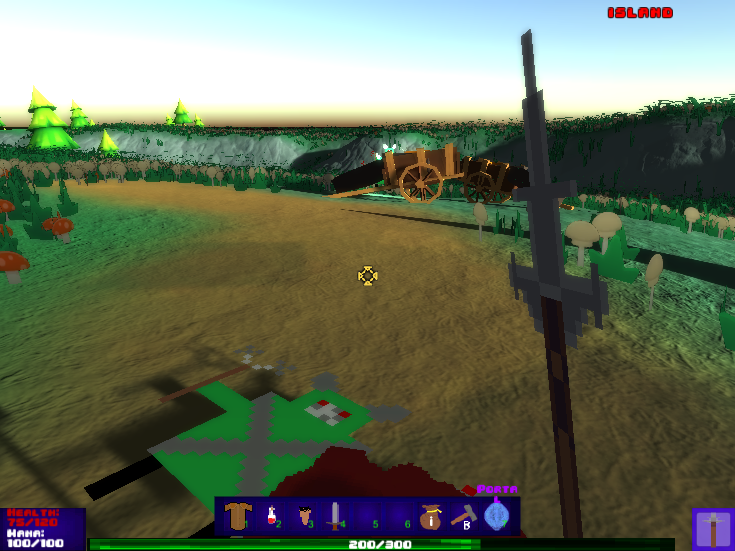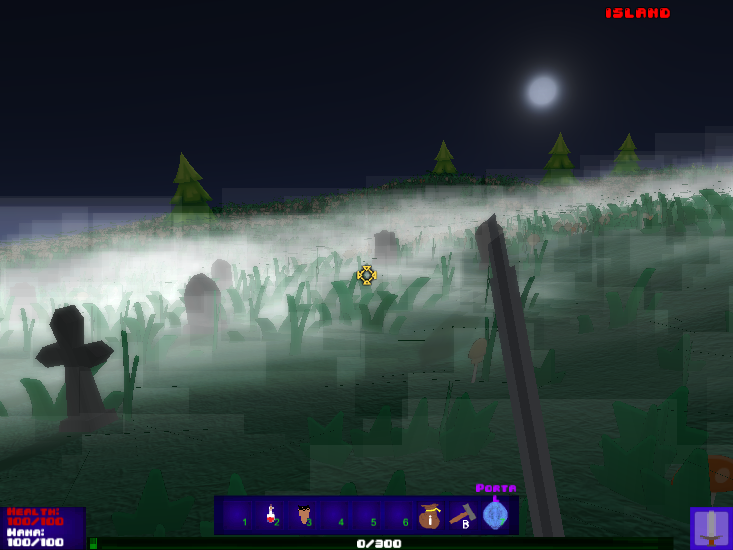 Since i released it there ive gotten several very usefull input from the few players who dared buy it!
New features include:
The island - An island has gotten its own portal in your village. (Think of it as a huge island level, with loot and enemies. ) (still WIP)
Monsters now leave corpses
NPCs have been added to your village, random names (and modable!) and appearances!
Animal pens for your villages
GAME HAS REACHED 101 UNIQUE ITEMS!
And much much more..

Heres a complete rundown of changes since last!:

UPDATES:

22nd March 2017: V0.9A:

* FEATURE: NPCs talk! Sort of. Press E to talk to them. There are currently 5 different things they "say" when you talk to them. Randomly selected each time ofc.
* ADDED: Captain Smash, a NPC whose armor can also be found in the game, now stands guard near the spawnvillage on the island.
* TWEAK: Adjusted colliders on cow/pig enclosures, so now they hopefully cant escape! (muhahaha)
* BUGFIX: NPC's had some issues with arms & heads clipping and generally doing weird stuff. They don't any more:)
* BUGFIX: UI now works on the island.
* BUGFIX: Jumping can no longer be used to fly . Sorry:(
* TEMP BUGFIX: Main menu button, messed with the saves. The buttons has temporarily been removed, until the save system has been looked over.

17th March 2017: V0.9 !


* HEALTH BARS! All enemies now have healthbars that appear when you get close to them. Making it a bit easier to determine how powerful and enemy you're up against.
* BLOCKING!!! Attacks can now be blocked (if you time your blocks..) by right clicking ! which will temporarily decrease your damage taken by 2/3 if you time it right.
An icon appearing on the UI shows you when you are blocking. It might look like you can attack while blocking, but YOU CAN'T Deal damage while you do.
* JUMPING! Yes, you read it! You can now jump using the spacebar
* THE ISLAND ! Players can now take a new portal from their village, to...well a Very large island, with villages aswell as enemies and places to explore.
Enemies here are harder than in the void portal, and they can see you from further away.
Look for the portal in your village:)
* TONS of new items added! Game now has 101 unique items!
* Buildables now have different icons depending on type in buildmenu.
* Added a lil' thank you in menu to those doing early access!:)

2nd March 2017: V0.8A!:

Added lvl 18!
Added 3 new weapons - All of them 1H spears! Steel Spear, Guards Spear & Golden Spear.
Added 1 new wearable: The metal mask! 8% Protection + 25% Fire protection
Added the 3 NPC faces to faces to choose for your player. Making the total of available faces for player 19!
Added 2 more buildables: Tiny House, and Brazier Light
BUGFIX: Buildings should no longer be able to build on top of each other.

28th Febuary 2017: V0.8 !:

* VENDOR! A vendor, named Mr. Mox can be built in town, allowing you to purchase 16 randomly selected objects.
The 10 objects will change each time you come back to your village. HE DOES NOT SELL ARMOR THO, Buuhuuu.:(
* PIGS AND COWS! You can now build a cow or pig enclosure in your village.
* Portal skill does no longer work in town.
* Saving has been tinkered with so game saves when you step INTO the portal, and again a couple seconds after you've portaled back.
* Building Icons, are temporarily set to same icon. Read texts on buttons to know what is what.
* Reduced Size of NPC names
* Added Alot of new names, 3 new Faces, and 2 new bodies for NPC's
* BUGFIX: The deathfields that make the player die when he falls off the level has been killing players at random, when entering a level. I've added a 5 second delay, to prevent them from triggering before the player has been moved to the level start.

23rd Febuary 2017: V0.7F:

* Level names now appear on UI - top right corner
* EXP bar has been moved to bottom of UI, instead of the top of the screen.
* Lvl 17 Has been added!
* Monne now appears in the later levels also, instead of only the first couple ones.
* Revamped the buildmenu. Changed window position to bottom of screen, and buttons now shot price and name of object.
* Enemies now all have corpses. (Except devil. He vanishes. Cause.. hes the devil.)

22nd Febuary 2017: V0.7E:

* New RANGED enemy! Flower, that shoots magic.
* New MAGIC IMMUNE enemy! Ralph Monne is his name, is a mob that only believes in science and biology, so magic wont work on him! and he plays the harmonica!
* Added some buttons to UI and hotbar, to remind you of some of the keys.
* Added visual aid on lootmachine, to show if you've won or lost. Happy smiley for a win, angry smiley for a loss.
* Purplar, Hotdawger, Squildar & Ralph Monne mobs now leave corpses. The rest will have them in the next update!
*BUGFIX : Lighting was f'ed in lvl 14. Its been fixed.
*BUGFIX : Sounds for lootmachine wheren't playing. They are now.

20th Febuary 2017: V0.7D:


* I have chosen to force the game to windowed at 1024x768 for the time being. Only temporary tho.
* BUG FIXED: LVL 14 Had no end portal, making it impossible to progress. Portal has been added
*BUG FIXED: Portal into dungeon was broken after loading a save. It should now work normally again.
*BUG FIXED: Main Menu button in pause menu, apparently didn't work. It works now.

16th Febuary 2017: V0.7C:

NPCs now have names, and are randomised in their appearence. The names are all in a .txt file in your saves folder, so you can add your own!:)
LOOT MACHINE! A machine can now be built in town, where you pay 50 gold to take a chance and win random loot. :)

15th Febuary 2017: V0.7B

BASIC NPC'S! Building a house in village, gets you a npc that walks around.
2 New Levels! Making it a total of 16 levels!
Removed the return portal from village. Making it a harder decision to portal home, since it will make you have go again from level 1.
BUGFIX: There was a bug with the loading of your built buildings, so they were in the wrong places. It is now fixed.
BUGFIX: The portal home button was gone somehow. Don't know why, but its been returned!