Alright, so this has been in development for a couple months now and we're only just now making the ModDB page public now that we've got some stuff to show off.
Which probably means I should actually explain what this is.
We're a group of students studying Game Art at TAFE in South Australia. Each year, the second year class usually presents something at Adelaide's largest anime and gaming convention, Av-Con, in the Indie Games Room, which is run by Ben Kilsby, an ex-Game art student and CEO of Holopoint Interactive. This year, the focus for us is very much to show off our skills as artists. Where previous years have created mods in various engines, we are making a large scale capture the flag map for UT3, from scratch.
Our concept is The Hive. Basically, in the not-too-distant future, an industrial mining faction has dug deep into the earth and discovered a large cave structure filled with gigantic, mutant insects. They are attacked by the insects, but manage to overcome them. News of this discovery reaches other parts of the world and a huge corporation (think Umbrella Corporation from RE) begins to make its way to the hive in the name of scientific research. Eventually conflict between the two factions breaks out and that's where the player comes in.
Not the most deep or elaborate plot, we know. But that comes back to the fact we're game artists. Not designers or programmers. We chose this theme because it is a good way to show off a variation of skills. We have the industrial (nicknamed Dirty's) part of the map, the central hive area and the corporation's (nicknamed Clean's) side. Before we began to develop anything, we decided to split these up into separate modules and work at one at a time.
Development is fairly on schedule, we have recently wrapped up the Clean section and have begun work on the Hive area. This picture shows a few concepts for dead insects that Tom and Craig have come up with.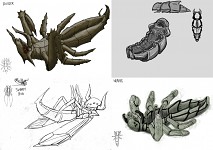 So yeah, that last paragraph was really all this news post was about, but the rest was necessary to know what I was talking about. We'll continue to update this as development progresses. As I mentioned earlier, this is being created for Av-Con, which is usually around July 20-somethingth. Our deadline will be a little before that to allow time for any screw ups etc.