A quick teaser of things to come, the Shivans make their first appearance in 'Freespace: Evolution' - and they're as deadly as ever...
The mod has been making good progress lately with lots of ships finally getting playable. Of course the Shivan ships have retained their evil look and leave quite an impression when encountered in battle. Agile fighters, strong beam cannons and a seemingly endless stream of reinforcements make them a deadly enemy not to be underestimated. Their dark and menacing ships blend in surprisingly well with the environment - don't be surprised, if a few ships manage to get to your rear virtually unnoticed.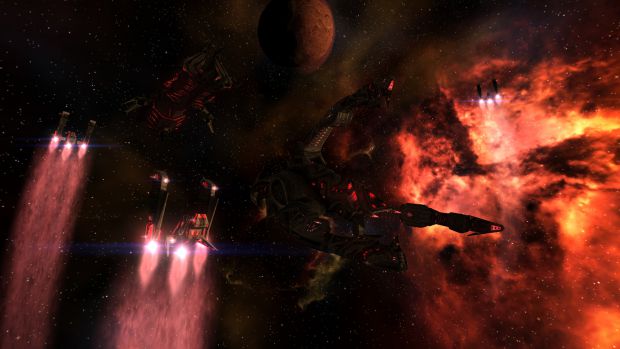 The hi-poly Cain model isn't currently part of the Freespace Upgrade Project's mediavps (my main source of models and textures), but was kindly provided by hard-light.net forum member c914. It's still a work-in-progress for FS2 use, but certainly good enough to make it into this mod, as the base model and textures are practically finished. It's several orders of magnitude more detailed than the old Cain, so I'm really thankful for being allowed to use the model. Thanks, c914!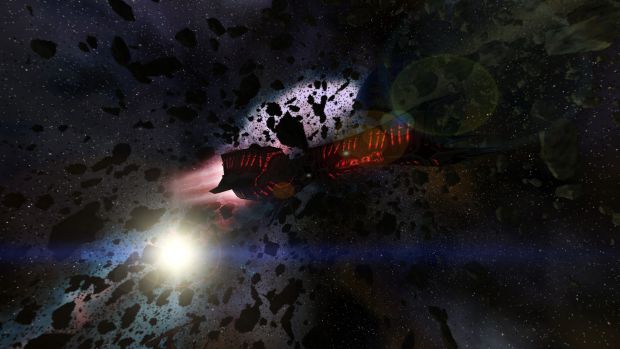 A short explanation why I chose to add engine trails to fighters and cruisers might be necessary here, since those aren't really canon to the Freespace games. The most important reason is playability: in Freespace you're very close to the action, but in Nexus you'll usually look at the scene from a much greater distance to be able to keep track of everything happening on the battlefield at once. Fighters and bombers won't be any bigger than a single pixel on your screen from such a distance. Considering the background "noise" like stars and nebulas and you can image those small craft getting practically invisible to the player. Adding engine trails really helps a lot to spot fighters and visualize their movement direction, improves your battlefield-awareness and thus helps the gameplay immensely... and it even looks pretty cool in motion, too! ;)
So that's it for today. If you've got any suggestions or questions regarding the mod or future news updates, feel free to speak your mind!