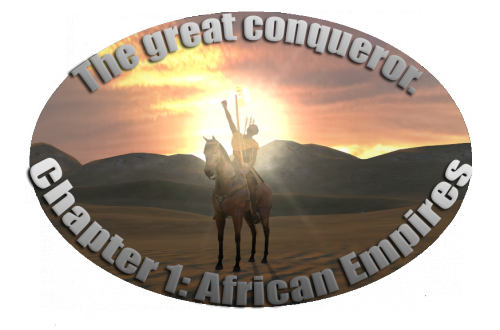 The great conqueror. Chapter 1: African Empires
ABOUT DEVELOPING AND OUR PLANS
The idea of creating of this module originated in 2009. "The Great Conqueror" is a modification about the struggle for power between the great empires and the young nations at the end of the XVIth century.
The mod's main idea is a historical demonstraatoin of the wars and warriors of the XVIth century. That was the age when medieval knights, musketeers and the naked savages were able to fight in one battle. Map will be enlarged in the next versions of the module and will make it possible to player to visit Europe, Southern, Central and Eastern Asia and America. The autor of the module wants t show those parts of his creation: Chapter 1: African empires - Africa, Chapter 2: Domination in Europe - Europe, Chapter 3: New World - America, Chapter 4: Allah Wariors - Central Asia, Chapter 5: Great Dragon - Eastern Asia (Far East), Chapter 6: Lord of the South-east - South-East Asia.
This topic shows you the first part of the module, called "Chapter 1: African empires". It takes place in 1582 and demonstrates you African countries.

Our plans about the first part of the mod:
- Change menus
- Sea battles scenes
- Change the scenes of cities, villages and castles
- Battle formations
- 21 new factions:
Benin Kingdom
Ephiopia Kingdom
Genuia
Kitara
Kongo kingdom
Luba
Lunda
Malta
Modena
Otoman Empine
Papa
Savoia
Songai Empine
Spain kingodom
Sultanate Bornu
Sultanate Morocco
Sultanate Sennar
Toscana
Veneto
Merina
Mutapa
(New items will be added to that list)