Phew, it's taken a long time to get this far, what with how busy we've been on Steam this year! However, there is good news. The game is now playable beginning-to-end, and we've been able to start letting players in for alpha-testing. So, are you ready to run this school?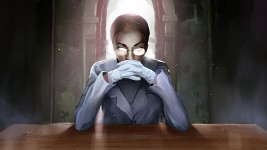 As you can see, we've even started getting the event art in. That's not finished yet, more art will keep being added for the next couple of months while the game is in testing. After all, the romance paths need some pretty images for their payoff!
Currently, alpha test access is limited to registered members of the Hanako Games forums. Players who buy into the test version receive a license key which can be used to update the game as new patches are released. These updates include new graphics and even new case types as we keep writing them.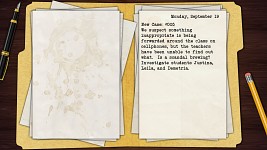 Even if the art were complete, I'd still want to keep this game in testing for a couple of months to chase the bugs, because we're doing a lot of things that haven't been done before and the underlying framework is a little complicated. It deserves a good solid thumping.
Each case has many possible variations that look quite similar to each other at first, forcing you to use your minions' investigative skills to find out what sort of problem you are really being faced with. And beyond that, the stats of the targets vary, and your attempts to use skills against them may or may not work on any given attempt, and there are all sorts of different actions you might try, including some that look useless at first but might turn out to have surprising consequences... that's a lot of possibilities to look at.
To cut down on save-scumming, the game only allows saving at the start of each week. You can't spend a day interrogating Helen, discover that she's innocent, and then reload that same day and spend it investigating someone else instead. Finding out who to focus on is part of the mystery process!
Not being able to save when you choose does open up other risks, of course, which is why the game autosaves at the start of each new week.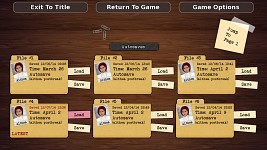 So if you've forgotten to save for a while and suddenly have to exit, fear not, you won't lose too much progress.
That's about it for now! If you're interested in taking part in the alpha-testing and reporting bugs for us, then sign into the forums and look for the Black Closet section (it's hidden unless you're signed in). Otherwise, stay tuned and we'll update when the game moves along to the next stage of release!