Sanko's galaxy is an interesting one, first of all if you live in this galaxy your family name is your only name, if necessary you are given a nickname but that is rare as most are happy with living by their family name. This is so because a new cyborg comes alive as your offspring only just before the father and mother die. Also when cyborgs marry they inter-connect several circuits which means that they both die at the same time, no matter how far away form each other they are. Those are the rules the galaxy goes by. Officially anyway.
There are 7 planets in this wonderful place, 4 of them are controlled by a single government whereas the other 3 are independent. Sanko originates from one of the three independent ones, his family of course comes from them too. Centuries ago, one of his ancestors... Sanko, whom was known for being a very capable man, was asked to help out with the protection of one of the fore-most important and notably powerful government officials for it was believed that an assassination was about to happen.
Sanko proved to be useful to an extreme degree, not only did he save the official, he also found a group of people that had plans for starting a rebellion. Needless to say, the government was pleased and for the next generations, the Sanko Family was given a slightly above average salary and a job that kept your adrenaline pumping.
Trivia continues - The Creator
There is a machine in this galaxy left by who nobody knows. As you may imagine if a family can have a maximum of 2 off-springs, rarely 3, at some point a new seed is required, a machine codenamed The Creator looks after this, and makes sure there is balance within the population of the galaxy, when in need, The Creator creates a brand new pair of cyborgs and gives them the name of their lineage. The first pair, is destined to remain with each other for their entire life span, their life is also longer by a quarter of that of a normal cyborg. The first pair is often referred to as "Roots"
Born into the Sanko Family as the 17th offspring of his "Roots", accordingly to a contract signed by his father, Sanko was taken in by the government at the age of 168 byte-cycles (3 weeks). Since then he was trained, and prepared to serve as an elite agent for the government. He has been through a lot since then, taking missions like a champ, however interesting thing about cyborgs... unlike to genes in humans, majority of their personality comes from the circuits of their lineage, it's like a gold thread of their system that cannot by bypassed. And every action you make is recorded within this gold thread flowing within your being. Hence it is no wonder the main character keeps a cool head in any situation similarly to his ancestors. Sanko is now 78 mega-cycles and 888 cycles old (27 years in earthly values. One mega cycle represents 1000 cycles)
As the main overview says, Sanko recently found out about the corruptions of his employer. He knows the government is too powerful for him to do anything hence the decision was made to take no action besides giving in his resignation and leaving for the journey home. I guess the "home - sweet - home" saying is stronger then the biceps of a builder megatriomes robot after all eh?
Now Sanko, a cyborg who is tired of doing the dirty work for the government, wishes to see his home once more, however as you may imagine it won't be easy. Especially not when he is more then he realizes he is.
This is going to be a fairly quick game project I need it finished by the mid June if not sooner so I will be squeezing the most of the juice inside my glass jar here. When the game is finished I am tempted to give selling it a go, although I may simply give it out to the community for free, the way stuff should be... then again nothing is free.
The first fully textured and prepared asset should give you a rough idea of what the graphical style of the game is turning out to be: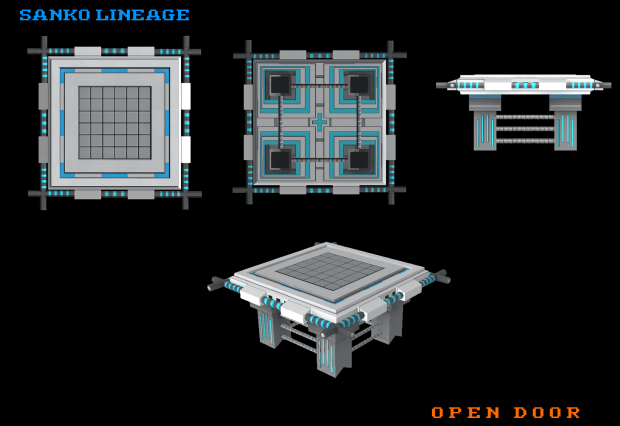 I strive to get an old school cyber-punk feel here, as I go on I will probably get a better hang of implementing such style within my models and textures.
I hope you had a good read and if you wish to suggest an improvement, or simply want to know something more let me know, also if you are willing to try and prove me wrong on anything i had mentioned above let me know too.
Let the convo begins lads&ladies!PS. Animation developer video coming up next!