Hello everyone!
Welcome to the Civics Expanded mod's first dev diary. In this dev diary, we will be talking about the future of the mod.
I do have a grand idea of the mod's future, but that won't happen yet. Right now, I must focus on civics purely, until there are a decent amount for normal, machine, hive and corporate empires. After that is when things will begin to change. Of course, I will reveal some of the ideas I have for the future. Note that the numbers in the pictures are not final.
---
Policies
Policies are quite a major part of governance, apart from ethics and civics, but I thought that there aren't really that many different policies and options at the start of the game, at least, since many can be unlocked with technology. So, naturally, I plan on expanding them.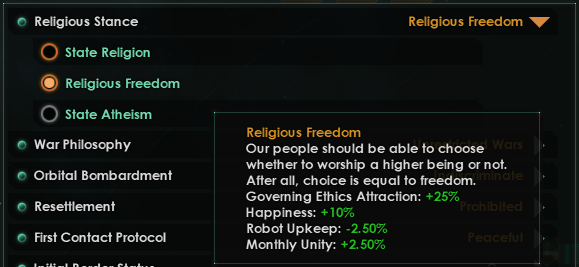 One of the new policies is about the national religion (or, irreligion). As you can see, one can remain neutral, and receive fairly strong, and small bonuses. However, the other options provide larger bonuses, in exchange for some small penalties.
---
Edicts
I always felt that edicts really contribute to the mid to late game, with access to a variety of them, some from events, technology or traditions. But, again, at game start, there isn't a large variety that can be chosen, and some that are viewable, require strategic resources that the player doesn't have access to yet. So, I figured implementing some new ones will do some good.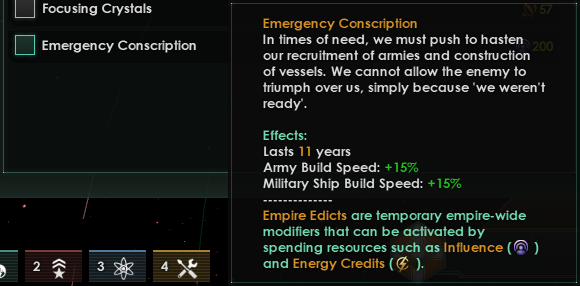 I never did understand why there never was an 'emergency measures' edict or something, in desperate times. Finally, a way to (possibly) win a war you're losing!
---
Authorities
Now, when adding a new authority into the game, one needs to think about the large amount of things that need to be implemented alongside the basic authority. For example, the corporate authority changes many things in the game, mainly the ability to construct Branch Offices. But when adding a more basic one, such as the ones in the base game, like imperial, less work needs to be done.
Since adding a new, major authority with large changes takes more time and effort, I cannot yet reveal much. However, in the meantime, new, more basic authorities could be added.

---
That's it for this week's dev diary! These will be bi-weekly, so the next one will be out in another two weeks.