Welcome all.
After the big effort of pushing out 1.8(.2) and M4-78EP it was time for a break from KOTOR2. We were all a bit sick of working at it, so that would be for the best for all involved. We did of course still listen to feedback on bugs and things wrong with TSLRCM or M4-78EP. The break took a bit longer than anticipated due to the Old Republic, but for me primarily, beta-testing Expeditions: Conquistador. Of course now the game is out on Steam, GOG and Desura, so that gives me time to return back to these mods.
I hope Expeditions: Conquistador has become a lot less buggy thanks to me testing ;). It's a turn-based combat RPG, which I think would interest many KOTOR2 players because of it's deep dialogue and that what you say will have an effect, so you have to think before you act. I would definitely suggest everyone to try it out. I wouldn't have spend so much time on it if I didn't think it was worthy, like the TSRLCM project :).
Back to my own mod/game.
Here's a list of priorities so you expect a bit what to see her in the coming few months. I have no release date to give for either TSLRCM or M4-78EP's patch. They will be here once they're done.
Priority 1; TSLRCM 1.8.3, M4-78EP patch
Of course the primary focus is on patching TSLRCM and M4-78EP. TSLRCM has been a long time and most bugs of vanilla TSL have already been fixed, so it's mostly things that have still been overlooked, only became apparent with other mods (The Ravager soundset issue for example), or, as can be seen on above video, polishing and taking care of what some people think are the weakest points of TSLRCM. Feel free to comment on this newspost if there are things you think are 'out of place' or just need a bunch of polish since they feel amateurish, be it TSLRCM material, or that of the vanilla game.
For M4-78EP, the patch will be a lot bigger. Of course being first release past december, several bugs where detected like the jittering droid bug that *have* to be fixed of course. Also we listened to feedback and are planning to flesh out the planet a bit, clarify some points where people where getting stuck and... tweak the ending some ;). Hopefully making M4-78 an even better experience blending well into the well known TSL experience. The list of fixes and changes is long and complex, so it may take a while before the patch is released.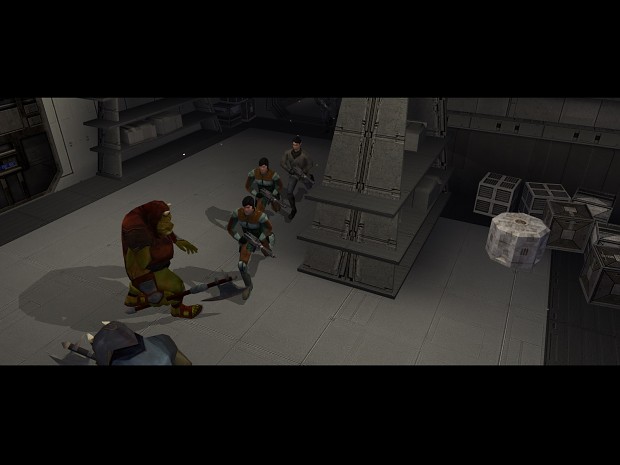 As before, the plan is to release M4-78EP's patch and TSLRCM 1.8.3 at the same time. There will be 4 downloads (TSLRCM full, 1.8.2-1.8.3, M4-78EP full and the M4-78EP patch), so users still on 1.8.1 for some reason might already want to download the patch to 1.8.2, unless you want to use the ease of the full installation of course.As stated before, we have no ETA on release.

Priority 2; Compatibility patches
Users of the Jedi Temple mod have been waiting a long time for a comp-patch with M4-78EP, and I sadly have to say they need to wait a bit longer. After TSLRCM 1.8.3 and the M4-78EP Patch are done however making a comp-patch for it, and Handmaiden 4 Females is first priorty. Again, USM will stay uncompatible. I will apploud any modder who wishes to try it, I'm not going to burn myself on it again. VarsityPuppet is working on a good hilts/saber mod however which will work with TSLRCM, so you can always put your eyes on that ;).

Priority 3; Hosting mods and updating mods
Once that's done, it's time for the first addons to appear on this moddb site. I didn't get permission from a lot of modders yet though, so the selection will be a little limited, consisting mostly of my own. Hopefully once a few are up more modders will want to host here to increase the reach of their mod. Of course only mods compatible with both TSLRCM and M4-78EP will appear in this addon section.In order to make some of my mods compatible with the patches some work will need to be done, for example Nihilus Zombies Death in the current form will bug TSLRCM 1.8.3. So that will also happen in this stage. I can't make promises for other modders, but all of mine you will be able to use on TSLRCM 1.8.3 and M4-78EP patched eventually ;).

Priority 4; New mods
Cause there are still ideas here that don't fit the concept of a Restoration Mod of course. But that's future talk, and maybe interrupted if TSLRCM and M4-78EP need more updates. I personally hope not, certainly for TSLRCM. But it's hard to not try and make it just that little better even if you promised yourself you're done. One thing we got on Game Developers I suppose, that we can.
Anyway, that's the update for now. Keep your eyes open for more vids or screens that might pop up showcasing some of the work being done on 1.8.3 or the M4-78EP Patch in the future, and of course, it's eventual release. As said, it may take a while though. I'm the only person working on both, and there are many new good games coming, and studies.
For now, happy summer and till next time!