Hi guys,
So this is our first update after completing the campaign. As you may remember from our previous update, I planned to take 5 days off - but our team was so energized by your support that we haven't stopped working on the game. And while Amazon and Kickstarter are still processing your pledges (it should take one more week), we'd like to share our progress and ask for your thoughts about one issue. This update is quite large but, I believe, substantial and interesting :)
MODELLING HEADWAY
At last, we have completed the model of NBC Suit that you'll be able to wear in the Prologue, and the figure we'll print soon for The Fall of Gyes exclusive reward: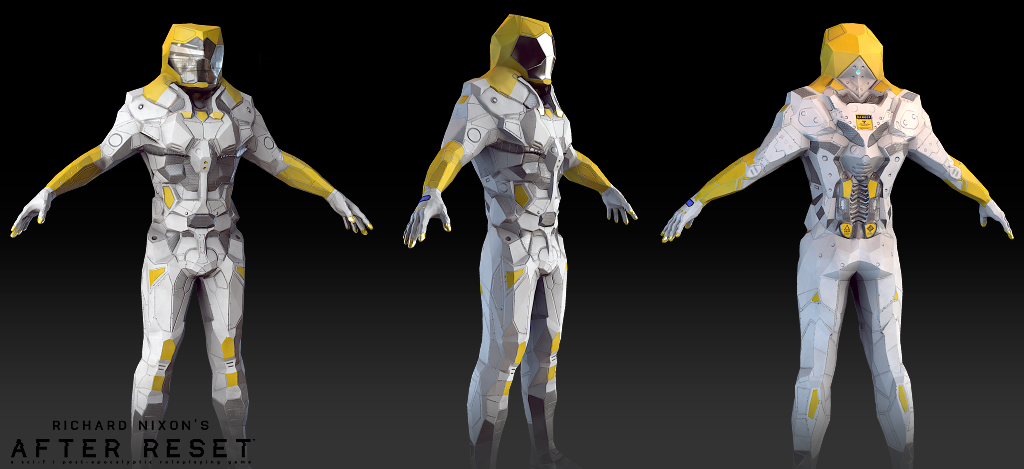 NBC Suit (which stands for Nuclear, Biological, Chemical) is a type of scientific personal protective equipment designed to provide protection against direct contact with radioactive, biological and chemical substances, and provides protection from contamination with radioactive, biological and chemical materials.
This portable and self-contained full-body unit, called by scientists of the UG Science Corps as "Lab Rat", is filled with all manner of protection against hazardous materials, and includes a breathing apparatus (SCBA) for long-term use. This model of NBC Suit has been officially produced by IBR corporation for the Science Corps, hospitals of Underearth and for commercial sector since 94 A.R.
Then here is the model of the ML1 CQC Stun Grenade you'll be able to find in Gyes bunker playing the Prologue: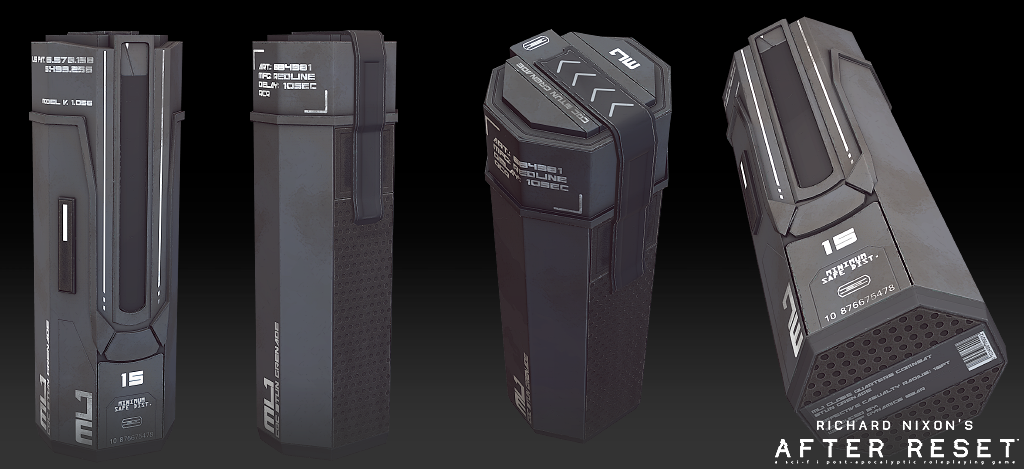 The ML1 Close Quarters Combat Stun Grenade, also known as a flash grenade or a flashbang, is a non-lethal offensive weapon. The first stunning devices were created long before the Past Age but lost popularity among civil and military structures by the end of it in favor of other more radical solutions.
The first and only civil mass unrest within the underground cities of the United Governments happened in 87 A.R., and revived the demand for this kind of cheap non-lethal incapacitants. The SW55 Flash Grenades that were in service at the time of that civil unrest (nick-named 'Riot of Cans' by mass media) revealed a range of constructive impairments. Based on that experience the Weisskopf Dynamics with the support from other minor corporations managed to get a long-term contract from the UG Social Corps to produce a new type of non-lethal stun grenade, one that was safer and more effective. Like many other explosives, this grenade is based on the same cocrystallization technology, actively lobbied by Weisskopf Dynamics.

And MA7 Offensive Concussion Grenade: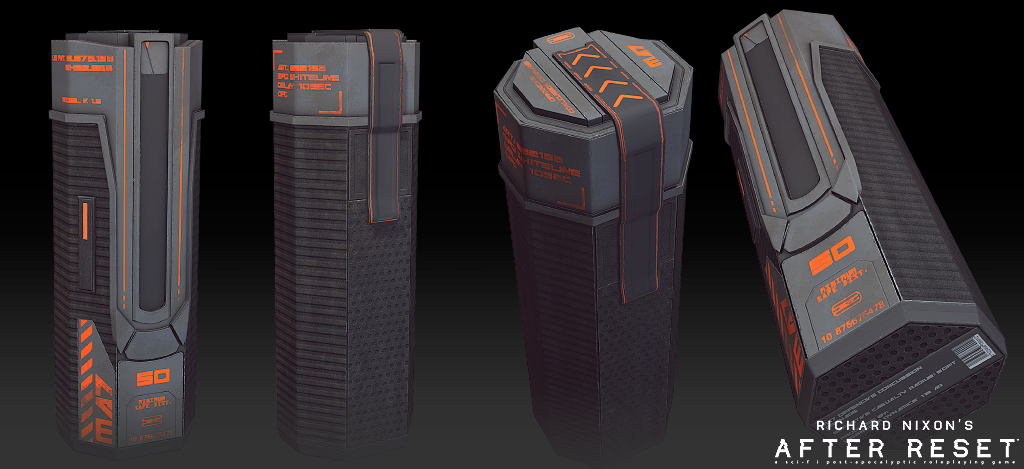 The MA7 Offensive Concussion Grenade is designed to produce casualties during close combat with explosive wave power alone while minimizing danger to friendly forces. The grenade is also used for concussion effects in enclosed areas, and for blasting or demolition tasks. The shock waves (overpressure) produced by this grenade when used in enclosed areas are greater than those produced by its earlier counterparts. It's very effective against enemies located in bunkers, buildings, and fortified areas.
Advances in explosive potency and reliability for this type of grenade are based on cocrystallization technology, which was already thoroughly studied by Weisskopf Dynamics and many other small corporations before the Reset, and there haven't been any major improvements on it since.
We've also completed Power Hub Panel and Bio-Radioactive-Chemical Waste Utilization Unit - fresh elements for Gyes interiors but we'll post them next update.
According to our tradition, our forum-members with Co-Founder status (which is included as a reward to our Kickstarter pledges $35 and higher) can find and enjoy these models in Full HD on Co-Founders' Area on After Reset official forum there: Afterreset.com
WEBSITE CHANGES
Speaking about the forum and Co-Founder status reward, we'd like to ask those of you, our dear backers, who do not have an account on our official forum to create them: Afterreset.com
That please is due to the fact that we will require your forum account name in a survey on Kickstarter in coming weeks. We're just worried a little about our server capacity if you all try to register on the forum at once :)
As a final titbit for the website part of the news, I am pleased to let you know that we reworked our Store page: Afterreset.com. That is the page where newcomers are able to back us directly via PayPal or existing supporters are able to upgrade their pledges. I hope you'll like its new design and structure :)
PROGRAMMING PROGRESS
I've managed to organize full time programming development. Thus now we have two heavy experienced programmers already working on the game.
We managed to plan the whole coding schedule up to the release by the end of October. As well as we reviewed the architecture of the game that will optimize performance by third. That caused us to redo all main menu, effects, GUI and character creation but it is worth it already: during this week we got done what would have takenus 2 months before the Kickstarter.
We also reviewed game modes so that they fit both Steam and GOG platforms: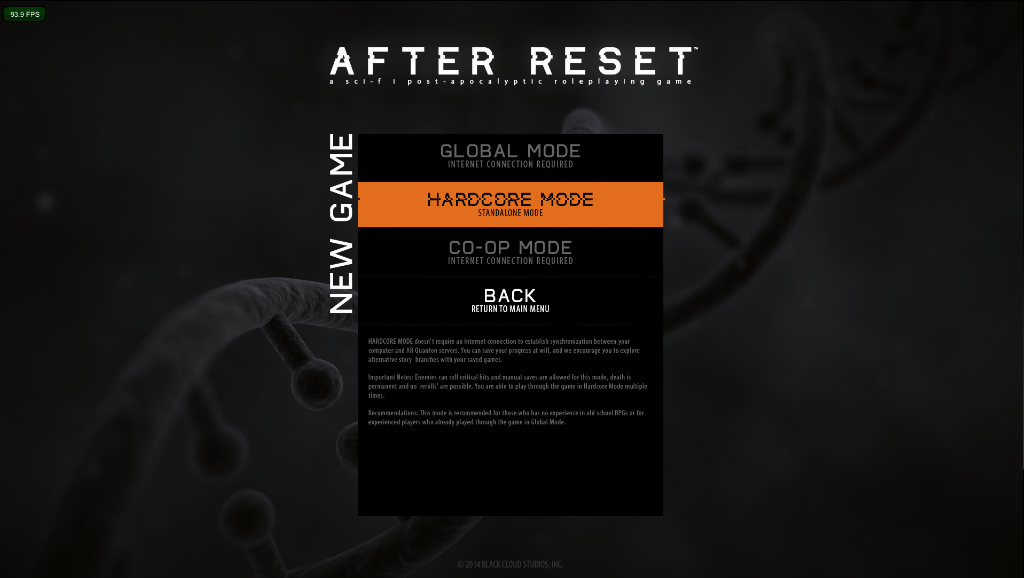 For the Prologue and a couple of Chapters you'll be able to play in Hardcore Mode only. And after full game completion we'll unlock Global Mode that should bring a really fresh and unexpected experience even for those who participate in early access tests for each chapter. That should be something… But now, let me describe each of the modes more:
GLOBAL MODE (INTERNET CONNECTION REQUIRED): requires Internet connection to establish synchronization between your computer and AR Quanton servers. After the game session our computers will calculate a global ending of the session for After Reset's world. Everyone's choices will be taken into account, we'll polish it, and a final 'global' ending will be released in addition to the conclusion of your own personal story. Important Notes: Enemies can roll critical hits and only auto-saves are allowed for this mode, death is permanent and no 'rerolls' are possible. You are able to play through the game in Global Mode multiple times, but you can upload and synchronized the record of it only once. So, take your choices seriously! Recommendations: This mode is recommended for experienced RPG gamers.
HARDCORE MODE (STANDALONE MODE): doesn't require an Internet connection to establish synchronization between your computer and AR Quanton servers. You can save your progress at will, and we encourage you to explore alternative story branches with your saved games. Important Notes: Enemies can roll critical hits and manual saves are allowed for this mode. You are able to play through the game in Hardcore Mode multiple times. Recommendations: This mode is recommended for those who has no experience in old school RPGs or for experienced players who already played through the game in Global Mode.
CO-OP MODE (INTERNET CONNECTION REQUIRED): requires Internet connection to establish synchronization between your and other player's computers. In this mode you are able to take control of one of the companions of the host player's character. Important Notes: You require IP and password of the host to join. As well as the host player must be running the game in Global Mode so that you can join it online. Recommendations: This game mode is only available for those players who already completed the game in Global Mode.
LORE AND SETTING

Taking some days off in a library, I've occasionally found a splendid science fiction novella - Damnation Alley by Roger Zelazny released in 1967. I bet, you really would be interested in reading it (please don't watch the film adaptation – it's face palm).
That novella could nicely describe the world on the surface during the first decades after the Reset. The time, when the last remnants and trails of the civilization of the Past Age were vanishing. I really recommend it.
And just imagine - Damnation Alley was written not only before Fallout video game but even long time before PC or MAC emerging themselves!
WE NEED YOUR THOUGHTS ABOUT THE VIDEO CINEMATIC INTRO
With Max we've tested the technology for creation pseudo 3d video from 2d and 3d elements. Please, check this test made by Max: Youtube.com
He likes it, but I don't feel that it will be able to compete with full CGI videos from AAA games like other content we create. Therefore, we need YOUR opinion about the test video above and YOUR choice from the 3 variants below.
We have three options for the intro development:
1. We can proceed video development with the quality of the test video you've seen.
2. We can create some awesome photo-realistic paintings based on our current Backstory. But rework them as huge photo-realistic paintings like below: Goo.gl, Goo.gl, Goo.gl, Goo.gl. And finally process them in a video with realistic effects from Adobe After Effects and Cinema 4D, like we did in the intro for The Fall of Gyes: Youtube.com
3. We can create intro with HUD charts and 3d graphics like there: Youtube.com or Youtube.com
I lean to variant 2 myself. But what are your thoughts, guys? We are looking forward to see your choices.
Thank you for your support and stay tuned!
Back us via PayPal.
Add us on Steam Greenlight.
Join After Reset™ RPG official website.