Half-Life 2: Aperture Chapters is going to turn out a star, I just know it. The new version of the first level is working better, looks better, and is outright amazing. Alongside that I've made the Borealis look better with a bumpmap. Also, I've added ep2 to the engine list, so I think that may make NPC weapon usage possible, I'm not sure.
I've just released four new pictures of Ac_p1, Enjoy for now, I've come down with a cold, it might slow me down a bit. Also I've got more work on my shoulders now as well, as I might be a map designer for Blue Shift: Source otherwise known as Half-Life: Guard Duty (Which is also the original beta name for Blue Shift)

---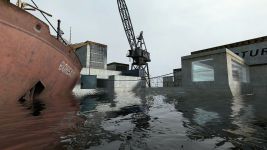 I've also been working on a concept version of ac_p2, which is yet to be released, but just keep watching for it...
A side note, I'd like people to start using the Mod's forums, they've had no activity since I've put them up. Here's a link... Moddb.com
Everything seen so far is work in progress, it is of no terms what anything will EXACTLY look like in the final game.
---
// BlabVoid -- Director, Head Mapper of Aperture Chapters