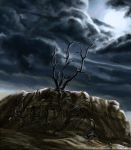 "The Finders-Keepers system used in The Hunted, while not unique, adds a large dose of variety to game play. That soft drink can you just walked past? That could have been used to distract a guard, allowing you to sneak past him. That half brick? It can either be throw at the enemy, used to distract them, or wielded as an improvised weapon. You get the picture. There are many different objects to be found in The Hunted, and each will have some purpose, even if it is not immediately obvious. A bottle of whiskey might work as a Molotov cocktail, a one use club or, after it has been used, an improvised knife. A bottle of cooking oil, a can of deodorant and some sparklers might combine to make an improvised incendiary device.
Each item will take up a certain amount of room, depending on its real life size, shape and weight, and this will be an important factor, as you must constantly revise what you have, as some items will have no immediate benefits, while others will. And yet, three levels on, what you've just thrown away might come in handy. Rest assured, such an event won't be deliberate, but there are bound to be some situations where you regret having thrown away, say, a mannequin head or a stick of lipstick."
Stay Tuned for more features of "The Hunted"