It's been a crazy campaign, and we're already in our last week on Kickstarter. In the meantime, we've been working hard on the game and have a lot of updates to share!
First, we have successfully been Greenlit on Steam! Thank you to everyone who voted for us! This means we will definitely be giving steam keys to backers of the game (if we are funded)!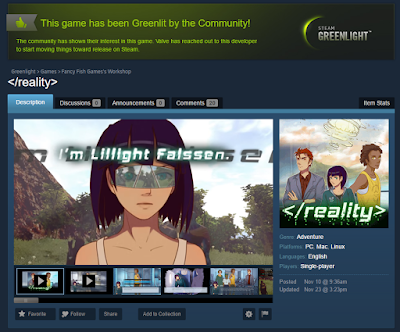 We have been editing chapter 2 (the demo is chapter 1, of 10 chapters total), including scenes which happen in the bridge environment below: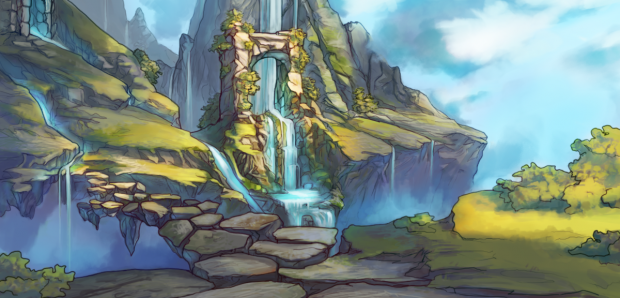 Below is an in-game screenshot with this scene. Meet Umi, the first AI inhabitant of Vitalia that the beta testers encounter!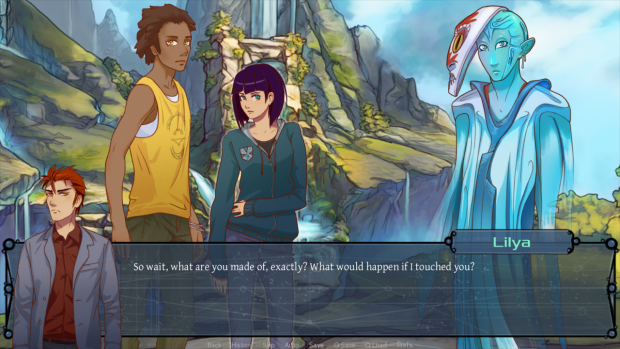 Umi might actually be one of my favorite characters - he takes things very literally and as a result, conversations with him are very funny - usually in a "who's on first" kind of way. Of course, not everyone will love this sort of wordplay/misunderstanding humor, but even without the humor Umi is still an interesting and important character.
Continuing our work on Chapter 2, we've also added a new text delivery method for the "mentalnet." In the story, the mentalnet is an interface-less, thought-driven "chat room" made possible by the Penta device. Yes, it is basically telepathic communication - pretty cool, huh? But it's not that surprising given that the Penta is already able to read and write your thoughts!
We're hoping to have Chapter 2 ready shortly after the end of the Kickstarter campaign so that backers of the beta access tier or higher ($35+) will immediately have something new to enjoy.
We've also made several updates to the demo, including grammar/spelling cleanup and some fixes and tweaks. You can try it out here:
Chase, our composer, has made a first draft of the Full Realms theme (the VRMMO that Lilya plays). The current theme in the demo is actually just a placeholder from ADventureLib (one of our previous games). You can listen to it here:
In other news, Jess from AGirlAndAGame made an awesome lets play video of the demo, which you can watch here:
Finally, both for fun and to hopefully raise awareness, we have launched a caption contest featuring Lilya's frightened expression:
Why is she so afraid?? What does she see? Feel free to edit the image and add your own caption, then post it on twitter or tumblr with the tag #CaptionReality and #visualnovel so that we can see what you come up with!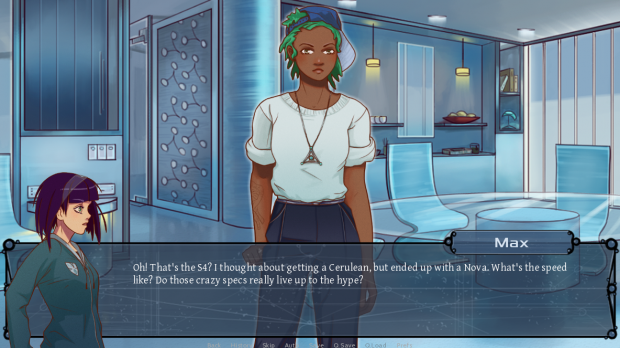 Wish us luck as time counts down on our Kickstarter, and let's hope we can make it to our funding goal!

If you'd like to help out, please back the project or share it on Facebook, Twitter and Tumblr (or any other social media). We've also set up a Thunderclap campaign, where you can donate a tweet or facebook post to help us spread awareness. Together, our message can be heard!