Hey everyone,
Well, Loot Nubs is now finished and has been showcased to the public. The feedback that we have been given is very positive and encouraging for the future. We even had a bus load of school students crash the party which was perfect as they were our target audience to begin with.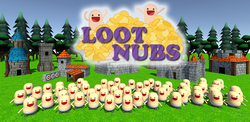 The game did not crash once, even though it was tested to its limits. It was both tested on PC and also on tablets that were not the target platform. Though while the tablets did sometimes lag when too many nubs were on the screen it never crashed.
This has been a very enjoyable game to make and to work with a team that has been very professional in the way that the game has been made. To be able to talk to and get advice from individual team members and as a whole has helped me in my degree immensely.
I would like to give a big shout out to my team in working together and staying focused even though things did get tough and exhausting towards the end.
If you would like to download the game for either PC or android please follow this link. Slambert.itch.io
Thank you for following along for the past 9 weeks as we made this game. It has been a great experience and looking forward to doing it all again next trimester which will be our last hopefully.