It has been some time now since I first had the idea of creating what is, at its core, a waiting game, but it was only recently that I pieced some ideas together and formed the concept for The Thalassic Pattern.
Waiting isn't a mechanic frequently exploited in video-games, mostly only found in simulators as a consequence for realism. Most games in which you might have to wait for some time, even give you the opportunity of skipping some in-game hours so that you won't have to hang around for some minutes. This is because most video-games are concerned in not boring you, at the expense of interesting ideas. Some might argue that waiting isn't a mechanic at all, and perhaps they are right since it is a void of action, both from the virtual environment and the player. But I'm interested in exploring this empty space. How could one create a game from such a concept? I pretend to answer this question with this game that I'm working on.
Right now, most of the game is working as it should, due to its simple concept. What is taking most of the time to develop are the visual and auditory aspects - the submarine must feel real, as well as the general underwater sensation. Besides that, it is crucial for the player to feel isolated and lonely. I want the submarine to be in essence a kind of meditative shrine, where you listen to classical music, read books and play chess, for four hours. In addition to those characteristics, I need to finish the vast list of books from real life and musical compositions, and perhaps some other secret documents to implement in to the game.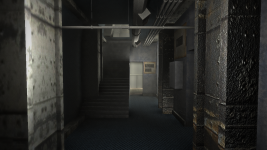 If you are interested in following the development progress of The Thalassic Pattern, you can track this game by pressing the button to the right of this text, in the profile section.