And again a small progress report.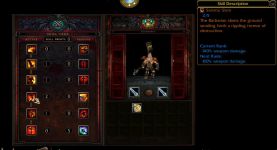 This is the current look of the character screen that will help you maintain your hero while playing this map.
The left part is the Skills Pane which gives you the ability to level up skills to help you battle your enemies. There are 2 types of skills and those are Active and Passive. I want to note that nothing is set in stone with how we design the skills and in the future we might eventually go with the skill system that was revealed at Blizzcon '09.
The right part is the Inventory Pane which shows all the items you have picked up while adventuring. There are 12 equip slots and those are Helm, Amulet, Chest, Gloves, 2 Rings, Shoulder, Belt, Pants, Boots and 2 hand slots.