Hello everyone!
To start 2010, and before the first phase of voting ends, we would like to show you more about Thanatos. Firstable, we appreciate your comments in every picture or news we have published; It helps us to keep going knowing that there are people excited about this game like the team. So any kind of comments or ideas are welcome to discuss. Feel free to help!
Now, let's talk about storyline and characters.
For this game we want a deep storyline for every character involved, as well as for every situation you go through as the main character, please give us your ideas about what you may like, remember we have our homepage ( www.aztecentertainment.com.mx ) which exists to express what would you like to see in the game, you can help us as well to create the other Overlords and Warlords personalities!
Let's get started!
Thanatos story will be developed in a parallel world, in some kind of medieval age, a world is really close to ours, magic is a secret and mysterious theme but no mythical creatures,though.
However there is a strong legend about the islands close to the shores of Glyphe (name of the Hometown of the main characters).They named these Islands: "Thanatos"; The islands are barely discovered because everyone that steps on the island dies or if they managed to go survive they become insane or paranoic, explaining that they where attacked by creatures that only exists in the worst nightmares.
However, there was a group of people a long time ago who travelled to this unknown islands and managed to come back, their legend is the strongest one about Thanatos, and they claimed that they have seen the God of Death in these islands, and after writing this words, they died from a mysterious disease.
There were sad times for the city of Glyphe, they were at war with the Dromos tribe, which were across the ocean, militia commanders said this tribe was a fool standing against their empire, and rushed to attack with their best fleet of ships, the most powerful of them was called the "Alkimos".It was a massive ship, armed to the teeth, and with one of the best Captain's aboard, the King's Son himself... "Gamos".
When the fleet arrived to Dromos waters, they began the attack and crushed them, in a desperete move the tribe's leaders escaped in a boat, which the Glyphe empire discovered and send the "Alkimos" in serch for them while the other ships finished the tribe.
Knowing they will perish the captain of the tribe's boat deperetely sailed in direction of Thanatos, hoping the legends were true...
This was the last known info about the Crew that returned from the tribe ground, after being shocked knowing his son was lost somewhere the king decided to end the Thanatos legend once and for all. He made contact to his best general, Abbott , and told him about the situation.He explained he needed this situation resolved, and he didn't care what he did or how many it costed.
Abbott was decided to sail with his personal guard to Thanatos, he only arrived to the shores, and returned wounded, most remarcably losing one of his eyes. He wasn't the only one who returned, Kruptos a expetional fighter returned with him, only two guys with one ship returned from over a hundred soldiers which died in the adventure.
Abbott was truly dissapointed from himself, so he rethinked his strategy, deciding getting more unprepared people to this islands was only going to lead to another slaughter. He decided to bring the best of the best, and stay true to the legends, they say there were only nine true powers for nine true warriors within nine structures,according the legend.
Since he was going back and Kruptos insisted to go back with him, he then started searching for this seven warriors he needed for this dangerous adventure.
--To be Continued---
Ok so this is just the intro for the storyline of the game, that's the reason why you will go to Thanatos. Your role will be within a group of seven warriors which Abbott will lead to find some answers about that misterious islands... Wait for his biography soon!
Now, here's the first apperance of one of the 9 Warlords: ISMET
His name is Ismet (which means Honor in english):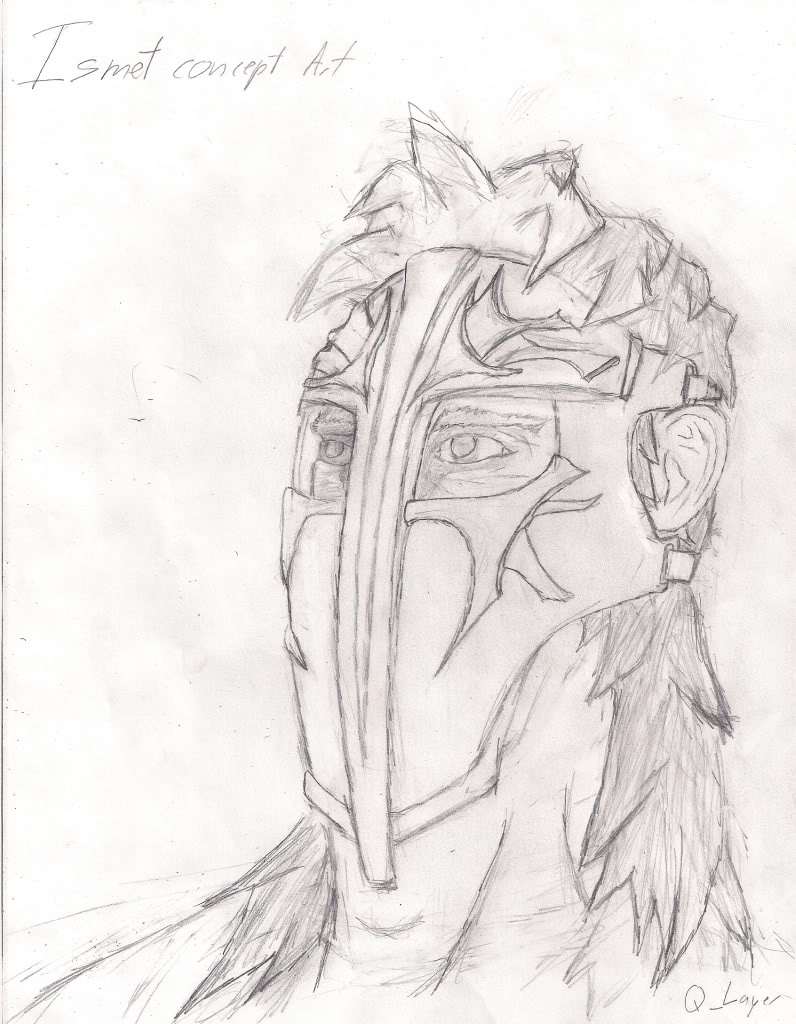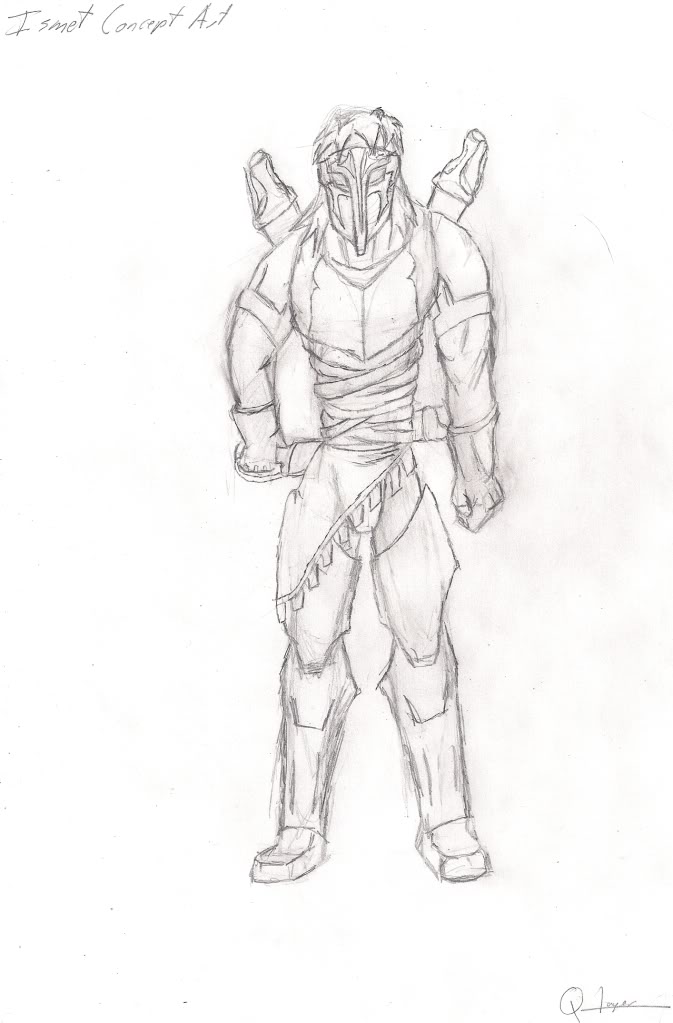 Ismet's personality its quite unique, he is really accurate with words, he barely speaks due to
what he has lived, nobody but him really knows, but there are tales that explain him as a cold heart murderer, as well as other tales that explain him as a kind person wich helping others which are in need. What is assured about him is his exceptional skill with swords, mostly with twin short blades.
His armor is not heavy due to his great quickness when he fights. Ismet's signature mask is a proof of his bow of silence, he is a strong and remarkably tall character and his interests with the island is more for the power it is said Thanatos offers.
He has no previous relationship known with the other warlords, however his tales are very popular among the habitants of Glyphe.
This are the last moments for voting!! so please support us!!!!
Stick around for news and images from Aztec Entertainment!!!
Have a nice day!