Last time we let you hear a snippet of the Soundtrack of Whack 'em Zack. This time we are proud to present a new snippet for you and this is a small sample of Vektor's theme soundtrack!
You can check it right here:
But…..that's not all! Because we want to tell you that Whack 'em Zack will have an epic 4 player battle mode where you can whack each other silly or the monsters. Choose an arena, choose your character and prepare yourself for a huge dose of fun and mayhem in the middle of your living room!

In the meantime we keep Dwight Ligori and Robin cornered and won't allow them to leave before we are satisfied. So for now we keep them busy whacking their code and artwork into the game.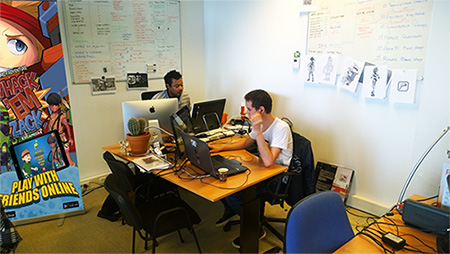 We eventually hope to have something ready before *bleep* 2015 and hope to surprise this augmented take on *bleep*.
Well it seems I have to keep the details a secret for now. But what we do like to tell you that this is all part of the much bigger project A Clumsy Adventure, making this an enormous preview is graphical style and atmosphere.