Hey Folks, it's been a while, a very Very long time actually.
You guys might have even thought we died or disappeared, I mean it's been 4 months!
Well those who went and visited our forums know darn well that we are the last thing but asleep, though we've been having some technical issues lately we never stopped working, everyday new things are accomplished.
Now let's begin with this update shall we?
First off we'd like to publicly welcome the new Team Members and Contributors:
James100 - James is one of the new TAOW forum Moderators, he is helping us as one of our first Voice Actors and is also Snake's Warfare And Technology Assistant.
Tusker2Zero - Tusker is the newest Moderator and will help with Forum Maintenance and general Moderation, he also helps the TAoW Team as a mapper.
Jarhead - Our newest musician, Jarhead is also a Voice Actor (German voice acting) and has been helping us with the new TAoW Contributing Team.
Beng - Coding guru which has been helping us with complicated coding issues.
If you got a deep voice, can speak different languages or got a microphone, then bring yourself down to our forums and introduce yourself!
Thanks to Jarhead we have started an "Auxiliary Team" which is officially established as The Art of War Contributing Team, this team is composed of people who are supporting The Art of War Project but aren't all-time TAoW Team Members.
If you would like to support our project you can check our forums and use the specific Contributing Thread, or contact the forum staff via PM (Private Message).
---
We have also started a new Poll. This poll is about the next generation infantry weapon to be used by the US faction.
Among the various choices:
XM8 Lightweight Assault Rifle
Heckler & Koch HK416
Barrett REC7 (aka M468)
Robinson Arms XCR
Bushmaster Adaptive Combat Rifle (ACR)
M16/M4
The poll is posted on our forums: Taow.simulationboard.com
Please note that you must be registered in the forums in order to vote.
At the moment the Top Three voted weapons are:
XM8
HK416
M16/M4
---
You've all wondered since day one, "what will the soldiers look like?" well stop wondering because our soldiers are ready to roll. We've worked really hard to bring you the best quality and detail with low poly count, especially since in game soldiers will be scaled realistically.
Each soldier will vary in shooting animation, their faces will vary, and so will their weapon layouts and attachments (scopes, vertical grips, etc).
This is the US Army's infantry as you all guessed wearing the latest military gear and is night vision ready. Since the ACU cam was developed for multi-terrain there is no need to change the skins for the different environments (woodland, Desert).
---
This is our version of the modern US Marine Corps infantry, using a new, digital-styled camo scheme which is similar to the Codemasters Operation Flashpoint 2 Marine uniforms and also similar to the actual modern US Marine MARPAT uniforms. The uniform was created while keeping in mind that it must be able to blend in with Desert AND woodland environments. We got our inspiration from Operation Flashpoint 2's US marine soldier uniforms, the camo was so genius, we decided to go with it.
A sample from that specific camo can be seen here:
---
Last but not least is the Tank/Armor Crewman. These guys will be the ones operating the commander's machine gun in game. Also, when a tank is badly damaged or destroyed, the tank crew may survive and get out in time. They can re-enter the same tank if fixed or operate another tank later on.
---
We also would like to present our First official in game Screenshots taken from the Team Alpha 0.1
Alot of changes have been made to the original game aside from the new units, check out for yourselves:
For More Screenshots, visit our Forums
For a full list of changes check on the mod main profile page.
---
Currently there are 4 Stryker variants in The Art of War:
M1126 Stryker ICV (Infantry Carrier Vehicle) - being the Armored Personnel variant.
M1128 Stryker MGS (Mobile Gun System) - equipped with a 105mm cannon.
M1129 Stryker MC (Mortar Carrier) - for indirect fire support.
M1134 Stryker ATGM (Anti Tank Guided Missile) - is a dedicated variant to destroy enemy tanks with TOW missiles.
The MGS and ATGM turrets were originally created by tank50
---
The Leopard 2A6 will be one of the European Union's Main Battle Tanks.
Considered by many to be the best modern Main Battle Tank due to it's impressive technical features, this beast mounts a Rheinmetall L/55 120mm main gun, extremely powerful 3rd Generation Composite armor and a deadly assortment of machine guns.
This tank is also equipped with smoke grenade launchers and is highly upgradeable (offensively and defensively).
---
This is the USMC's Close Air support fighter. Just like the A-10, it can deploy on short airfields (or no airfields in VTOL) and share a similar armament. This aircraft is able to dramatically slow down it's speed (almost hover) and take out ground targets using it's cannon without having to go around for another pass.
Model has undergone a large number of changes
---
This is the US Army/Air Force Faction's air superiority fighter.
This Aircraft will be the dedicated Air-to-Air fighter, in game it will be equipped with Sidewinder and AIM-120C AMRAAM missiles.
Texture has undergone some changes and so has the model.
---
This Aircraft will be the heavy transport plane for both US factions, being able to carry and deploy heavy vehicles such as the Abrams and Bradley via airdrop this aircraft is a must have battlefield necessity. The C-17 model was created originally by the Mideast Crisis Mod Team.
---
This Aircraft will be the medium air transport plane for the US factions, it'll be able to deploy large groups of infantry, light vehicles such as Humvees, and supplies. Original C-130 model by snafusmith
---
The US Army's heavy transport helicopter will be used to carry vehicles and deploy large groups of soldiers.
---
This is the Humvee's ERA addon.
---
The M2A3 and M6 Explosive Reactive Armor Addon
---
The Talon SWORDS is a remotely controlled robot with many possible installations and layouts.
In game, engineering Infantry will be able to deploy small unmanned weapons such as Talon robots.
This particular version is the SWORDS (Special Weapons Observation Reconnaissance Detection System) variant, which was built specifically for combat roles, other variations will have a mechanical arm to detonate and dispose of IED's and Mines (those will be able to be deployed by an EOD Engineer).
---
Mine Resistant Ambush Protected (MRAP) vehicles are the next generation of US infantry carriers.
The RG-33L's role in game will be to serve as a medium field hospital. Other MRAPs such as the Cougar (the "Main", standard MRAP) and the Buffalo (engineering variant) are still under-going modeling.
---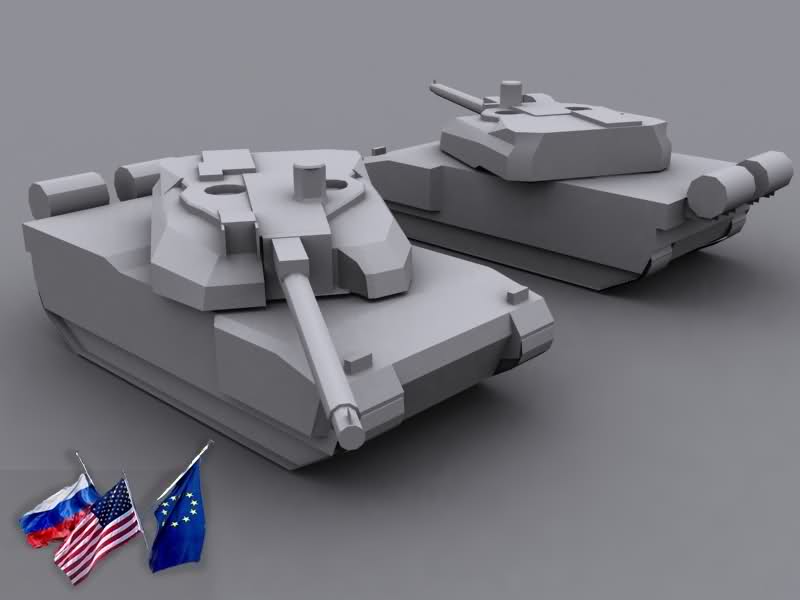 This is the MBT used in game by the EU in the Naval Mode (because land-based units on the naval mode won't be just mere "copies" from it's standard army counterparts).
It will have a good balance of armor, firepower and speed.
The model was created by Snafusmith. A new texture will be eventually applied to replace the current one.