Concepts by Anubis, Commentary by Jok3r
Today, we bring you something a little bit different for our update. Instead of renders for new units, we've got a few very, very hot concepts prepared by our artist Anubis, and ready for your viewing. For the most part, these units haven't been released to the public, so think of this as a little preview for the renders, and enjoy the art.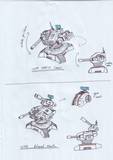 The Wraith is a WEA defence that's been in developer versions since I signed on the mod almost two years ago, but it's model has never quite matched up to this concept, so until a suitable version is available, here's a little sketch of what it's going to come out like.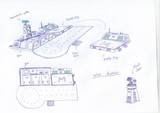 This is the WEA's airfield. Now, almost every mod for Zero Hour has a very similar airfield structure: two runways, four hangars, either behind or to the sides of the runways. Now, this is partially due to SAGE concerns, but it's also due to lack of innovation. This one does have a render ready to drop, but for the moment be happy with the concept for what I'd call a unique airfield. I mean, take a look at it now, before the Starchildren are coming for you, guns blazing.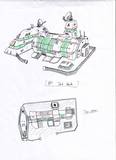 The AC tech centre. This one hasn't been around so long. There's no render waiting for release on this one yet, we've got placeholders in game until it gets modelled, but it's going to end up looking an awful lot like this. And it might just be me, but I think this is a damn fine way for it to end up looking.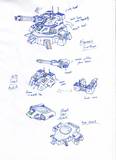 The concept says Nemesis, but this bad boy is currently being called the 'Apollo Defensive Installation', and it's a WEA fortification designed to stand up to just about any threat. The concept shows the full turret, and close ups on each part: those aren't upgrades.
Now, here's the concepts for the two units we released last time, per fan request.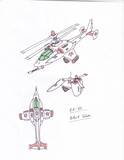 The Black Cobra.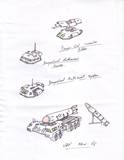 And the V5 missile launcher.
We hope you like the concepts.
EC Team, signing out.