Hi everyone, Maly here! I'm writing to share my experience making the art for Blacksmith: what drove me into it, the good part, the bad part… in all, give you a sneak peek into the glamorous life of a sprite artist (in training).
A bit about myself
Art has been my thing ever since I was a kid. When I finished school I went to art school, dropping out to chase the wild dream of music. After music it was art history, so the last six years of my life were more about museums and books than pencils and charcoal: I was completely out of shape and had zero experience when it came to creating art for a video game… I had never even owned a console for that matter -unless you count my siblings' Atari!

Evolution of Sid, the Merchant. Otis drew a very basic concept, I added the hat. Then we took each element of Sid that we didn't already have in the other characters, and I added them to the sprite sheet in charcoal. Then we compose and colour the image for the final result.
So… what possessed me to be a part of this madness?
I'm not by any means what you would call a gamer, but I do love video games. They are amazing at bringing together music, cinematographic principles, visual arts and human interaction, the defining sign of our times, so the idea of making something that would be on a game was very appealing.
Also, being a part of Blacksmith was the perfect opportunity to reconnect with old skills and acquire some new ones, and I was confident that it would all come back to me on the road. I knew nothing of indie games and had never heard the words "sprite sheet" before, nor less imagined the pain they would cause, but I was naive and excited and willing to wield that pickaxe and get those ores. Oh, boy!
The challenges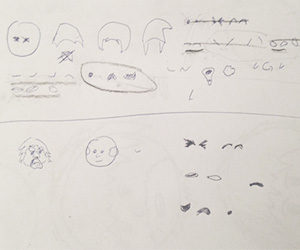 Otis' crude diagram of a sprite sheet: It was so useful I kept it!
I already mentioned that I was absolutely inexperienced. Well, that lack of experience has been a big challenge. When Otis first explained me what a sprite sheet was and how it worked, I thought I had it… but I didn't. This happened quite a few times until I got the hang of it, though I must confess, correctly positioning facial elements is still something that gets me every now and then.
Ignorance of the process and how the different elements would come together also had me stumbling, staggering with the workflow, doing things in the wrong order: a joy of a sprite artist!
However, such challenges were expected. I still have loads to learn and lots to catch up with and I've had lots of help so far, but I can confidently say I'm better and more efficient than I was six months ago, which is a win on itself and makes me very happy!
Looking ahead
Creating something as simple as a wall texture for Blacksmith has renewed my respect for art in video games, raised the admiration bar every time I sit next to Ot and watch together a sunset on The Witcher, and made me very aware of the height of the artists behind them.

Some weapon sketching and the final results.
There's still a lot to do but the code is being written, the bugs are being killed and the sprites are being drawn. We just had the last couple of days off because it was Otis' birthday on Saturday, but you can expect very nice things coming soon: we're finishing the first full set of enemies, working on new abilities and items and making sure the game experience is as smooth as possible.
In the meantime, you can download our demo and let us know what you think! We'd love to hear from you!
XX,
Maly LaMala.