It has been a while since we got greenlit on Steam Greenlight and our team has been working hard since to make the release possible.

Our current fans have been very excited, when we announced the release date (Early Access) of Archotek and we all are looking forward to this day.

You can find our store page here: Steamcommunity.com





What will the game include on release day?

The game will feature "Be the Dinosaur", which is 1 of 3 game modes we have currently planned for ATP.
In this game mode you will be able to play as one of nine dinosaur species.

These species are Archaeopteryx, Coelophysis, Deinonychus, Gallimimus, Psittacosaurus, Stegosaurus, Styracosaurus, Triceratops, and Tyrannosaurus.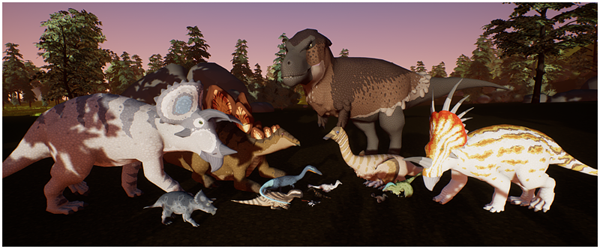 The game will also include a small variety of maps, where people can play on.

Sanctuary


A massive map, which includes several tropical islands.

Green Valley


A small map for players, who don't like exploring and just want to meet up with other people or have less powerful PC builds.

Aran Desert


A medium sized map, which represents a large desert surrounded by canyons and several oases.

Players will be able to ask use questions, provide us with feedback and post suggestions on the Archotek Project Steam forums or they can talk to us directly on our official Discord server: Discordapp.com

We are looking forward to the coming months of development, growing our community and making Archotek an enjoyable game for everyone.