Hi everyone! Last weekend, I playtested Olvand with two friends. It's something I often did before I went public, but since then has become more and more rare, because I had hundreds of enthousiastic playtesters from the internet to work with. And because I had this luxury, I also kind of started to underestimate the value of having people play the game in the same room, while I watch. This was a huge mistake; actually seeing what people choose to do in the game, how long it takes for them to understand a mechanic, what strategies they take, what gets them excited or annoyed, are all things that can barely be replaced by words. Two examples of things I discovered:
Lighting lag
One thing that those of you who already played the game might have experienced is that, whenever a light source is added or removed, the game hangs for a half second to update all light maps. I originally didn't do the effort to remove this lag because lights were rarely added or removed in the beginning. Because of that, however, I apparently slowly got used to the it; it wasn't annoying to me anymore at all, because I knew exactly when it was going to come and why.
My friends, on the other hand, were so annoyed by it that they initially didn't want to go into dark areas because these were 'unplayable'... because of the same lag I didn't even notice anymore! Needless to say, this was the first thing to me to try to optimize the next days, and I was succesful: building lightmaps is now 20-30 times smaller, which meant it's barely noticeable. This discovery was not only a good hint for me where to lie my priorities, but even more so a reminder of the value of live playtesting.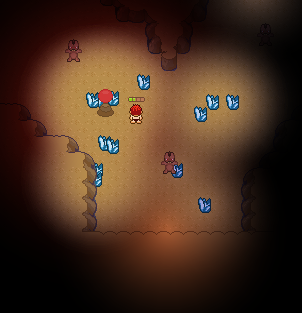 Healthbars again
I told you about my solution to the [healthbar problem] last week; it's a little detail, but I have to say I'm quite happy with how everything turned out. Until I saw my friends testing it, that is, because they didn't use healthbars at all. Not because they didn't need them, but because they completely missed the 'show healthbars' toggle in the menu. AS I told you last week, these healthbars might be essential to whether caves are fun, so I think it's essential to have them on when the player needs them. The solution for Olvand violet: automatically start showing them whenever the player does or takes damage.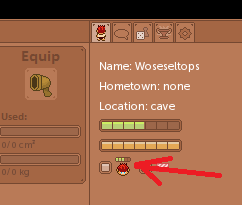 I could fill more ten blogposts with details like these, but I think you get the point; I'm going to do this more often!
Indie Game Magazine
And finally, something completely unrelated but awesome. In an attempt to get some more publicity, I emailed Indie Game Magazine. They responded within an hour or so with two emails and this! Awesome!
If you want more development, see [twitter] or [facebook]. If you want to be a tester, you can subscribe on [olvand.com].