Break over... Let the media invasion continue!
After a long break in-between our last media update and this one, we're now ready to show off what's been created in the 3D realm by our artist, Linfosoma. We'd love to hear comments and suggestions on the mod and the news posts, particularly this one - the public plays our games, so we'll be attempting to implement the best and wisest suggestions that we can manage. Let's have a look at our media for today:
Anthropoid Model
Kicking this media post off with our unveiled 3D model, here is our most up-to-date rendition of our Anthropoid character:
The Anthropoids (meaning "Human-like" in basic terms) are called such because they are just that - Anthros. They walk upright on two legs, have four major limbs, and consist of similar extremities on the top halves of their bodies. The similarities, however, end there in several ways. Their bottom half is constructed similarly to that of a cheetah, allowing them to sprint swiftly and quietly when leaning forward at extreme angles. They have perfected the science of biotechnology to reengineer themselves as part-machine, part-human - mostly for their own benefit. They do not speak verbally unless communicating with other species, compounding with their swiftness to make them virtually silent. Although the Anthropoids are naturally peaceful beings, their swiftness, stealth, and strength through technology make them the perfect aggressors.
To top this media post off, Linfosoma has whipped up a shiny new wallpaper that displays his rendition of the Anthropoid: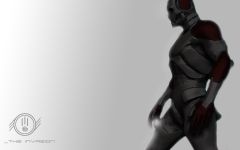 Our next media update will include the finishing touches of the Anthropoid rendition, and new renditions of our Human forces. In this next update we'll conclude our summary of the Human side by releasing all the basic information of gameplay, and begin to delve deeper into the gameplay of the Anthropoids - hopeful for the community's approval!
Until next time,
Remani, Tron, Linfosoma
PUrE