Hello everyone!
This dev diary is about some of the changes and additions coming in the 1.1 update to the Civics Expanded mod. Due to the new additions (and changes) made by the 2.6 Verne update and Federations expansion.
I know I said that the next dev diary will be out in another 2 weeks, on Sunday, but I had to get this out as soon as possible.
---
Removed Features
Unfortunately, some civics will have to be removed from the mod, due to some of the new origins.


The Gatekeepers civic has been replaced by the, in my opinion, far superior Galactic Doorstep origin, which not only lets you start with a Gateway in your home system, but also has an event chain. Meanwhile, the World of Metal civic has been replaced by the Resource Consolidation origin, which goes even further, as there's a trade-off: no resources on any planets or moons in your home system.
I am also thinking about removing the Diplomacy Freaks civic, as it's very similar to the new Diplomatic Corps civic. They even have very similar icons!
---
Converted Civics
Some of the civics in the mod will have to converted into origins. There's only two that are planned to be converted for now.


The Desire for the Seeders civic has a long storyline with special rewards; it will obviously suit being an origin, not a civic. Meanwhile, the Genetic Manipulators doesn't add much, but it was always supposed to be a sort of Syncretic Evolution, but for Hive Minds. I hope to still be able to do this, but if it's not working, it will be changed to have a more major effect.
---
Civic Changes
Due to the introduction of better federations and the Galactic Community, some civics will have different bonuses.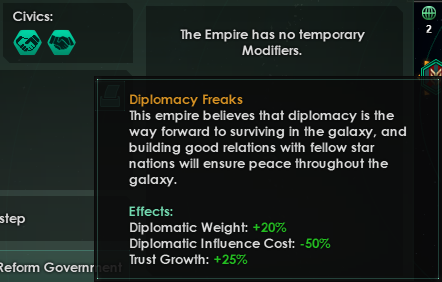 For example, the Diplomacy Freaks civic will most probably give an extra envoy, or more diplomatic weight, instead of reducing border friction. Some other civics will also change.
---
New Additions
Also, I will now be looking into creating new origins, and changing some. In the next update, expect some civics for MegaCorps too, as well as more machine ones and a few hive ones. Like mentioned in the previous dev diary, there will also be several edicts and policies, and perhaps a few new ascension perks.
---
That's it for this week! After a change, these will now be every week, either on Friday, Saturday or Sunday, depending on how I feel.