We've made quite a few changes here at BLS in the past few weeks, for example you'll notice i'm the one posting the update and not OJ or RL. This is because a couple of weeks ago i returned to my modeler/leader position with HHF with some new strategies concerning getting a good, playable beta out to you guys that actually reflects what we want HHF to turn out like when it's finished.
Unfortunately, at the same time we removed Ringleader from the team due to some incompatabilities, and while we will miss his talents as a concept artist, we are confident in the rest of the team's skill to shine through and fill the gap left. Sadly this does mean we're no longer allowed to use the rest of his designs, but efforts are already going into slowly rebuilding our stockpile of designs.
The efforts of which have already begun to pay off in the past two weeks:
Bigger, better, and more bad ass
The old Astreus battleship was modeled when i was still pretty new to modeling, i knew how to get a box to look like a spaceship, but very little else about making a good working model. All the models suffered from this, taking up more resources and being prone to errors upon exporting and texturing, and i took the opportunity making a more work-friendly model to revamp the design into something a little more original, rather than a built up marathon.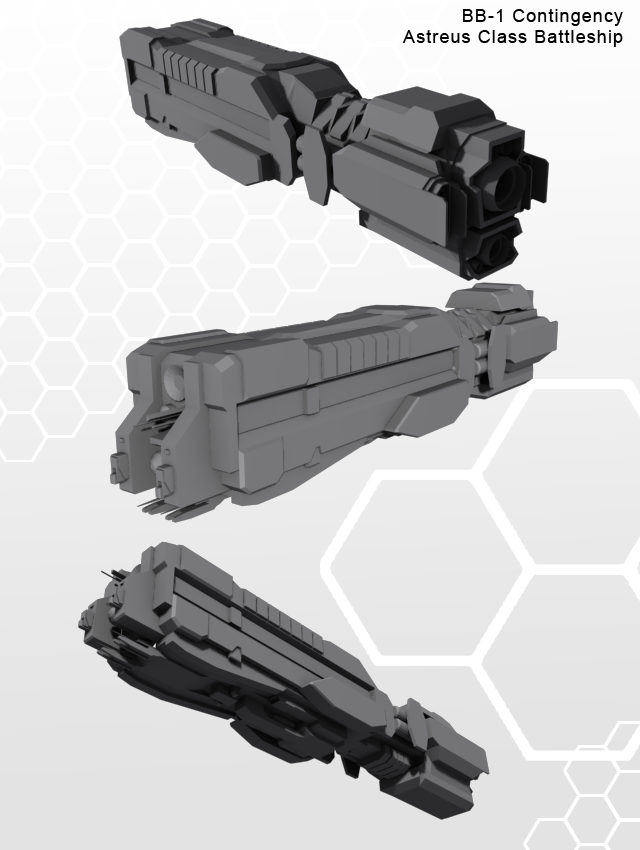 The new Astreus boasts two SMACs, multiple ballistic turrets, and two double barreled MAC turrets the size of destroyers (Yet to be modeled) and a hell of alot of armour. While we're very aware this sounds overwhelmingly lethal, that's exactly what the Astreus is designed to be.
...And back from a more halcyon era
Is a coincidentally named cruiser that was in bad need of a revamp.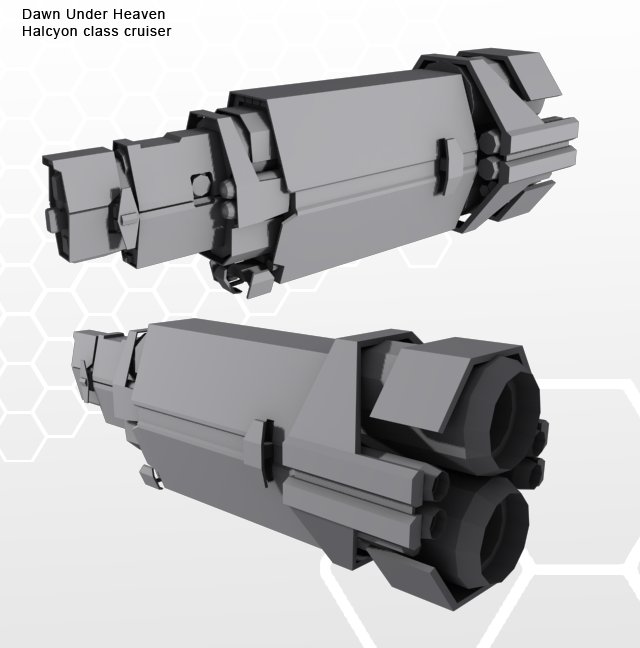 Forward unto Frigates
We found our selves with a problem recently as to how to treat frigates in relation to stike craft, as it's quite obvious that both the forward unto dawn and in amber clad from the halo games are far too small to carry a single longsword, much less a full compliment for space operations. However, the books state frigates can indeed carry longswords, and so to comprimise we have decided to brand the Halo2/3 frigates as "Strike" frigates - Fast, light frigates with enough room to carry large compliments of marines, ODSTs and accompanying vehicles, aswell as pelican bays and landing ramps to unload such forces onto the ground. These frigates are designed for patrols and fast-responses to bolster the garrisons of colonies in preperation or response to invasion, aswell as in-atmosphere combat, but lack the punch and armour to effectively act in fleet operations.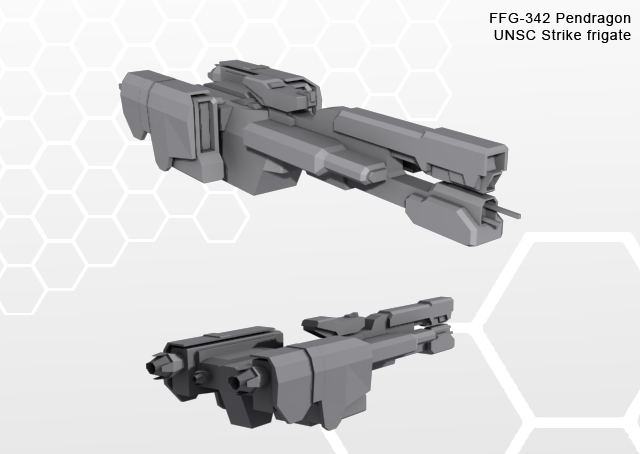 However, to effectively participate in naval engagements, the frigate would need to be bigger, meaner, and have enough storage space to carry it's own compliment of longswords. Thus, the space-only combat frigate was conceived.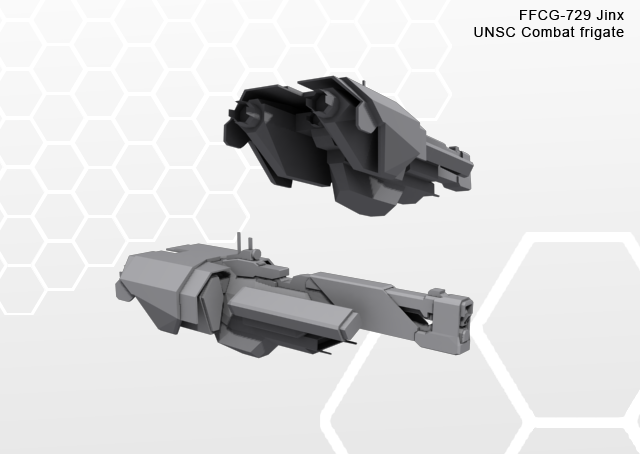 The small things matter, too
As already mentioned, we are no longer allowed to use RL's designs, which included the Scimitar, Halberd and Wolfclad.
To fill the role of the wolfclad, we now have the Hammerhead corvette, a small ship equipped with archer missiles and rapid-fire AA cannons to deal with Seraph swams, aswell as impressive sensors to act as long range escorts and patrol ships.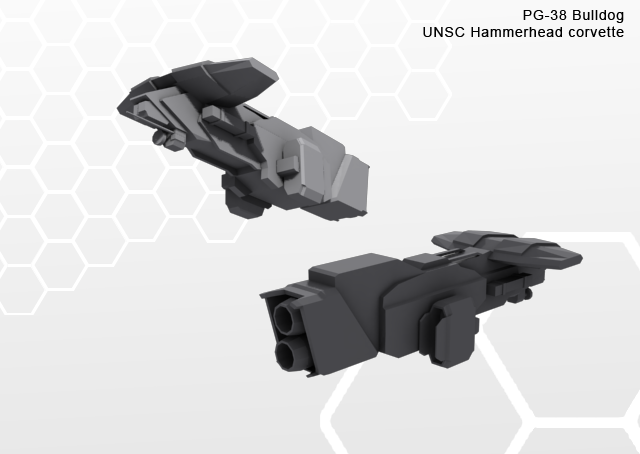 Sadly the turrets aren't modeled yet, but they'll be placed on the "hammer" part.
In addition, we also have a new design for the Scimitar, focusing more on the "drone" aspect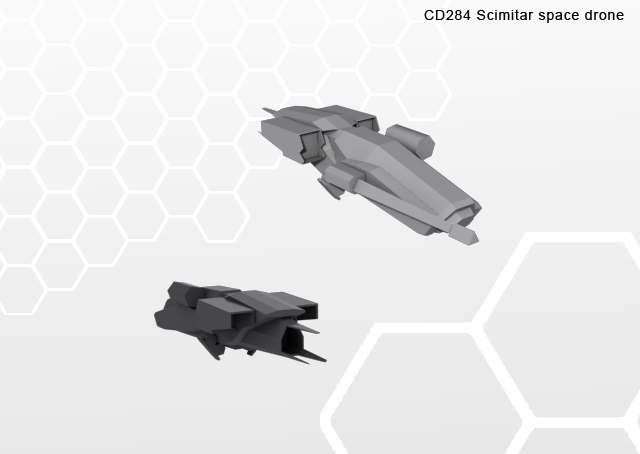 Aswell as it's larger counterpart, the Longsword interceptor.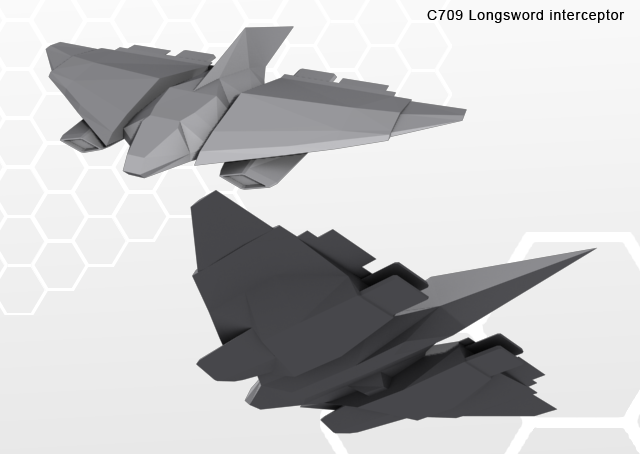 Now with the diamond engine intakes and a far lower polycount with higher detail resembling the original from Combat Evolved.
And one more thing
Later in the week we'll be showing you some screenshots of these beauties in-game and fighting, aswell as giving you a run-down of the resourcing system currently under development. Stay tuned for that.