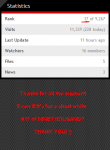 THANKS FOR ALL THE SUPPORT. It seems that even on the final version, people seem to support it.
I dont know how long it takes, but to be ranked 17th out of well over 9000 mods..
It feel great. And I thank you for that. :)
-Speedy
ADD:
Ahh.. 6th place felt great while it lasted.
The mod has shot back up, as I had expected..
But Rank 6? It still feels great. Thanks for the support I guess. :)