As you may know i was unable to work on the mod for a while because my motherboard died on me. i felt bad for leaving you guys hanging over the past few months so i spent all weekend working on the mod! so i have allot to show but first things first, lets talk about the storyline:
I read some very "Unfaltering" things about Raiders storyline. this was mostly my fault because i should have looked into it more, but i didn't. so we took your advice and scraped it! i can't say allot about the new story line (because we haven't developed much of it) but i promise it will be original and give us many ways to make cool weapons and items!
Know onto the fun stuff! i really liked the response i got on the "Night Vision" poll.

i feel it got you guys involved, and keeps a few flamers away! (not relay but i guy can dream can't he?). so here's the new night vision in game:
(If you click th image you can see it full sized.)
I also made a "Command Mode" this means you can control your team mates and send them to diffrent areas here's and in-game screen shot: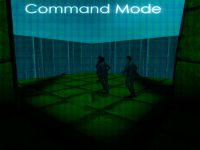 I don't like the overlay very much, don't worry i plan to re-do it! know before we talk Textures
i wanna show off the T-shirt design: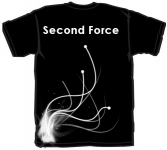 The only problem is printing, printing isn't cheap and i don't think anybody would buy it. if you
would PM me or comment on this. And the thing i spent most of this weekend doing! (Drum roll please!) watching TV! oh yeah and
making a few textures:
(Note! Ben made this a while ago! but we re-did the normal map)
I hope this gave you an idea of wear the mod is going, until next time (i need a catch phrase)
-John .N