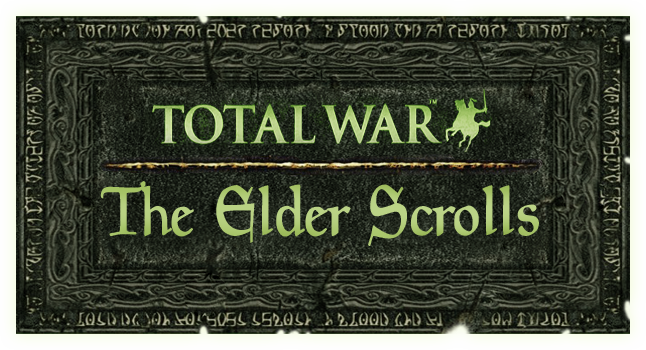 Hello everyone! A few days ago we released a big article on our new Battle for Tamriel project, and now it's time to get back to news about The Elder Scrolls: Total War. And this time we have prepared a lot of new information for you. Let's see what awaits our mod in the near future.
To begin with, it should be said that in 2.0.2 we have fixed a number of critical errors and shortcomings. For example:
- We fixed a bug with incorrect smoke and fire effects in battles;
- We have optimized custom architecture models and textures. FPS in battles with Altmer settlements, as well as in Whiterun, Solitude, Windhelm and the Imperial City, have stabilized, but we still recommend lowering graphics settings in sieges and using battle speed boost less often;
- We fixed a bug with passable walls in battles with Dunmer architecture;
- Removed free upkeep for units in forts;
- Fixed a number of minor bugs and incorrectly working scripts;
- Finally, we have fixed a legendary bug with the interface of reinforcements that had been haunting the mod since version 1.0. Proofs in the picture below: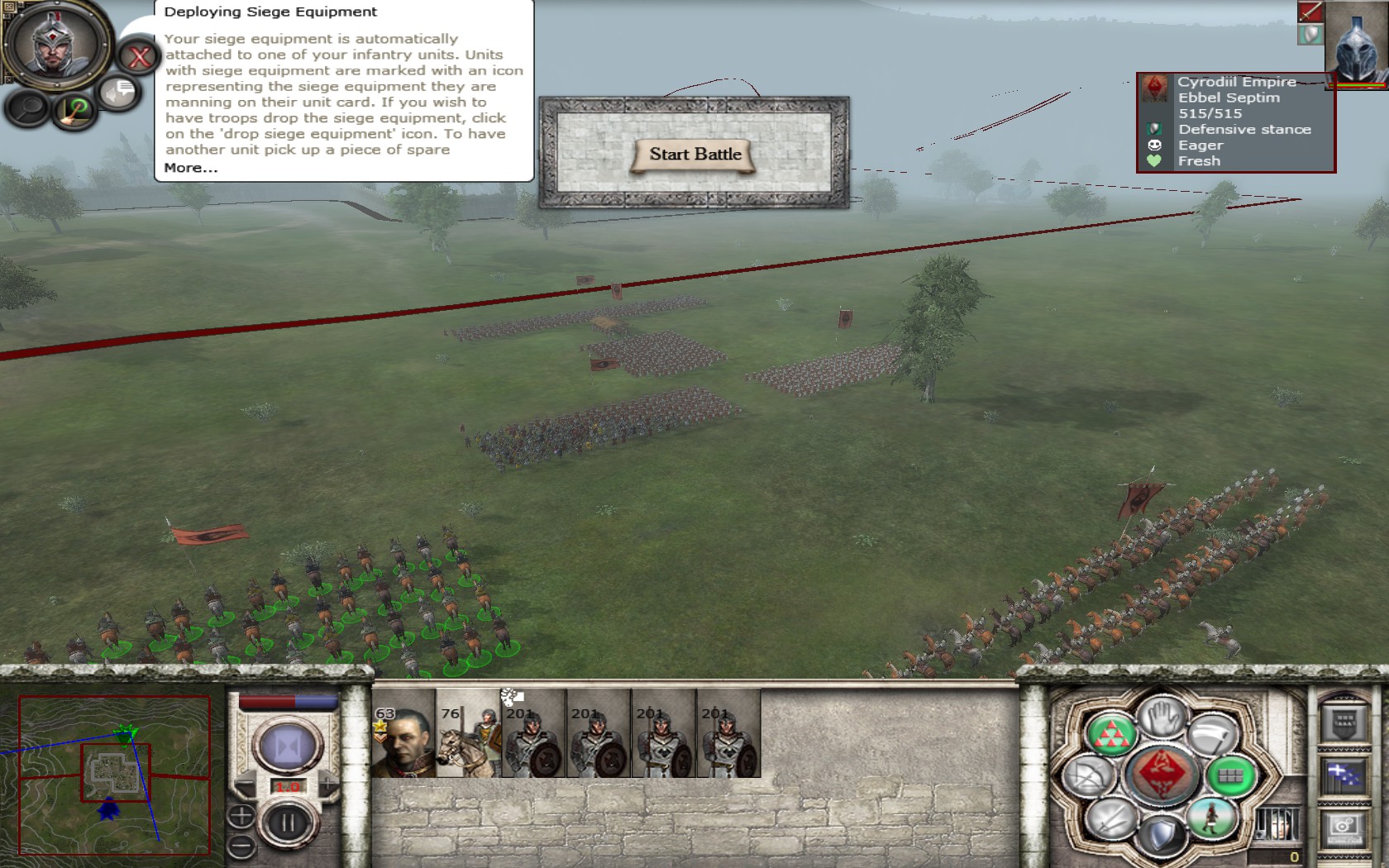 We'll miss our favourite bug :(
In addition to fixing bugs, we also refreshed the visual component of the mod a little. So, all Argonian units received a reskin to better match their appearance from the more relevant TES games. We also slightly updated textures and models of the Tsaesci mercenary army, replaced models for the infantrymen and archers of Skyrim from the third tier with their analogs from Morrowind: Total War, and also improved the heraldry of Wayrest's units, replacing it with higher-quality counterparts from Beyond Skyrim. Version 2.0.2 will also include a redesign of the Knights of the Circle and Iron, which we will show later.
And finally, the icing on the cake - with patch 2.0.2 TES: TW will receive a thematic addon that we have wanted to implement for a very long time and even made small hints about it before. We remember that we were asked for a long time to return Knights of the Nine unit, who disappeared from the mod with patch 1.4. Well, we did that, but made their comeback a little bigger than you expected. Therefore - meet the addon dedicated to the Knights of the Nine for the Third Era campaign:
THE KING AND THE CRUSADER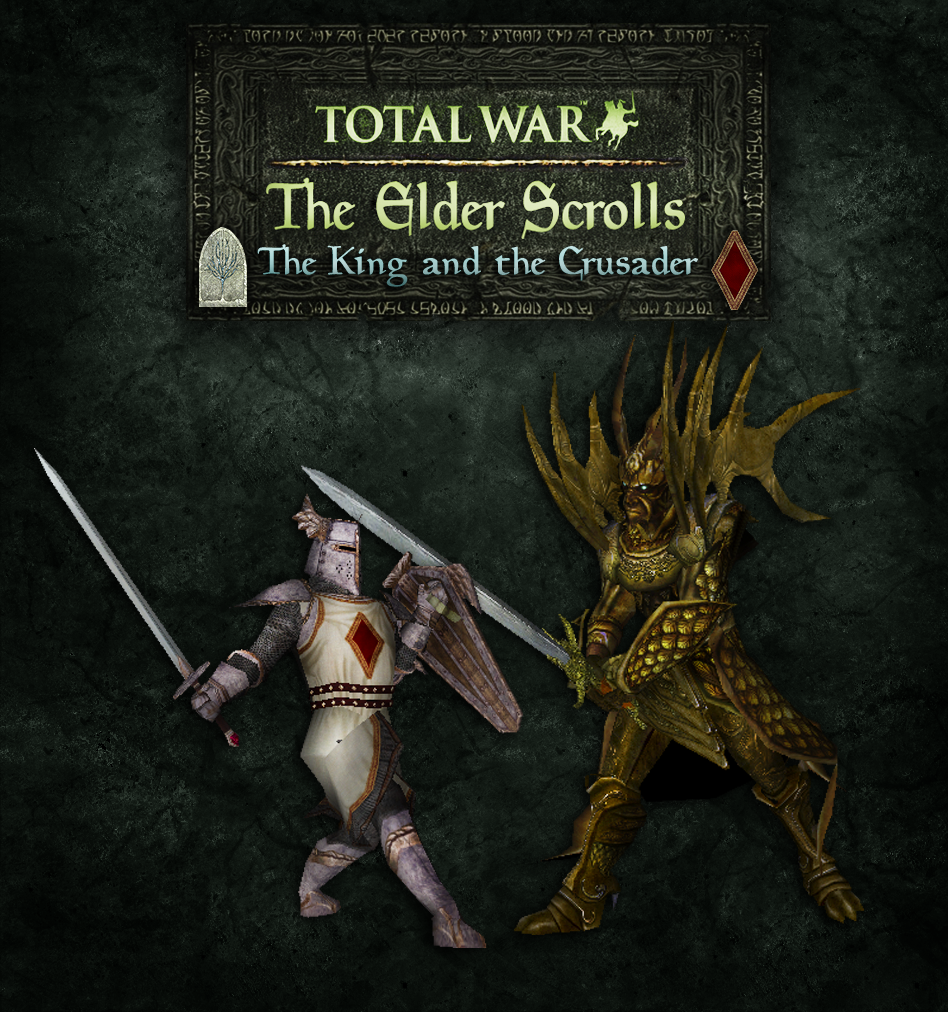 This addon with Total War: Warhammer like title will add two mercenary armies to the Third Era campaign with a unique scripted event. In the battle for Garlas Malatar, an ancient Ayleid city on the Gold Coast north of Anvil, Order of the Nine and the Host of Umaril will clash.
The Empire and Clan of Crowns will be able to side with the Order, led by Saint Crusader, unnamed hero who claims relics of Pelinal Whitestrake, while Valenwood and the Aldmeri Dominion will side with the Host, led by the ancient Ayleid Sorcerer-King Umaril the Unfeathered, brought back to life by Daedric Prince Meridia.

Order of the Nine will include the following units:
- Order Sergeants, a medium spearmen infantry unit with high morale.
- Pilgrims of the Nine, a unit of battle mages with good mobility and defence capabilities.
- Knights of the Nine, a heavy infantry unit capable of deciding the outcome of battle and holding back the most powerful enemy onslaught.
- The Prophet, unique priest agent on the campaign map.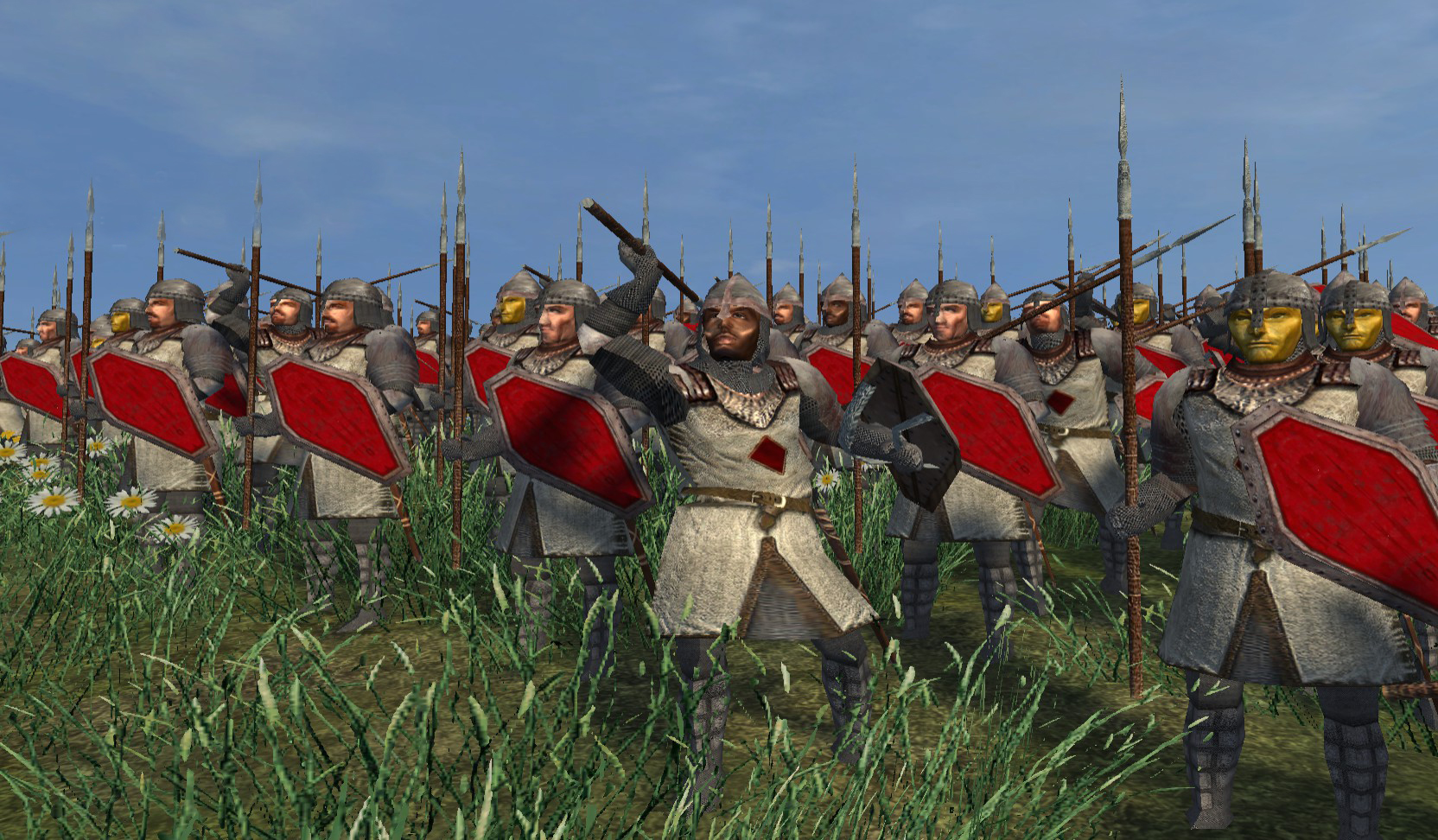 Order Sergeants, battle-ready and eager
Umaril's Host includes the following units:
- Ayleid Guardians, a unit of magic golems immune to fear.
- Auroreans, a heavy offensive infantry of Meridia's demonic warriors.
- Ayleid Liches, an expensive unit of high-level undead mages.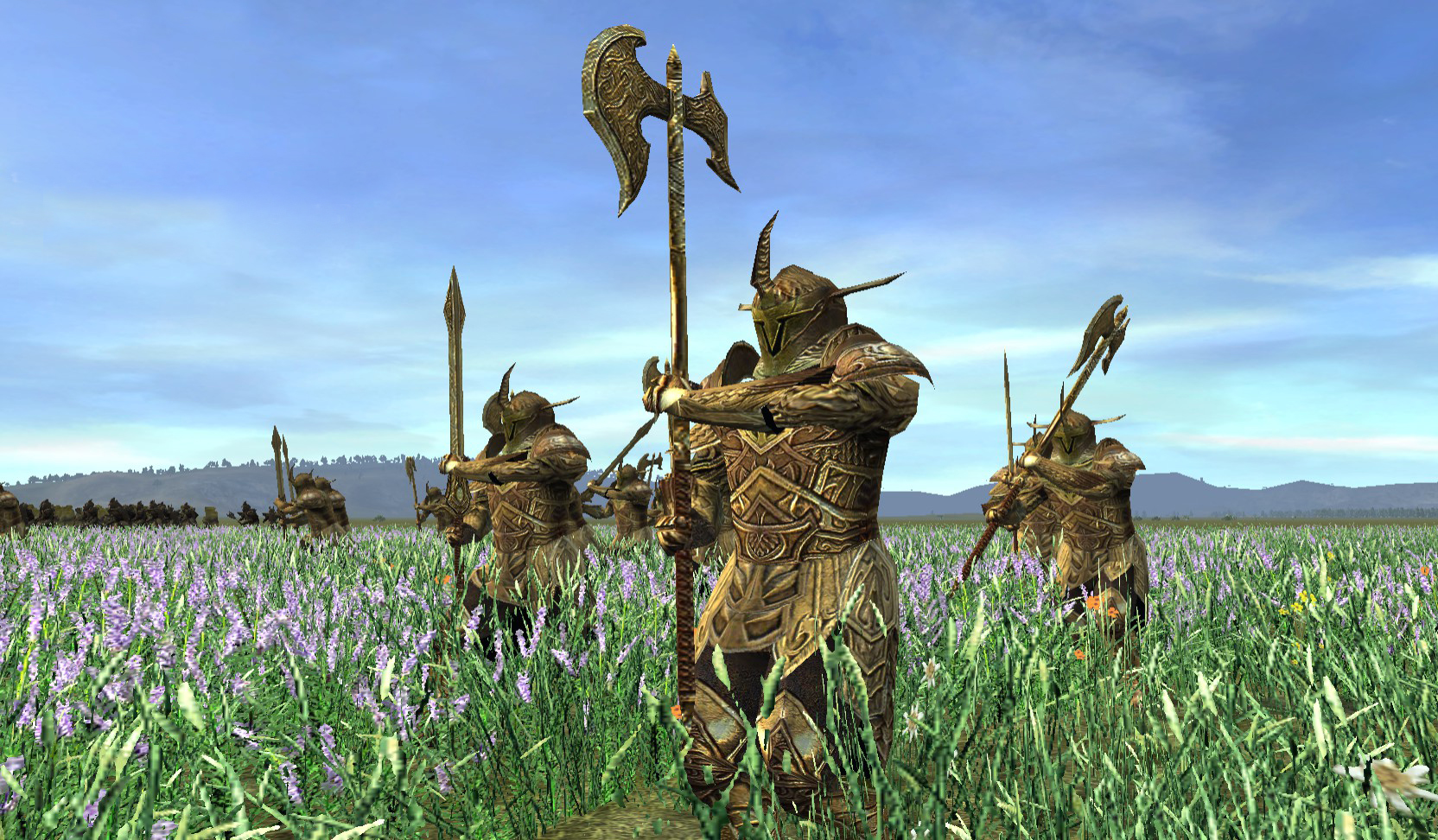 Auroreans, demonic creatures of Daedric Prince Meridia
We hope you enjoy the triumphant return of Knights of the Nine in this new patch. At this moment, we do not give any release dates, but we expect to release patch in the first months of 2021.
But our mod support will not end there. After the release of patch 2.0.2, we will continue to work on fixing bugs and errors. In version 2.0.3, we plan to significantly rework the cost of hiring and upkeep of all units, as well as balance their characteristics. The changes will also affect the campaign, as we plan to slightly slow down units recruitment rate in order to avoid the appearance of large armies in the first turns. In addition, in 2.0.3 we are going to redesign some units of Pelletine and Anequina.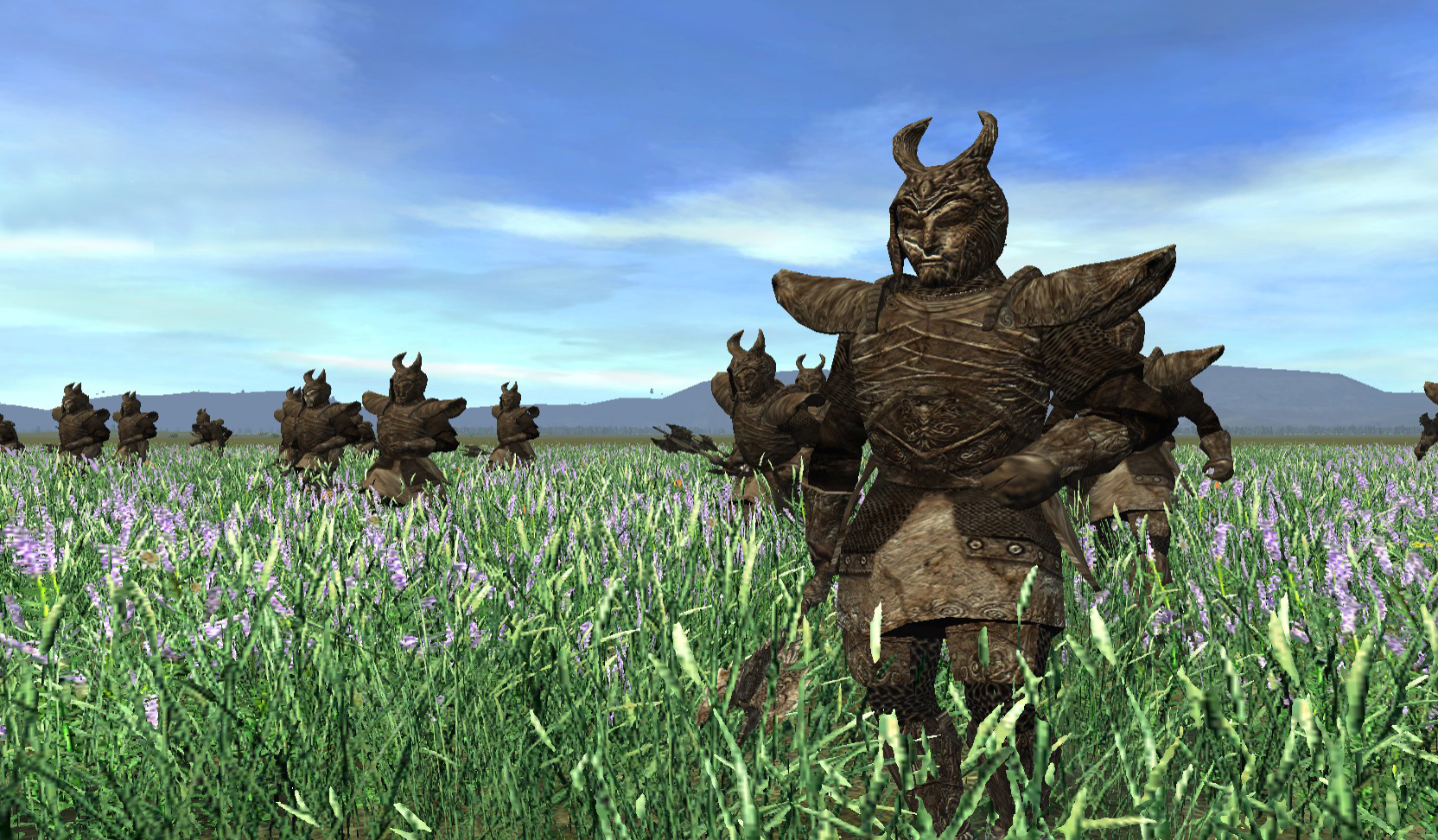 Ayleid Guardians, ancient magic golems
After version 2.0.3 we will also release version 2.0.4. We will not look that far and say what we have planned for this version yet. We advise you to be patient, because we will announce clearer plans for 2.0.3 and 2.0.4 on March 1, on our mod's sixth anniversary.
That's all for now. If you have any questions, you are welcome to our Discord server. Also, if you are interested in our mods, you can support us on Patreon.
Yours LoRdNazguL and DaedraWarrior