Ever since the first Alpha of Loot Nubs was completed I've been making sure to test it out whenever I could. Luckily I've been able to contact a couple people within my circle to test it out regularly and give feedback. The kinds of people I've asked to test Loot Nubs are people who are involved in Game development, groups of friends who regularly play video games, relatives who do not play many games and most importantly I had my 7 and 9 year old cousins play every fortnight or so.
The Feedback we got from those who are familiar with the design of Video games were very straightforward actions and tasks that would improve the games functionality and aesthetics. Almost all of the feedback was related to the player's understanding of the game and so things like the refinment of the UI and the feedback of actions were their main concern. One major piece of advice was to think of how the player feels about each element in the game, with focus on one of the most major events, the chest opening. Aspects like the environment that the chest was in and how long it took to open one were discussed, players need to hold some interest in the event so that they would want to do it often.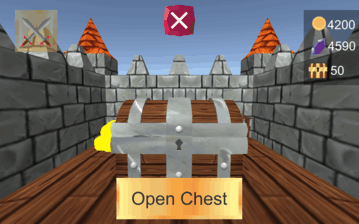 Chest Opening
When I presented the game to some of my other video game loving friends, their focus was on understanding the mechanics and gameplay over the aesthetics. This was useful as most of the bugs that were found were discovered by them through constant and repetitive play. They enjoyed the little things in the game the most, things like the Nubs jumping around and how nubs seemingly bash heads in order to fight. They also did not play for long, the game has a relatively simple game loop and so while the first few play sessions lasted over 10-20 minutes the following were done with the knowledge of what to do and so they simply played through once or twice to see what was new. This showed that they were uninterested in the progression system or lack thereof. this could be the due to the inability to save at this point but we also knew that the base building which controlled most of the strategy and progression was far too underdeveloped to be played as a proper game.
Nub Combat
Handing the game to people that normally never play games, or those who have never played games like this was interesting. they were far more cautious than the others, carefully planning out each step and reading every bit of text to make sure they understand what was going on. They asked few questions and they showed far more interest in the building of bases over exploration. In fact most people found exploring to be stressful, not sure where to go and if they could survive a simple encounter. They took things very slowly returning to base as soon as they aquired a chest. This was very interesting as is was almost the opposite to what we saw from the more experienced players.
Lastly we have the cousins, both boys, one 7 year old who is more creative and the other a 9 year old who is far more 'adult' in a way. These two, from what I know, share very similar interests in things like IOS games, youtube and other things of that nature and so they were immediately interested in trying out the game. First thing I noticed was that they had a lot of questions, but that did not stop them from figuring it out one their own. It was hard to keep up, while one wouldn't stop tapping the screen, the other would barrage me with question after question. the eldest of the 2 showed the most interest in the building while the younger spent almost all of his time in explore mode, although they both would mention how the base building required far more work. A lot of the discussion away from the actual game was based on the Nubs themselves and the possibility of a franchise. This showed that they had a lot of interest in the nubs and so I tried to put as much character into them through what they looked like and how they acted.
Overall testing has been incredibly useful for LootNubs' development, knowing what to focus on and what not to saves us a lot of time from being wasted which is essential when you only have 13 weeks to get it right. Definitely without testing I would have never had hoped that we could finish this game on time. The feedback given by tutors and game developers refreshed me on the lessons that I had learned in the past and what I learned from my cousins really shaped our understanding of what our target audience would want.
Thanks for reading, each week I'll be posting any progress I make, so if you'd like to keep up with our progress or perhaps offer some feedback or suggestions for what you'd like to see, please give us a follow or leave a comment on any of the posts.