Hello and welcome to another development diary with me, Andreas! Today I'm looking into the use of Cold War focuses.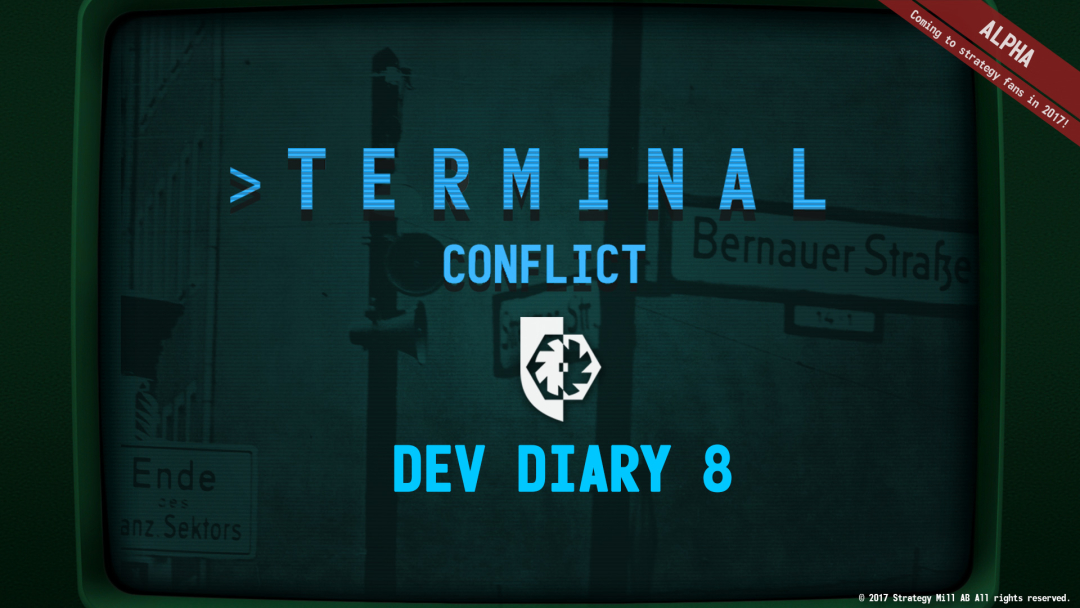 Being born a German just west of the Iron Curtain, I knew at a young age that having relatives on the eastern side meant that in case of war brother had to fight brother. As the sirens wailed across the countryside, I remember how everyone would abandon what they were doing and fearfully listen. The thought on everyone's mind, "Is it just a false alarm or has the unthinkable happened?" On Saturdays, the so called test days, we would feel a strange tranquility of the familiar high pitched howling. It was a constant reminder of the imminent danger of war.
There is an old saying that "it might be better to live and die on your own feet than to live without freedom on your knees". A life under an ideology, that viewed from the other side, seemed to be quite the opposite to your own. This was not only true for us Germans, but also for the Vietnamese, the Yemenites, and Koreans. A few mentioned among fractured proud nations, with each side bound to their factions ideology during more than half a century.
The Timeline
Terminal Conflict offers you that modern time frame to either win by escalating to a hot nuclear war, or by other more peaceful means. Extending from 1946 to 1991, the rich game-play is divided into 10 individual timelines. Except for the last one, each timeline spans five years and you will need to use that time wisely to defeat your opponent.
As your resources are limited, you will need to select one theater of war to focus on for each timeline. Focuses simulate historically plausible world conditions for an Arms Race or for Disarmament insuring that every single game of Terminal Conflict is unique and no single tactic will assure victory.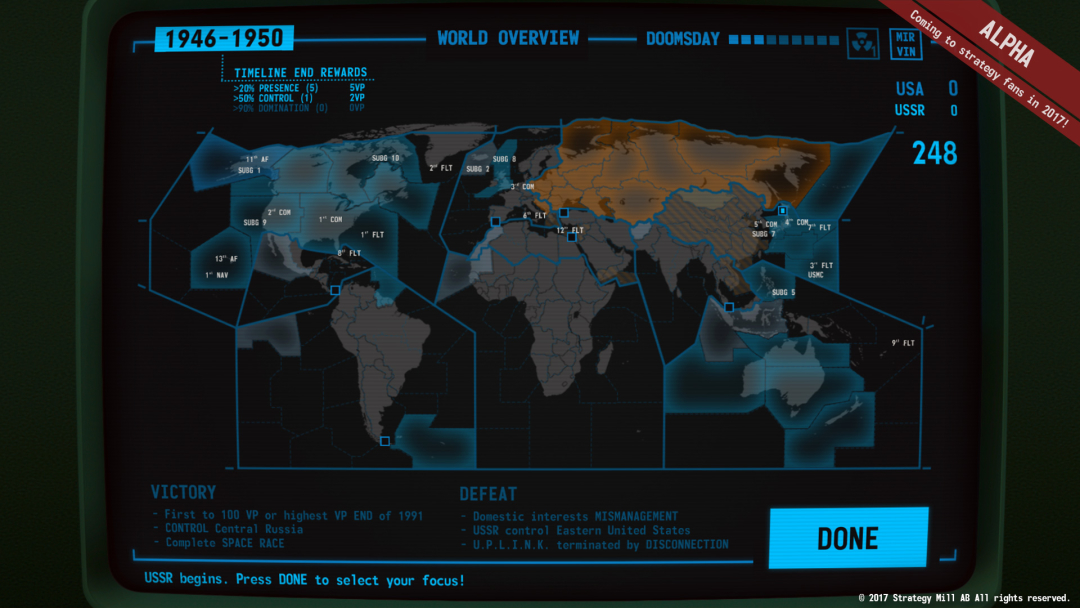 Arms Race Focus
Arms Races provide you with an opportunity to expand your influence through military means and dominate the Cold War arena with your might. However, this means that tensions will escalate and the chances for open conflict will increase.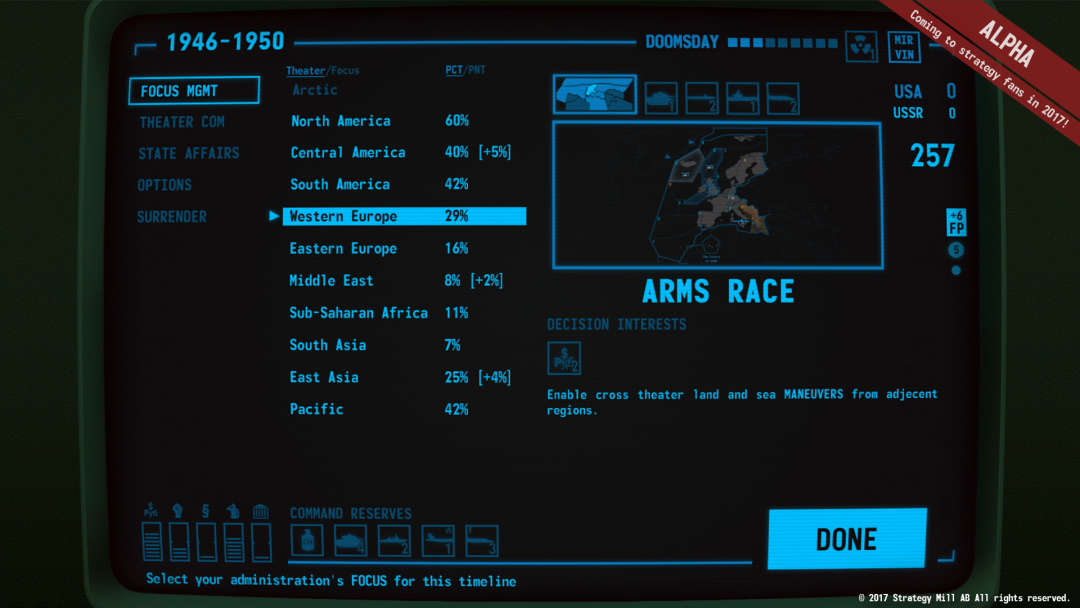 Unique to Arms Race is the Maneuvers feature, that enables you to call in deployed units from adjacent Theaters. Miscalculate, and you might face overwhelming odds with enemy forces maneuvering across the border.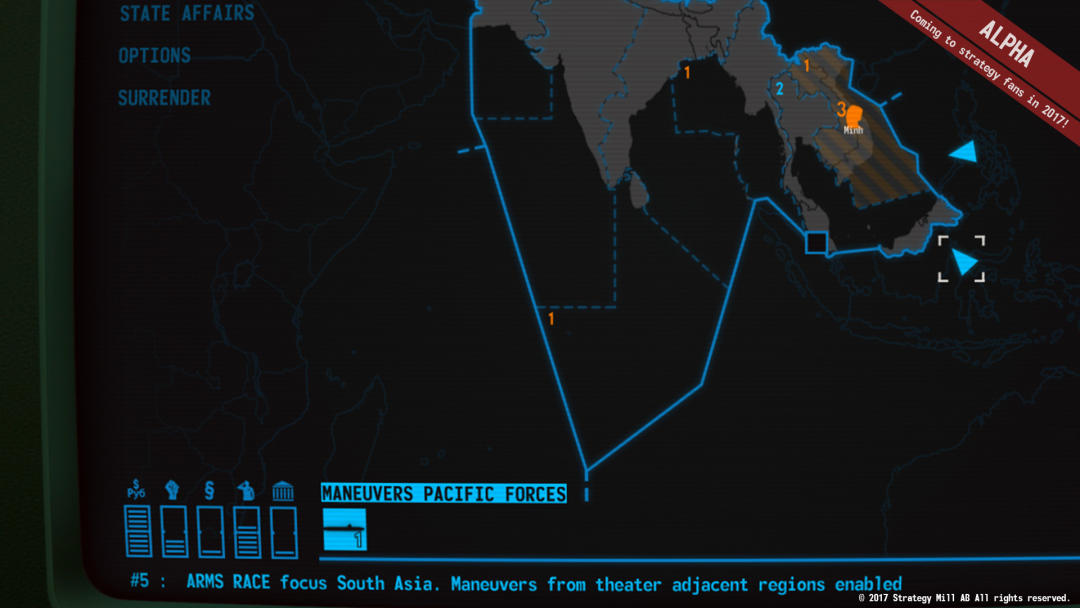 Disarmament Focus
Disarmament on the other hand gives factions the ability to de-escalate tensions, end wars and reduce the chance of open conflict on the world stage. Use it to reset dangerous situation and force your opponent to potential concessions. At the start of a Disarmament Focus, all military units of the current theater are mutually sent back to their bases, each lowering the Doomsday Clock. Units that are not reactivated by the end of this focus will be placed in Reserves and require redeployment. Exclusively playing the role of a peacemaker, if the Focus was only chosen by you or your opponent, it will also grant bonus Influence that can be placed freely within the Theater.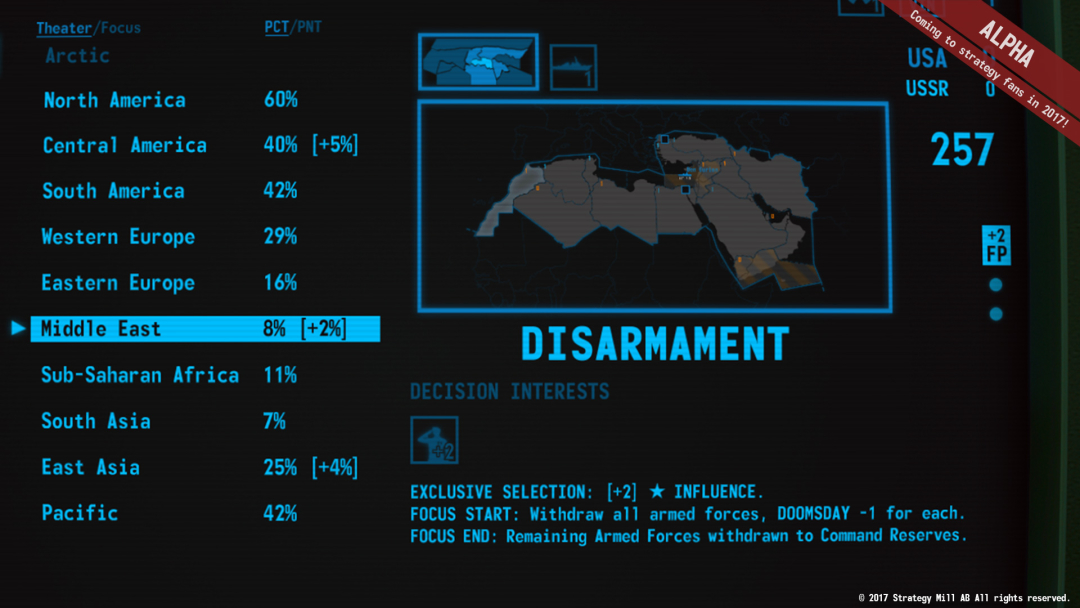 Historically Disarmament was favored above Arms race but still the world teetered at points on the brink of incineration. Sirens howling, leaders in command ultimately prevented the Apocalypse. Humanity had chosen cooperation instead of conflict and now that decision is in your hands.
Did you experience the Cold War or anyone you know? Tell us all about it on Twitter or Facebook, or write us a comment on Reddit.
Thank you and best regards!