For those of you that are not aware, Ten Second War is a top down shooter in which you control many units individually via a rewinding time feature such that you guide a small army in it's mission of destroying everything in 10 seconds. You control them one at a time, and yet they act all at once.
Thus, it's a top down shooter with a heavy emphasis on strategy, while still retaining the skill based action.
Friendly Units
Now, in the newest version, there are several new features to add to the depth of the gameplay, the first of which is the friendly unit system:
In addition to the player controlled units, on some levels there are now green units that have predefined paths that they will act out and they cannot be altered by the player. These units are very helpful to the player, but will often require some sort of protection or cooperation in order to be used effectively.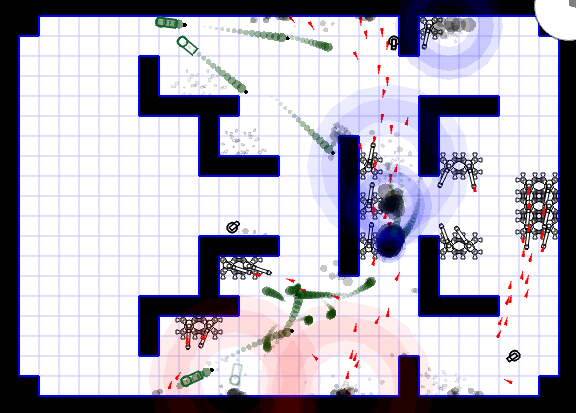 New Unit Types
As well as the original three unit types, the gunner, the rocketeer and the shield, there are now three more unit types. The ninja, essentially a human missile, has a stealth mode ability, during which he moves quickly, time slows, and he is unable to be hurt by enemy shots. It kills towers by touching them instead of by shooting projectiles, so the ninja wins by taking cover until stealth mode is ready and then sprinting out to quickly destroy prioritized targets before hiding again to let stealth mode recharge.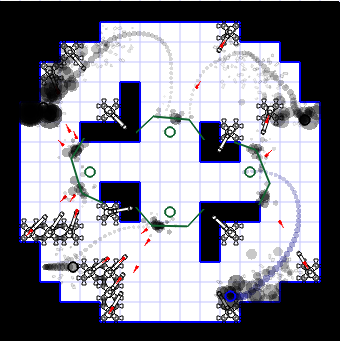 The void, which cannot fight, but instead is able to walk and create rifts within walls. These holes allow friendly shots through them while being unnoticed to towers, so that you can attack from safety through to what would otherwise be a difficult to attack tower.
And finally, the less inspired but effective combination of the gunner and shield units, the shield gunner. It has the attack of the gunner while also having the frontal defensive capabilities of a shield. Its shield is smaller than that of the shield unit, leaving it vulnerable on the sides. Thus, it is common for multiple shield gunners to fight together at angles such that they protect each other.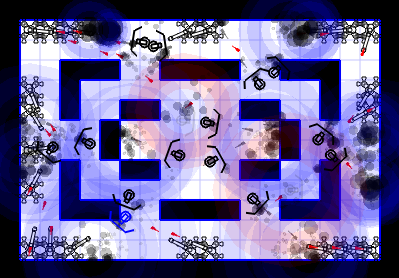 Level Editor
For the first time, there is also a user friendly level editor included within the game. The level editor exists such that it is almost identical to playing the game, except that you have additional buttons that allow you to modify the world as you do so. Also, any unit that you control while in the editor will automatically become green and will be a prerecorded friendly unit in the final version of the map. These friendly units can then be rerecorded to have a different path or remove their recording if you so choose, as long as you are in the editor. The interface is kept simple and minimal, such that it is quite easy to use.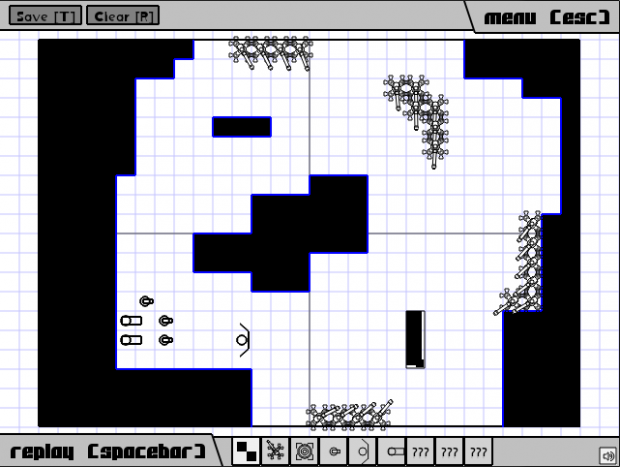 There are also numerous other miscellaneous changes, such as bullets having a more interesting shape than the flat line they used to be, colored rocket trails for rockets launched by the active unit or by friendly units, blue lines on wall edges, colored ripples upon destruction of units and towers, some code optimization, bugfixes, some sound effects, restructuring of the menu, and around 30 new levels.
Download the current version now.
Moddb.com