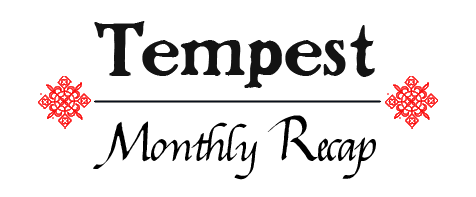 Hello and welcome to our seventh monthly update! This month we've seen some new additions to our team, networking & interaction progress, some new ships, and a new video explaining a little bit about our design philosophy.

More Ships Added
I have spent a lot of time adding in existing ships and then furnishing them with our new objects such as interactable lanterns, doors, and guns/gunports. I've also started work on a new ship - a merchant Schooner, designed to be an unarmed trading vessel in the game.

The ship's model is still in progress, and has also yet to be UV mapped/textured. New screenshots will be posted when it's ready though!
The addition of the new Schooner brings our total ship count to 8!
New Additions to the Team
I'd like to welcome Dan, Elise, and Seb to the Tempest team. Dan and Elise will be working on 3D art, whilst Seb will be assisting mechanics from a blueprint/programming perspective. Seb has already created a networked prototype for us, allowing clients to connect to each other. Looking forward to seeing what our new members can do!

Design Discussion Video: Why Multiplayer?
This is a video I've made to help clarify our intentions for turning Tempest in to the multiplayer game we want it to be. Hopefully you find it informative!
Structuring Play: Mission Template Design
I also created a rough map to demonstrate how we can structure play via missions/objectives given to players. I talk about this a little in the video above, but you can see the image in more detail here (Right click and select view image to enhance).

We are always looking for more help!
If you are a concept artist, programmer, or voice actor, please get in touch with us either via PM or comment here on IndieDb. We would welcome the support!
Let us know what you think!
If you like the sound of what we're trying to achieve here, or if you'd like to help us out, leave a comment or send us a PM. We welcome critique and feedback. That's all for now. Until next time!