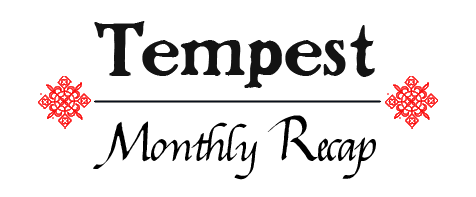 Welcome to our sixth monthly recap! We have begun our move to Unreal 4 engine. It's been a somewhat slow start, but we are making progress!

Third Rate Ship of the Line
In addition to getting everything set up for our fresh start, I have been personally creating new ship! A 50 gun Third Rate with Royal Navy colours. The model isn't complete yet, but I thought I'd show how progress is coming along with it. It still needs things like sails, furnishings, and lots of other small details. At the moment though its general structure is complete. It is the largest ship I have created to date! I am contemplating making it a playable ship, eventual playtesting will prove whether this is feasible or not though.
One of our programmers, Josh, has taken to cannons as his first foray in to Unreal 4. In addition to being a good entry task to learn the basics of Unreal, this matches our desire to start with a more ship-focused approach to our initial design that we will be taking. Our plan is to get our ship mechanics down 100% before re-creating the land-based levels players will explore. Here is a video showing some of Josh's progress:

Tempest at the Welsh Games Development Show!
A big thank you to all the people who attended our booth at the Welsh Games Dev Show on the 19th of June. (And hello to anyone reading this who saw us there!) We ran our Cryengine build to showcase our work and received lots of positive feedback! =)
We hope to return next year with an even better Unreal build!
Starting again won't be easy, so we don't expect to approach the level of functionality we had in Cryengine for some time. However, building all of our fundamentals from the ground up will allow us to make sure our foundations are strong, and also fine tuned to our exact specifications. With this in mind, Zack is working on creating an ocean for us. This is important as we will need the ocean to react to ships, and have varying wave physics that will play an important part in storms. We will hopefully have more to show of this next month in July. Tom will be creating prototypes to test network functionality, whilst I will continue to send our various ships through the pipeline, as well as continue to create more ships.
We are always looking for more help!
If you are a concept artist, programmer, or voice actor, please get in touch with us either via PM or comment here on IndieDb. We would welcome the support!
Let us know what you think!
If you like the sound of what we're trying to achieve here, or if you'd like to help us out, leave a comment or send us a PM. We welcome critique and feedback. That's all for now. Until next time!