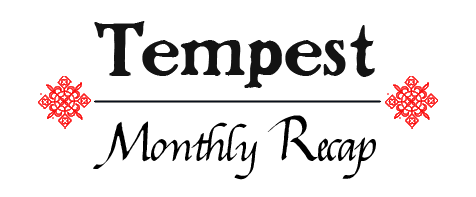 Hello IndieDB!
After four months of prototyping we are now in production, and have set up a page here to function as our primary development blog. So here is our first recap!
---

---
A Short Introduction: The Game & The Team
The thinking behind a lot of the design theory for this game starts with Guns of Icarus, a fantastic, competitive multiplayer game about airship combat. One of the things Icarus really nails is the feeling of being aboard a ship, even an air powered one. With each player able to contribute in their own way to keeping their vessel going. When thinking about the design for Tempest, we want to replicate that feeling, but in a much less competitive, and less action-oriented way. For our game we intend to place players on their own ship, task them with finding treasure, and let their journey form the bulk of the game experience.Our team is currently made up of students, contributing their relevant skills from their respective courses. So far, we are:
Jackson (me!) - Design lead, Art, Level design
Zack - Programming, Mechanic design
Josh - A.I Implementation, Level design
Tom - Programming, Loot Implementation
Alex - Music
Kyle - Programming
Daniel - Programming

---
What We Have Achieved So Far:
So far, we have created four ships for the players to sail, twelve unique islands, thirty four unique treasure items, a rough set of weapons and tools, storms that disrupt the player's ship, a functioning weapon store prototype, as well as some rudimentary NPCs for the players to interact and fight. The focus for us at the moment is getting our ships sailing in a multiplayer environment.Over January we have created a plan for the months ahead, detailing how and when we want to achieve our goals. We've also begun upgrading our Flowgraphed prototypes to LUA/C++ with the help of our programmers, something we only recently realised we would have to do. In addition, I also created some new particles for loot collection, and continued to make aesthetic tweaks to both the world and the ships the players will sail.

---
Let us know what you think!
If you like the sound of what we're trying to achieve here, or if you'd like to help us out, leave a comment or send us a PM. We welcome critique and feedback!