Hey guys, It's your infamous game developer here, Duke-Nightmare. I'd first like to thank everyone who supported the mod even through the stand still, or the delay in development that did occur over the past few years. A special thanks goes out to Lurid and Drew for what you have done.
Anyways, on to the news. There's a lot to cover in this Tuesdays news post. First of all, I have changed the title of the project to Torment, from Doom Lucions Undoing. It was an obvious reason why I had to change the projects name, first of all Doom still exists 1, 2, and 3 are all GNU sure, no ones complaining. But the fact of the matter Doom 4 is in development. Ya, anyways I didn't feel like acquiring a law suit at the same time I did contact ID SOFTWARE about this and discussed certain things with an individual who worked there. So with this all done and said... with out further ado, I present you...
TORMENT
As well with this announcement I'd like to brief you about the progress of Torment. I recently had a discussion with Bradly O'nally in regards to the Windows Server browser and the Rank API that was implemented in the early alpha stages of the project.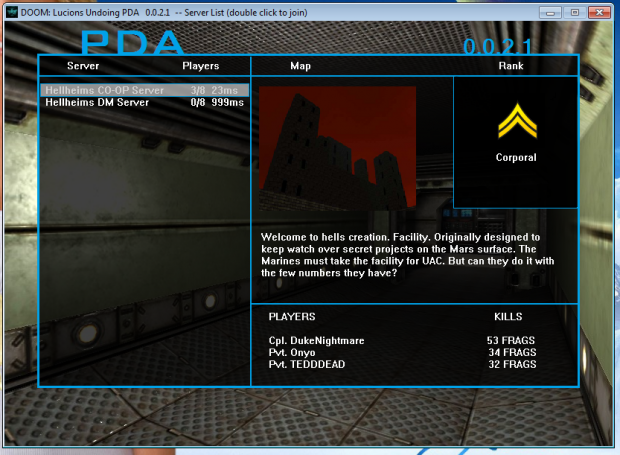 Now we've decided to completely throw this whole application and rank system out of the game. One of the reasons being it was a real pain in the rear. To have two seperate programs for two different things. One for playing, and the other for browsing games and news etc. Especially when the game itself is fully capable of searching for games on its own as well, via an in game browser. One idea we've had after scraping the Rank API was to make all coop games have ranks, and depending on the score of the player determines the rank. More about that later!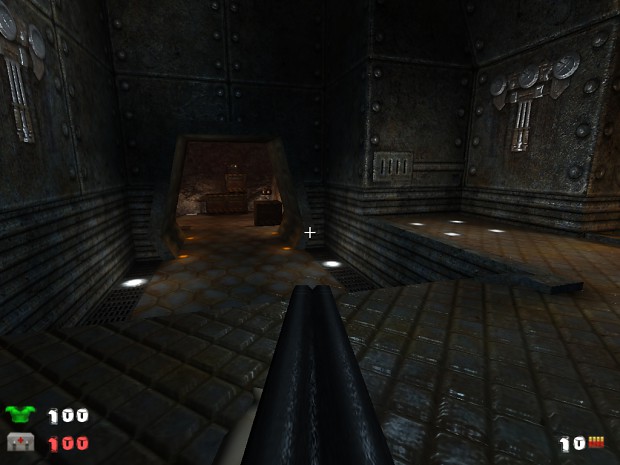 Anyone care for the Super Shotgun? These are one of the many weapons you'll being seeing carried over in the next little while. This Super Shotgun has just finished animations and such so the next weapon I'll be showing next week is the Plasma Rifle.
Alright that covers weapons, lets head over to the Concept level ctf_Dogpen.
Now the dogpen can be played under normal deathmatch conditions as well. The map itself, is small and can hold up to 16 players. There's one hidden room which will hold the Railgun. Other than that. Default map weapons are the 9mm PS, Super Shotgun, Rockets, and the Railgun. There are lots of things to seek cover behind as this map is designed as an arena map. Now I'm sure you're looking at the pictures and saying it looks blah. You're right it does. It's all Concept with basic textures on it at the moment. Moving on, there will be two ways to capture the flag here. You could go high across the bridge than spans to one of the teams sniper bridge or you can go low and seek shelter behind various different covers while attempting to return the flag. With each teams base designated via their colour this map will be sure to serve up some fierce competition with 16 players.
Moving along...
Alright, so now that I hit you with a semi big update. It's time for me to ask the community what they think. I do remember and clearly stating that I wanted to remake Doom originally within this title. And it will recreate it to the best of my ability. But Coop... How would you guys like this done? Do you want me to carve out maps from the original titles or do you want fun coop missions unrelated. Such as a base assault or a beach assault of some type. I want to hear it! So please don't forget to comment.
Desura you say?
We are currently engaged in talks about getting this project up on Desura. Moddb.com Check that out when you have time. Possibly one of the best things to happen to Indie games. So prepared to be unlocking accolades/achievements in Torment people!
On the other side of things, we are currently looking to enlist mappers for the game. So I can spend time doing one and only one thing, coding. If you're at all interested in mapping feel free to private message me!
With this being said, this is another wrap up, of a End July 2010 Update.
Cheers,
David "Duke-Nightmare" Cluett