The Great War is a modification of Company of Heroes to introduce the World War I battle field into the modding scene. It is mainly focused on infantry and artillery warfare, adding gas attacks as a new gameplay feature which both factions have non-doctrinal access to. Vehicles and airplanes, which have been introduced as new weapons in that war, will also have a deciding role.
The two factions you can currently command are the German Empire and the British Expeditionary Force.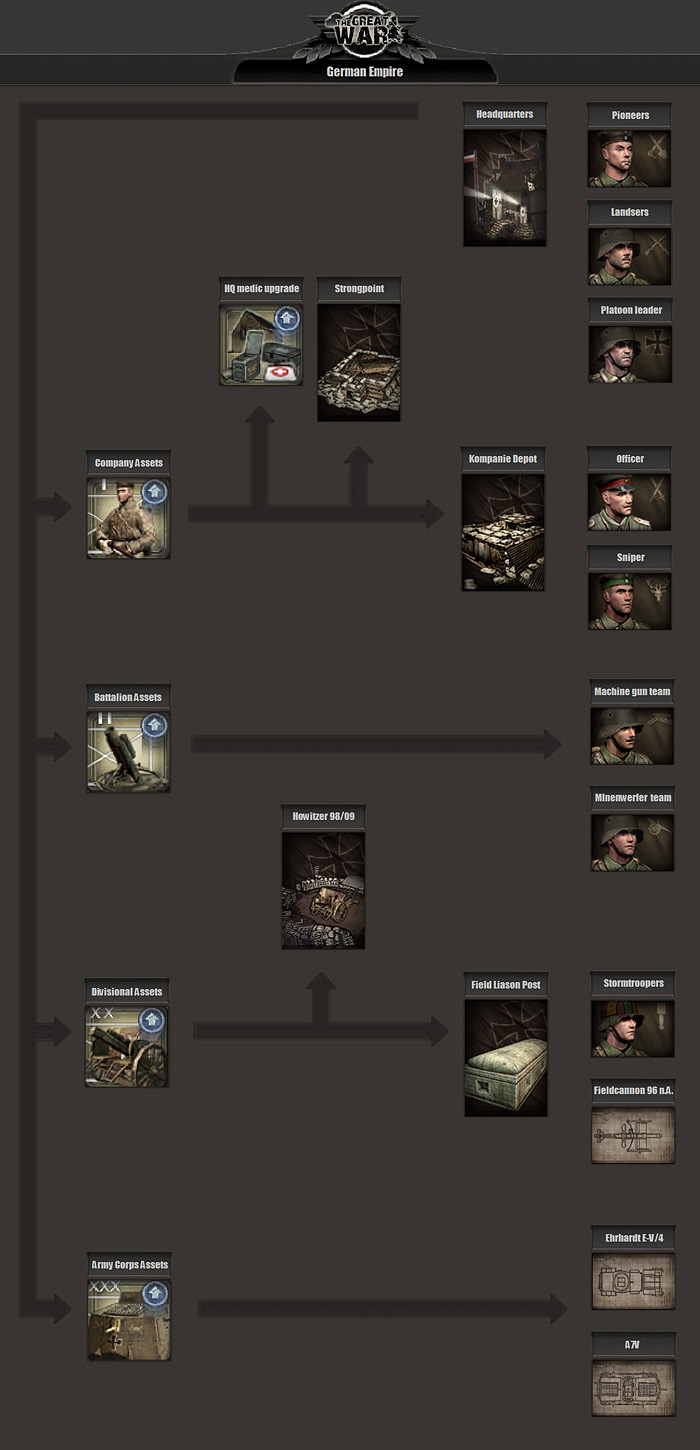 German Empire
In early 1918, when the Kaiser made peace with Russia, all German forces on the Eastern Front were moved west to prepare for a big offensive. This is why the German faction is offensive from the start, having a lot of infantry support to crush enemy fortifications and conquer French territory.
Artillery is the leading support for this faction as while it has powerful vehicles available, these are few and limited in numbers.
The German Empire has a more conservative tech tree similar to CoH Wehrmacht and its HQ upgrades. These upgrades unlock abilities and other techs, like the Tier 1 and Tier 2 buildings which get constructed by your main builder unit: the pionier group.
From the start you can either rush for Landser groups supported by a platoon leader, or fast tech to "company assets" (tier 1 phase) which unlocks the company depot (tier 1 building) with snipers and the officer. Also it unlocks strongpoints which can be upgraded to a MG nest, a sector-lockdown building or a medic station. At this point the HQ can be upgraded to act as a healing center for wounded soldiers.
"Battalion assets" (tier 2 phase) unlocks two new units in your tier 1 building: a MG08/15 light machinegun team and the light Minenwerfer, a 7.6cm towed mortar.
"Divisional assets" (tier 3 phase) unlocks the Field Liaison Post (tier 2 building) which grants access to stormtroopers and the field gun. Also it allows the construction of howitzer emplacements.
"Army Corps assets" (tier 4 phase) unlocks the mighty A7V. Also you have a mobile armoured troop carrier here: the Ehrhardt E-V/4.
---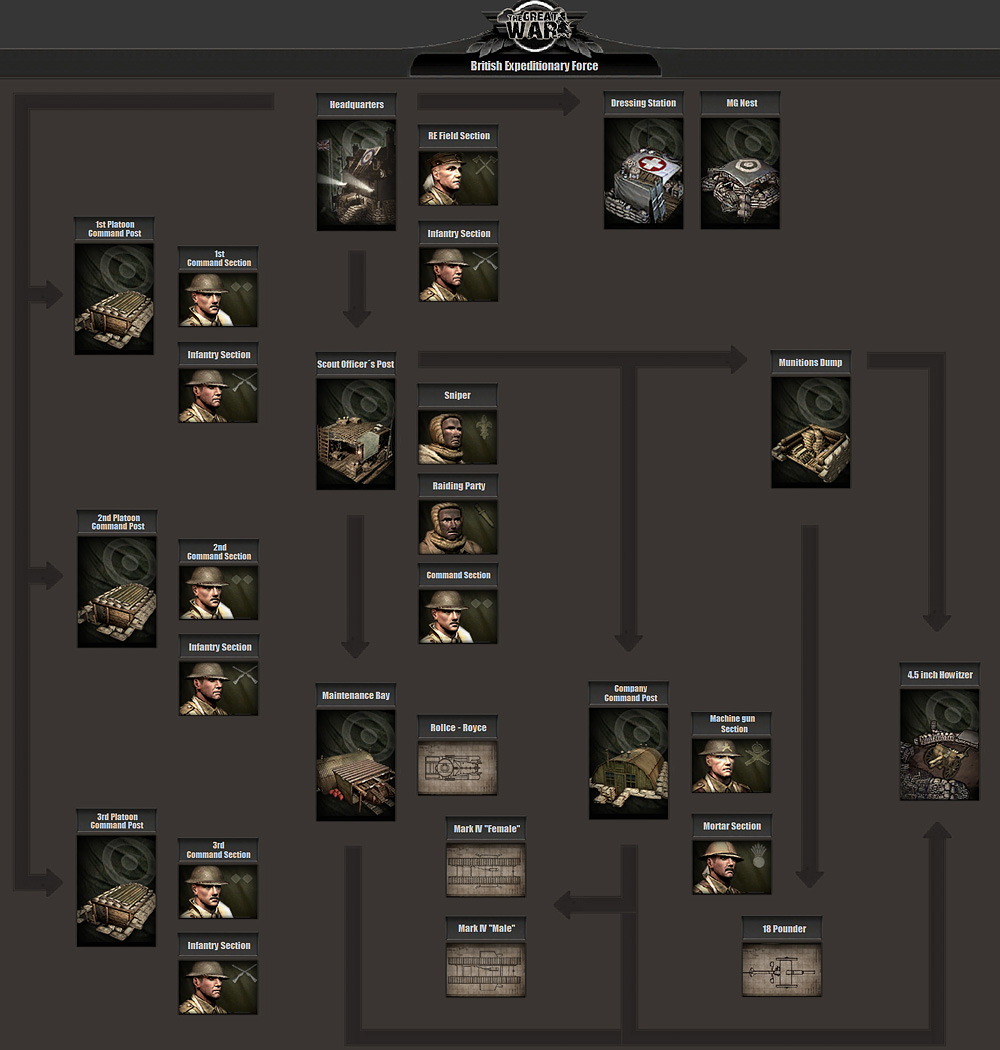 British Expeditionary Force
The main feature of the BEF is passive-aggressive warfare, with a defensive early game focused on building outposts to lock down points and defend them against German attacks. Then British players can start a counter offensive by teching for infantry support weapons or go for a vehicle rush. In both cases artillery is available as support.
The main builder unit is the RE (Royal engineers) field section available at the HQ. The player can decide to build an early Platoon Outpost, dressing station (healing and wounded collection) or an early MG nest. An outpost in the field with a dressing station next to it is a good combination to hold and defend an important resource point. Note that outposts build infantry and command sections in the field too. It is also possible to just go for heavy infantry strategy and skip forward ouposts.
Further teching to Scout Officer's Post (tier 1) grants access to snipers, command sections and trench raiders whose role is to attack German entrenchments.
From there one can build either a munitions dump which unlocks gas attacks and infantry grenades, or go for a fast vehicle rush with Rolls-Royce armoured cars by building the Maintenance Bay (tier 3), or build the Company Command Post (tier 2) for infantry support weapons like Vickers HMG and Stokes mortar.
Note that the 4.5in howitzer emplacement requires the munitions dump and either the company command post or maintenance bay.
Also tanks can only be built at the maintenance bay once the company command post is completed.
---
One of many special features I want to present at this point is tank fights:
British MkIV male tanks have two guns which are mounted on either side of the vehicles. However if you face an enemy frontally they cannot fire, because the guns cannot turn that far. What you have to do is to face your tank sideward and "lock" it so that it has its best fire angle.
Do not see this as an inferior feature however! British tanks can circle the enemy while firing all the time with both cannons!
The German A7V doesn't need to turn and lock the vehicle as its cannon is mounted on the front. However it can only face one enemy vehicle at a time and cannot circle it.
There are no tanks ingame (yet) which have a turret!
This is all for now. Next time we will talk about the mod's new maps: Fromelles and Villers-Bretonneux!
Update by Killar/GeneralCH
TGW1918 balance team