Introduction
It's been a month (Feb 5-Mar 5) since we started designing, developing and writing articles about our language system. Let's see how far we've got!
The Current State
-The kids are currently able to distinguish 5 types of sentences: normal sentences, questions, partings, greetings and orders with a vocabulary of around 120-150 words. We train them using a Neural Network with Vanilla Gradient Descent. The current performance on the training data set is 100%.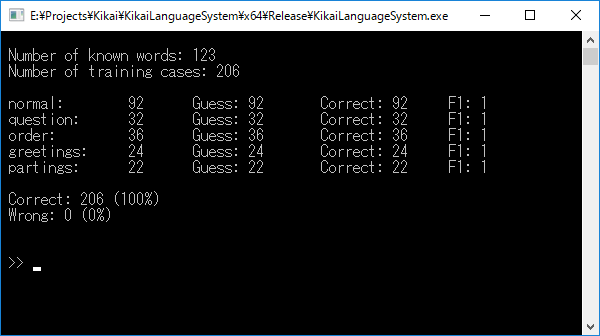 With a 3 hidden layers Neural Net, we've been hitting that 100% accuracy consistently

- The kids can understand and remember basic information of themselves as well as other characters like name, nickname, age, likes, dislikes, etc.

- There are relationships among characters and those relationships will also influence the way the kids speak. For example, at the beginning, Kira's lines are generally colder than Kai's.

- There are already random factors added to the kids' replies, so they won't respond exactly the same every time.

- The kids are also aware of the world context, like what time it is. So they know that a "good morning" in the afternoon is weird.

- The kids can understand expressions like "I am called Phil", "People call me Phil", "Phil is how everyone calls me", "What are you called", etc.

- The kids can understand basic contractions like "I'm", "he doesn't", "she'll", etc.

- The kids can understand basic negative sentences like "My name is not Phil".
What's next?
The system is very young, with all features still in early development. We've gone a long way since the beginning, but are still very far from our ambition. The number of tasks/issues/ideas is increasing dramatically, reaching over 30 in just a few days. With our language system becoming more and more stable, do expect us to improve a lot every week!