Tallowmere was recently Greenlit in December 2014.
Today, I am happy to announce that Tallowmere will release on Steam on 3 March 2015.
My first prototype of Tallowmere was made in December 2013, just over a year ago, featuring a hero, two enemy types, a static room, and some decapitation. Since then, I have added procedurally-generated rooms, many new enemies, special boss and event rooms, multiple trap types, a slew of weapons, a rarity-based loot system, merchants, treasure chests, difficulty settings and challenges, controller support, local co-op, and a high-score system.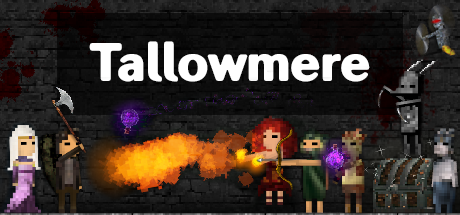 To my friends and supporters, thank you! To the other indie devs out there, keep coding! To my fellow gamers, play on! And to those who will be lured into Lady Tallowmere's dungeons, good luck.