That was a pretty cool weekend for us! Our ScreenshotSaturday post made quite a thunder on Facebook and we collected some amazing feedback, even on Twitter and forums. We showed two versions of the same area, and as many of you pointed out - even though the "bottom" version is commonly considered superior, the "top" version has some redeeming qualities that we shouldn't completely throw away. It's very possible that we'll create a version that stands somewhere in between. : )
We hope that this picture showing Iudicia performing a curtsy in her pretty, wedding dress, shared by us during IndieDevHour, will work as a "thank you" gesture: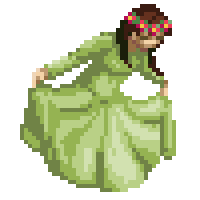 (Designer is from Poland, so of course there is a flower crown.)
Generally speaking, we finished developing most of the minor, mundane visual elements for the game - basic interface, some small ornamental pictures, minor additions... However, there is still a lot of crucial graphics we need to focus on. Even though the basic character sprites are finished, we miss some faces and backgrounds, and we are really behind with animations. The game's prototype works perfectly fine and smooth, but we still have parts of the game that look like this:
One of the reasons why the background graphics are so delayed is that our fantasy realm, even though it is strongly inspired by medieval-ish Europe, is not really that simple to explain and needs to be constantly supervised.
It's not a common problem for Visual Novels - when you develop a game set in, for example, modern Tokyo, it's not really about creating coherently connected world elements, but rather about good research, realistic references and coherent style in which the game's world is presented. Also, many fantasy worlds in video games use the most basic references, correctly assuming that the majority of players can fill the empty spaces on its own.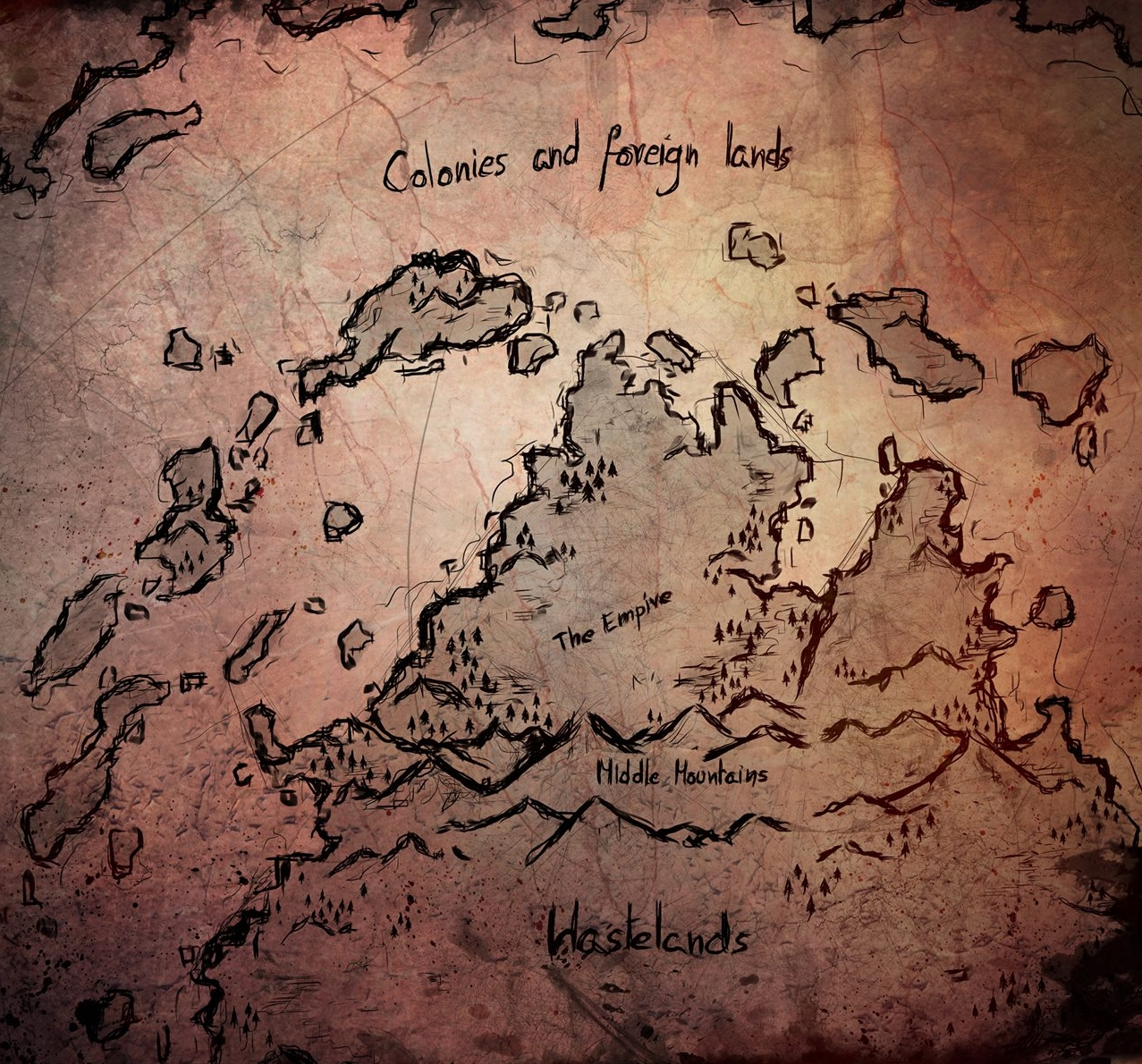 (The map from tabletop Viaticum RPG.)
Our realm is not just a tool pushed into the background. The world of Viaticum was constructed for quite some time and one of its older versions was used in a Polish tabletop RPG. In result, we have a lot of well thought-out ideas, but the majority of them was never written in English. We feel the need to make a large Viaticum compendium for our future games, but it's something to take care of after the Tales From Windy Meadow release.
Our graphics need a lot of instructions to keep every element working in the larger context. Working on this game is more like working on a small-scaled RPG or a fantasy novel. We don't want a setting that's just an excuse to keep things colorful.
For example, you may remember some of our village guards: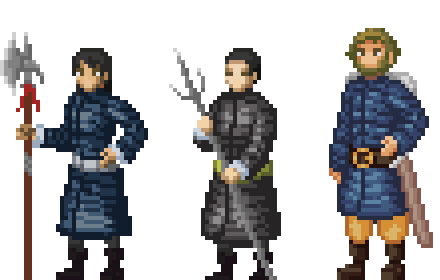 (Advena, Bracus and Victis.)
Having dangerous, massive forests filled with beasts doesn't support having an advanced industry, and having a limited access to iron and metallurgy makes heavy steel armors an equipment reserved only for the richest (and the most paranoid). Since in most fantasy worlds leather armors (which in medieval Europe were a very rare and not very useful gadget) are equipment reserved for either rogues or poor folks, we decided to use aketons instead. Even if it isn't easy to make an aketon look as cool as the classic chain mail suits, it's an effort that helps us build more coherent illusion.
Another example is quite a common one - the famous crosses. You probably met other worldbuilders facing the same problem before:
In many corners of our world, Christian ornaments are a common sight among cemeteries. Even in fantasy realms you can find a lot of crosses that mark places devoted to the dead. While these worlds don't actually introduce Christianity and their crosses make no sense whatsoever, they actually don't have to serve good storytelling, they just need to deliver quick message: hey, see this place? Dead bodies are here.
And, as shown on the picture above, there are other objects that work well with crosses on them. Shields, for example. A lot of knights had crosses on their shields, so why not try this?
After receiving this picture I had to ask for some alternative versions. Our setting has its unique religions, symbols, spiritual practices and beliefs. We want our realm to feel alive. We won't let such tiny details shatter the immersion that we're looking for.
Let's just hope these ideas won't backfire.
Feel free to share your thoughts and questions. See you next week! : )