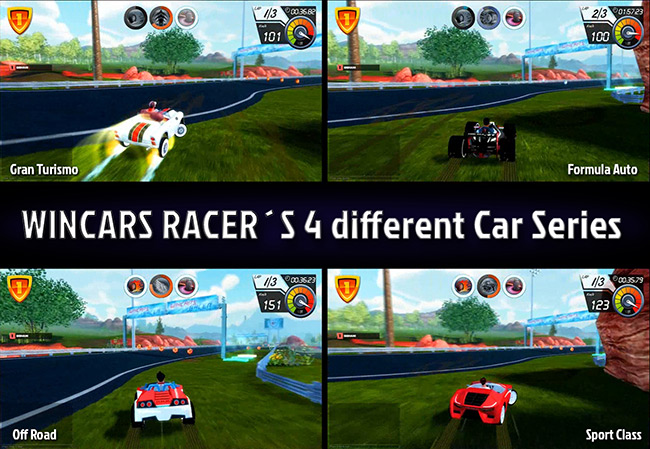 I hope you looking forward to knowing more details about the game because the truth is I'm bringing fresh news…
For those of you newcomers let me remind you that Wincars Racer introduces four car series: Formula Auto, Off Road, Gran Turismo and Sport Class. All of them with completely different behaviors allowing you to take advantage of your best driving skills in every circuit.
In the last months one of my most absorbing tasks has been cars parametrization and balance. Though there are a lot of things to do before we achieve a perfect balance concerning cars so that any of them has a good chance against all others, the point is... we got it!
Four different driving styles you may appreciate in the following video:
I would like to share with you some of the details about them, so... what about a small road trip to the heart of Wincars Racer?
Formula Auto
These cars will be especially suitable for competition circuits, with high speed and acceleration values. Their grip will allow total control, even at maximum speed or using turbo. On the other hand, they will be the hardest cars to drive, requiring players to know the circuit by heart and anticipate the turns in order to perform a perfect driving... But don't worry too much, we are an arcade game, so we promise they will never drift out of control!
Off Road
Opposite to Formula Auto we will have Off Road cars, born to drive on rally circuits but also adequate for countryside and non-principal roads. They will compensate their lower maximum speed with higher weights and a great turn performance, and even most important, they are our only four-wheel drive cars so they can perform amazing times unreachable for other cars in all sort of terrains.
Gran Turismo
What if you like the city streets, full of impossible turns? Let's make this point clear, then you need a turismo car. They will present medium speed and acceleration, but will be the easiest to handle. Their distinctive feature will be the drift, highly intuitive and easy to learn in order to achieve their best performance and take 180 degrees turns without a second of hesitation.
Sport Class
For those who want it all we have got the Sport Class series. With a maximum speed close to Formula Auto cars but able to take wide turns almost as Gran Turismo cars do. They happen to be the best cars for countryside races, usually alternating straight zones with fast turns, where they show their full potential.
So here's the million dollar question... which car series is better?
Up to this moment we have got 11 different cars, the first group of a list which will keep growing. All of them are included in one of these four series, and even cars belonging to the same series can behave slightly different.
Then... is there a proper answer to this question?
Here at the studio everyone has an opinion. But the truth is all of them are good. You only have to choose that car suiting your driving style for each circuit. And there is where Wincars Racer magic lies, every circuit can be played in many different ways, with different cars and drivers, and all of them are full of fun. For that's what we most want: You to have fun.
That's why we have prepared this scheme with all the cars and the series they belong to, so that you can start learning about them and choose your favorite ones.
Which car will be your first choice? Which one fits your driving style?... leave a comment and tell us!