Hey, November brought so many new stuff to Tabletopia, check it out!
Tabletopia Is Now Free-to-Play in Steam
Starting Nov 22, 9PM EST, Tabletopia became free-to-play on Steam. From now on you can join Tabletopia on Steam for free, as well as play most of the 300 games featured on the platform.

Moreover, we also introduce the in-app purchases that will be directly available in the Tabletopia Steam client. These purchases have replaced the subscriptions for Steam users in order to make Tabletopia more accessible to all players.

In-app purchases are basically short-term Premiums for a specified period of time: 3, 7, 14, or 30 days.

With any Premium purchase you get:
unlimited access to all games, expansions, and setups
ability to invite your friends outside Tabletopia or fellow players to any games for free, including premium games
up to 10 open games simultaneously
In-apps give more flexibility without any long-time commitment or recurring payments. The 3 and 7 days purchases are now on sale to celebrate the Free-to-Play release!
Note that the Early Access stage for the browser version still continues. You cannot create a free account in the browser. However, you can now create a free account in Steam and then access the browser version with your Steam credentials for free.

In a few weeks we plan to make the browser version free-to-play as well with subscritpion-based Premium access.
Why In-App Purchases in Steam?
We've switched from subscription to in-apps in Steam because we believe that in-app purchases is the optimal model that will satisfy both Steam players and our partner publishers.
Why it's good for players:
Get to try almost all featured games for free. Only less than 5% of our games are Premium only, most games are available to all users for free, even if with some limitations (fewer setups, no expansions). So with most games, you don't have to pay at all to try them. And with Premium, you fully unlock them all. We do not sell each game separately as DLCs because we believe that this approach would limit and narrow your experience with Tabletopia. We want you to explore and discover hundreds of board games, not just the ones you buy and download.


Choose when you want your Premium and for how long. You don't have to buy a whole month of access if you usually play just 2 or 3 times a month. With short-term plans you decide when you need your Premium and for how long. A weekend with friends or a two-week gaming vacation—you choose.


Support your favourite authors and publishers. By playing Premium games on Tabletopia, you directly support publishers and game designers. 70% of all revenue from such games go to them, and they can use this money to make and add more games. So, the more you play, the more games there will be to play
Why it's good for publishers:
Receive up to 70% revenue when users play their Premium games.
Are interested in adding more games if they see that it brings revenue.
Can develop, playtest, and demonstrate their games to anyone in the world and can be sure that their intellectual property is safe.
And the Tabletopia team can continue adding more awesome games and cool features while keeping the service quality at maximum level.
Lobby 2.0 is Now Live
We also just recently released the new game lobby on Tabletopia: crisp, friendly, more easy to handle, and with several new and updated features.

New and Revamped Features:
New design and look: Lobby 2.0 is more simple, friendly and easy to understand and manage.
Invite players: You can now invite not only your Tabletopia friends but also other users who have experience playing this game. Also, don't forget that you can invite people who don't have Tabletopia accounts: share the link/room number with them. It's free.
Game status: The process of gathering players for the game is now more clear.
Switch game: You can now switch to another game without even leaving the lobby! Hover the cursor over the game box and click Switch, then select a new game.
Private/public room: Making the room visible or invisible to other players in Find & Play is now also more intuitive. Private rooms are not shown in Find & Play.
Spectators: Players who enter the room but do not take seats, are displayed as Spectators.
Custom background (Premium): Premium users can change the background image of the rooms they create. Click the Settings icon to access this and other room settings.
More room settings: Allowing other players to invite players, manage game flow and seats, etc.
Appropriate setup: When switching the game, the system will select the setup most appropriate for the number of players in the room.
Further player statuses enhancements.
Further design tweaks, improvements, and some other features.
Officially 300 Games
In November we reached 300 games available to play on the platform! All of these games are brought to you directly from their designers or publishers. Some of the new additions to our catalog include: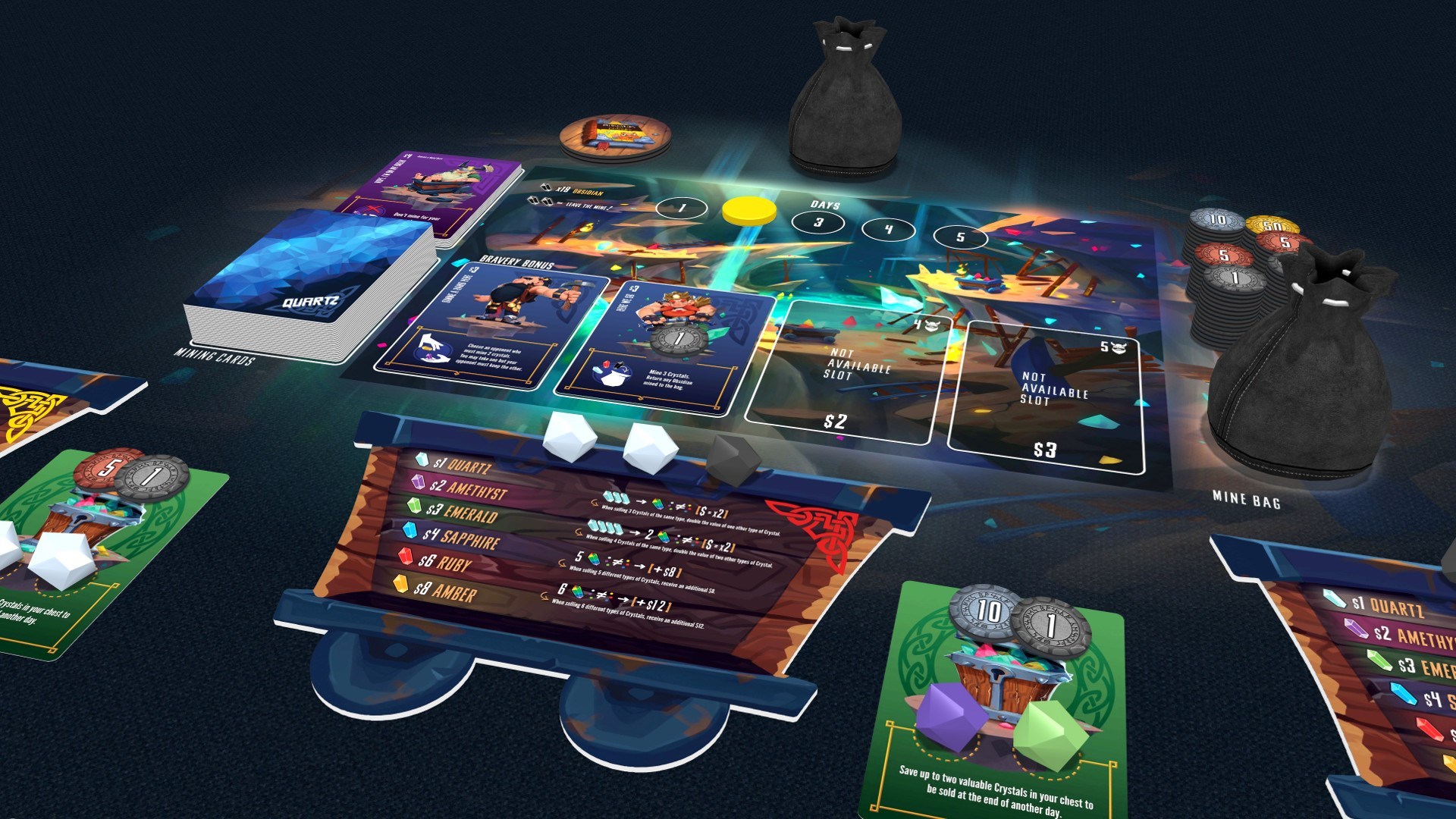 Quartz is fast and tense game of push-your-luck and risk management. Acting as dwarven miners, you'll explore a newly discovered mine for five days and try to secure the best crystals for yourself while keeping your "colleagues" at bay.
Robit Riddle is a co-operative story telling game for the whole family where no game master is needed. As one of six unique robot characters, you will set out for adventure to search for your missing pets, the Robits.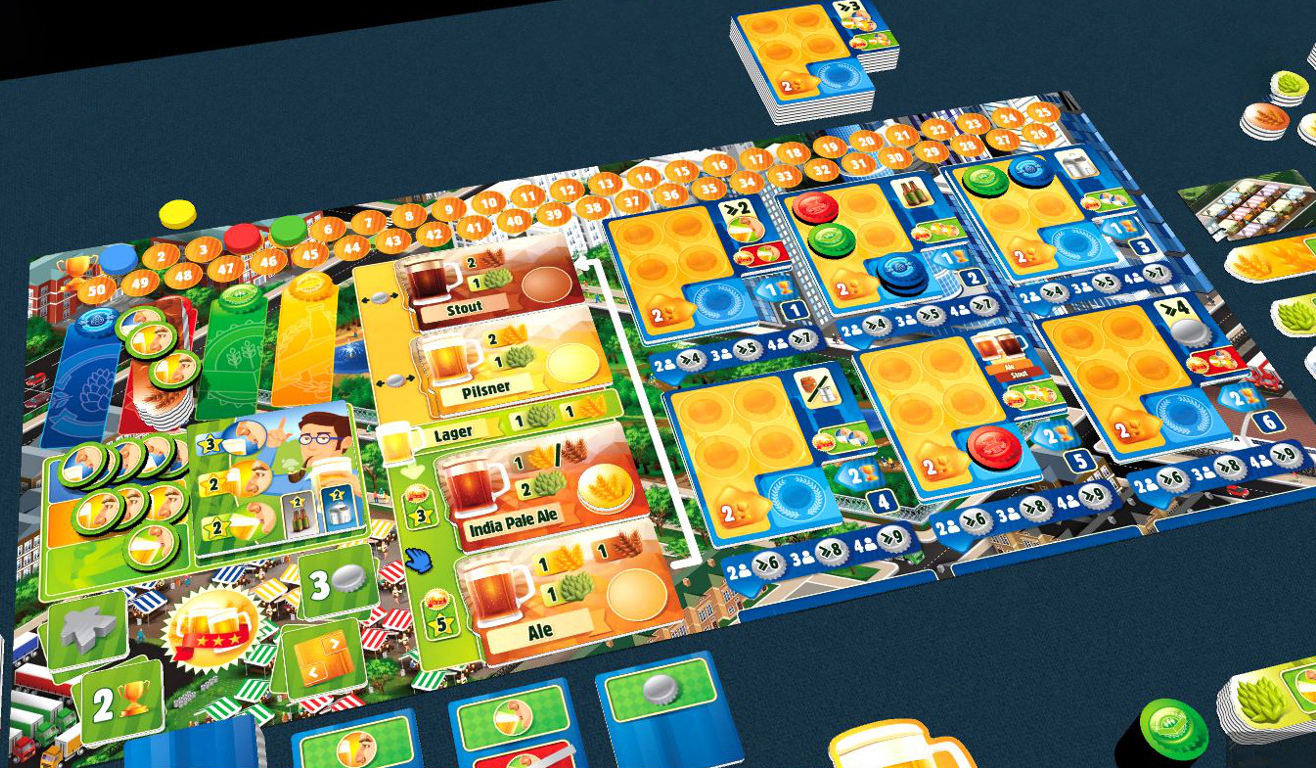 Beer Empire is a competition board game mainly based on a set-collection mechanism. As the owner of a brewery you will design your recipes by skillfully matching recipe ingredients, like light and dark malts, hops, etc., gain and use resources in order to brew the best beer of the festival.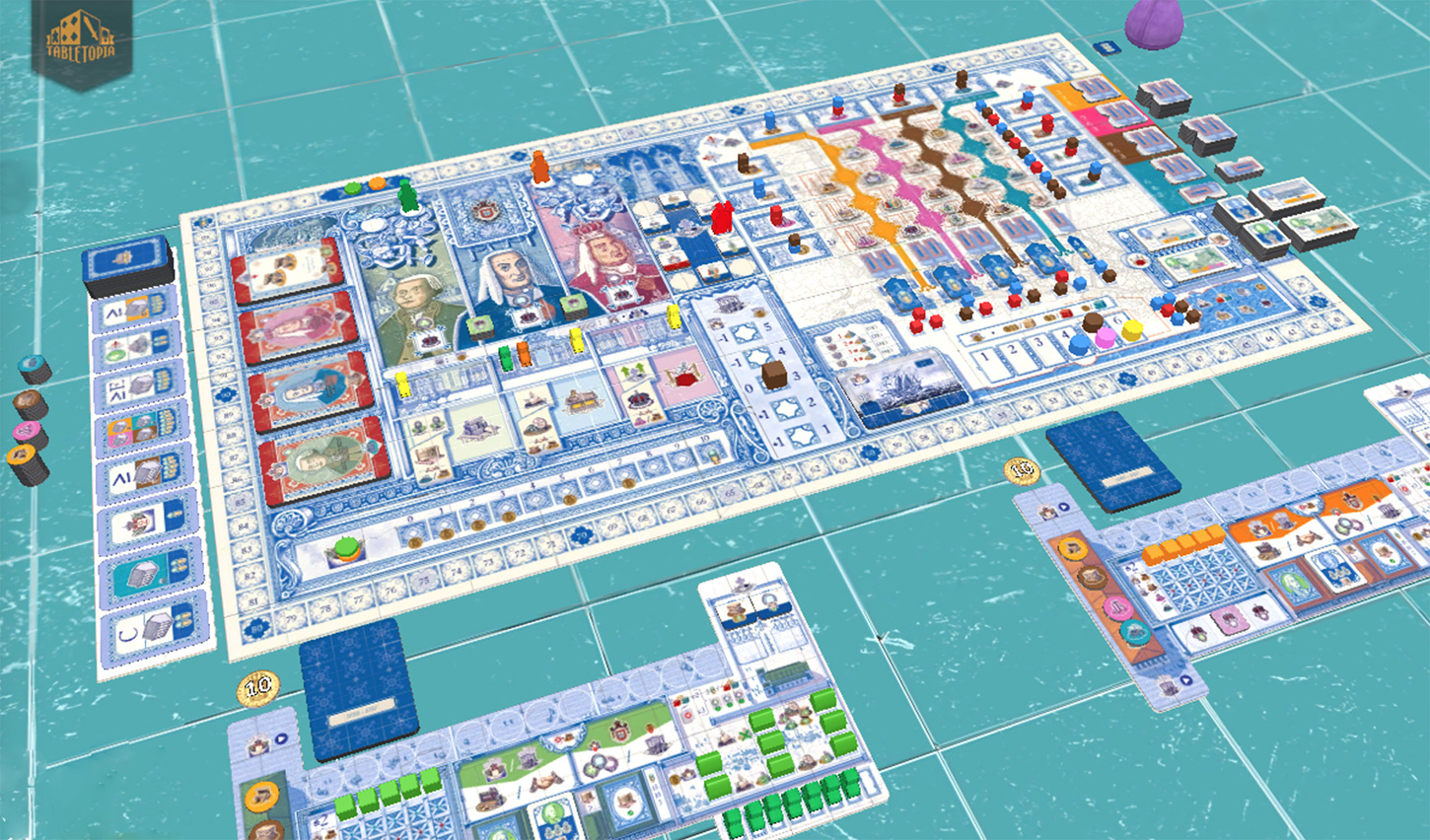 Lisboa is a city building and economic hevyweight eurogame by Vital Lacerda. As nobility members and architects you will use your influence in the reconstruction and business development of the new city of Lisbon after the great earthquake of 1755.
Warmonger is a deck-building direct interaction game that is available to play on Tabletopia only.
Happy gaming and see you at the table! And happy Thanksgiving!
Follow us:
Or install Tabletopia for free and start playing now on Steam.