We started a greenlight campaign for Syndrome on September 30th. It was approved on October 8th.
We're very happy with the overall experience: approval was fast, and a lot of folks got to know about the game.
So what exactly did we do?
1. Trailer
The best way to show the game is through video. Screenshots are good, but video is obviously the best media. We wanted to make a cool trailer that showed what the game was about, but without being too long so it didn't become boring.
After recording a lot of footage and rendering dozens of versions, we were happy with the trailer. It showed the environment of the game and the overall feeling that we want to convey – survival horror with some action, without turning the game into a first person shooter.
2. Concentrated PR
We used a PR agency (Evolve) to send the trailer, screenshots and game description to the press a couple of days earlier, so that the news would come out on the Greenlight launch day.
Our partner Bigmoon Entertainment (which is working on the console version) used another PR agency (Plan of Attack) to announce the game on the same day, on another region.
This brought a lot of attention to our Greenlight page. After 24 hours, we were ~45% to the top 100.
3. Social Media
It's obvious, but still worth noting. Social media is a powerful tool. We got a lot of traffic from Facebook and Twitter.
If your game / company already has a community, the exposure will be golden.
4. Steam Groups
There are thousands of Steam collections (game lists) focused on different game genres.
We searched for collections (Horror, Sci-fi, Survival, Greenlight) that could be interested in Syndrome, and sent them a small description and link to our Greenlight page.
Many of them were interested and added Syndrome to their collections, bringing more visitors to our page.
Did all this work?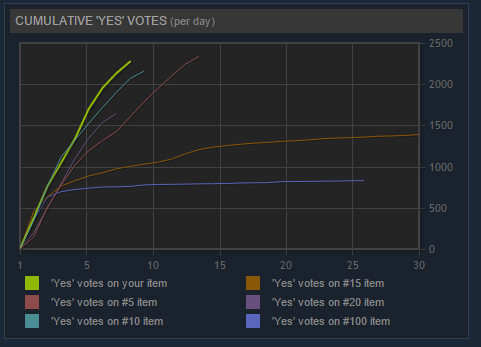 As you can see above, Syndrome did very well. We were getting more 'Yes' votes than the #5 and #10 items.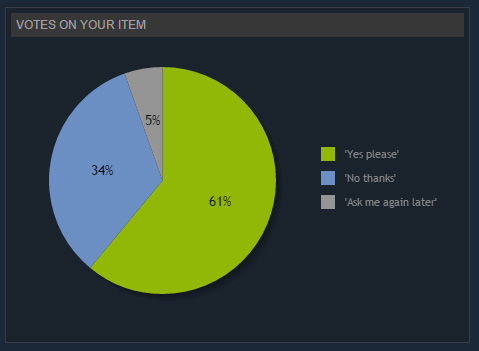 The 'Yes' / 'No' percentage was very good.
The average of the top 50 is currently (as I write this) at 32% 'Yes' / 68% 'No'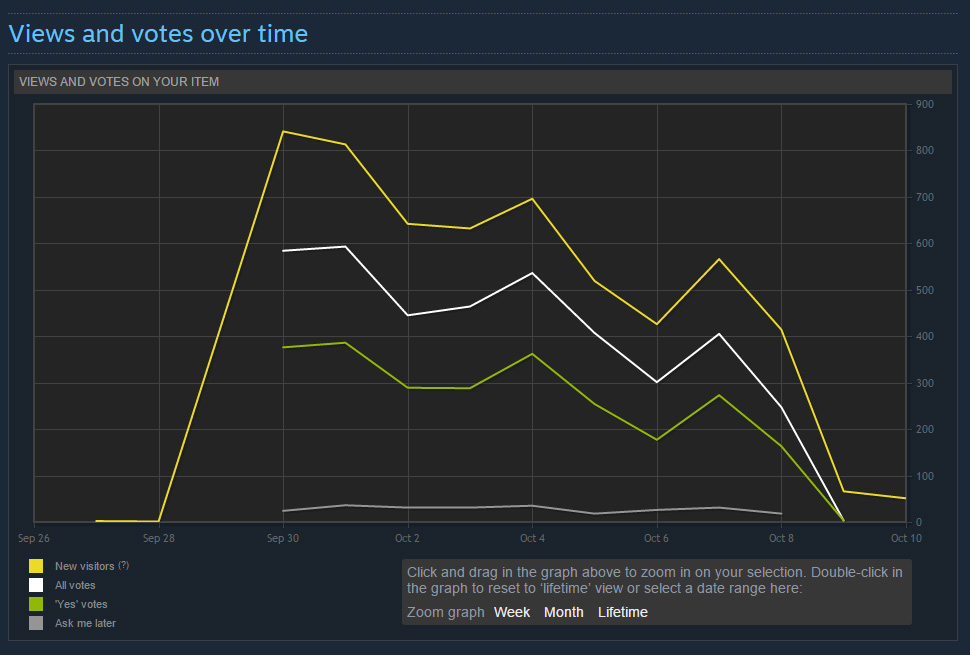 And here you can see the votes during the week. Notice the higher numbers on the first two days (PR announcements and Greenlight launch) and a slow decline in the following days. On October 4th we started contacting Steam collections, which brought more visitors to our page.
We were approved on October 8th, so the graphic drops there as there were no more votes.
Summing up, it all comes down to having a good presentation for your game (if possible, an awesome trailer), and letting people know that it exists.
But don't be a spammer, people hate spammers