Since the release of Symphony Quest last week we've noticed there is a lack of information available on the in game audio editor. To remedy this issue we're coming to you with a quick text overview and even a devspeak featuring our very own Tan Nguyen, Joshua Coote, and a brief appearance of Steven Little, all of the Symphony Quest development team.
The musical editor is a specialised tool within Symphony Quest that allows the player to customise their audio experience. The editor can be easily accessed once in game by clicking on the editor button at the bottom right of the screen. From here it is possible to select from 9 different instruments across 4 playable tracks. In addition you have the ability to manipulate each track with a few select variables.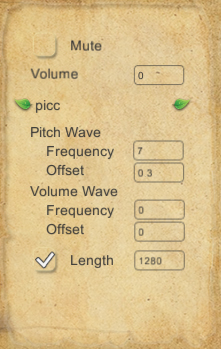 Mute – Fairly self-explanatory, ticking this box for a track will mute the selected track. If you find your music to chaotic it may be a good idea to mute a track to find a more suitable fit for your playing experience.

Volume – Another simple parameter, altering the volume of each track will change its audible level within the overall background track. Values between 0 – 1 are best to use.

Instrument Selection - The instrument selected for this track. To change the instruments simply click on the green leaf icons to each side to move between the available options.

Pitch Wave Frequency – Pitch Wave refers to the wave that determines the pitch, and the frequency of that refers to the how many waves per bar of music.

Pitch Wave Offset – This value determines the offset of the wave. In other words how far along the wave it will start playing. 0 is no offset.

Volume Wave Frequency – The frequency of the wave that determines the volume over time. Higher frequency waves will make the volume changes throughout a bar of music more erratic.

Volume Wave Offset – The offset of the wave similar to the Pitch Wave offset. 0 is no offset.

Length – Refers to the length of the track before it starts looping. A value of 100 corresponds to 100 beats before it restarts.
Play around with the audio editor and share with us those amazing tunes that you make!