- - - - - - - - - - - - - - - - - - - - - - - - - - - - - - - - - - - - - - - - -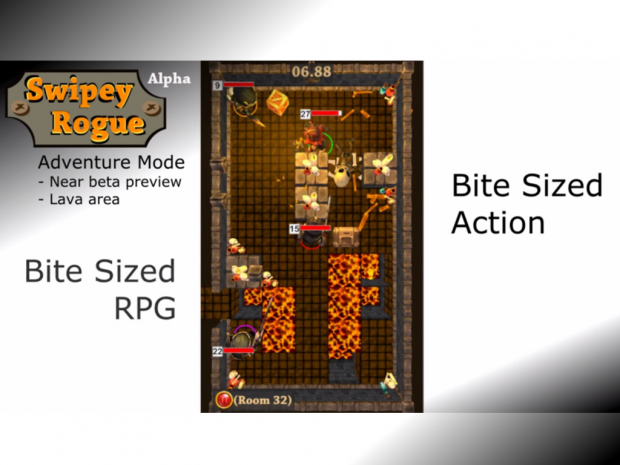 Current Development Logs:

Devlog 1 - Introduction
Devlog 2 - Video Update & New Dungeon Tile
Devlog 3 - Props & Loot
Devlog 4 - Composer, Progression & Videos
Devlog 5 - 2D Art Overhaul Begins
Devlog 6 - Video, New Enemies, 50 levels!
Devlog 7 - Video, Stats & Accomplishments
Devlog 8 - Heavy Construction
Devlog 9 - Road to Beta
Devlog 10 - In-Game Shop & Menus
Devlog 11 - Services & UI Progress
Devlog 12 - Beta!
Devlog 13 - Frozen Area Preview
Devlog 14 - HUD Finalization
Devlog 15 - Gadget Area Preview
Devlog 16 - Magic Area Preview
Devlog 17 - "Free Running" Mode
Devlog 18 - Rank-Up & Perks
Devlog 19 - Full Soundtrack
Devlog 20 - Free Running Polish
Devlog 21 - Finishing Up
Devlog 22 - Last Additions
Devlog 23 - iOS Submission
Devlog 24 - Prize Codes
Devlog 25 - Making a Press Kit

Devlog 9 - Road to Beta:
Swipey Rogue is quickly approaching beta. In this week's update I share a video capture to show of the new vfx and sfx and share a bit of behind the scenes work on both.
Near Beta - Gamplay Preview (device capture)
1 Minute Near Beta Lava World Gameplay Preview (HD Capture + Stereo Sound)
SFX Progress
I've completed the base pass of all sfx. This includes all sfx that are globally used (menus, and across all mine areas). Here's a quick rundown of some of the behind the scenes work creating the assets and SFX manager.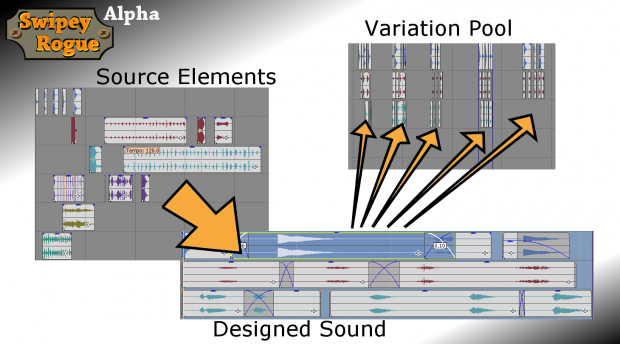 I collect and sort a variety of sound elements that I use for designing complex sounds like combat loops. Each combat loop contains enemy grunts, player grunts, sword clashes and whips. I create a pool of variations for each sound event type (enemy combat, wood crate whacking & smashing, metal crate whacking & smashing, coin collecting, etc).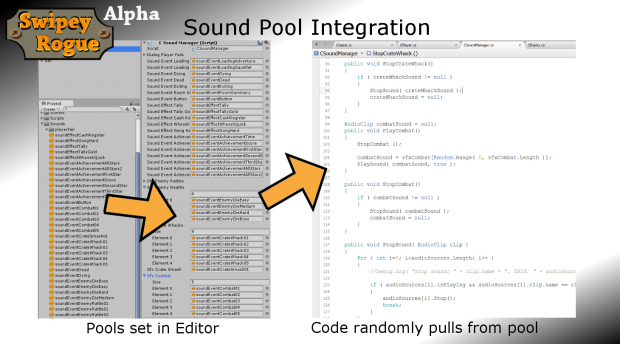 I expose arrays for each sound event type and populate them in the editor. When the game is running, the sound manager pulls a random sound from the appropriate sound event list to play. I try to make variations of basic sound events that you hear over and over to help keep the game fresh even if you barely notice. I like to try to add little polish like this if I can.
VFX Progress
I've completed the vfx that are needed for the Lava Area. The fireball turret has long been needing a muzzle flash, and the fireballs themselves have long needed an explosion on impact.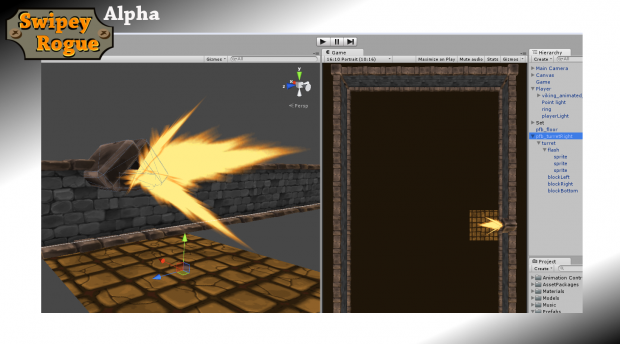 Muzzle flash on the turret is 3 sprites attached to a root node at the 'muzzle' location. On fire, I rotate it randomly so it doesn't look the same every time, then make it visible. It immediately starts fading and turns off when it is under a visible threshold.
(top is gameplay view, bottom is perspective view in editor)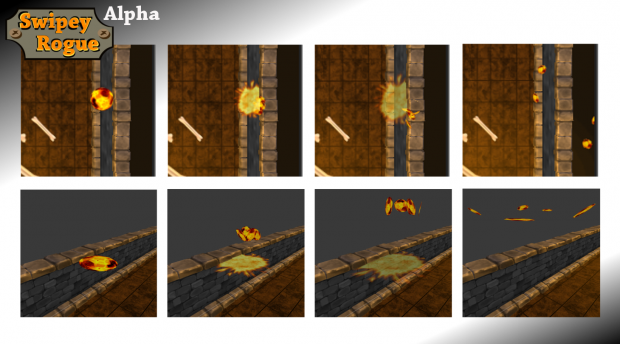 The fireball impact splash is a combination of 2 element types. A single sprite that I spawn at the fireball's location that scales and fades, and a collection of small sprites that I "toss" in the air and delete when they hit the ground. It's not very flashy. I didn't want to distract the player too much. The fireball just needed some impact feedback to explain why it disappeared and I didn't want to use particle systems for performance reasons.
iOS Development
Building the project on Mac and running on iOS
I have the new Apple Test Flight set up and the External Tester list is ready for additions. I will add a few small groups of people in waves. Contact me by PM or reply here if you're interested in helping out (mostly helping with coming up with good speedrun challenge times, need lots of people's input on that to make them challenging but fun).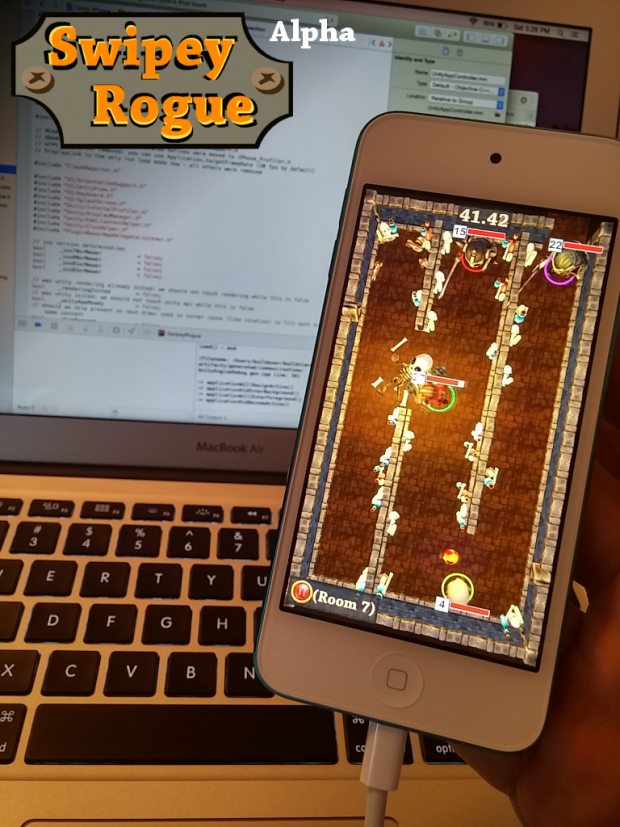 Thanks
As always, thanks for tuning in. The project is at that stage where many small tasks take up a lot of time and don't show as much progress as in the beginning. It's the time to buckle down and find motivation in small victories and watch the big picture come into place. Well, that's what I tell myself anyway. ;-P
- - - - - - - - - - - - - - - - - - - - - - - - - - - - - - - - - - - - - - - - -