- - - - - - - - - - - - - - - - - - - - - - - - - - - - - - - - - - - - - - - - -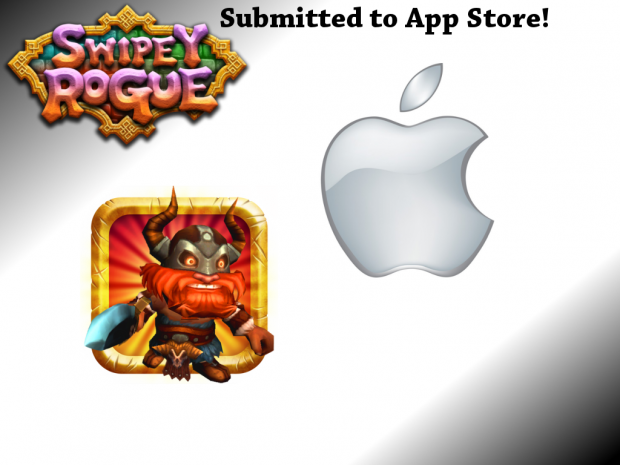 Current Development Logs:
Devlog 1 - Introduction
Devlog 2 - Video Update & New Dungeon Tile
Devlog 3 - Props & Loot
Devlog 4 - Composer, Progression & Videos
Devlog 5 - 2D Art Overhaul Begins
Devlog 6 - Video, New Enemies, 50 levels!
Devlog 7 - Video, Stats & Accomplishments
Devlog 8 - Heavy Construction
Devlog 9 - Road to Beta
Devlog 10 - In-Game Shop & Menus
Devlog 11 - Services & UI Progress
Devlog 12 - Beta!
Devlog 13 - Frozen Area Preview
Devlog 14 - HUD Finalization
Devlog 15 - Gadget Area Preview
Devlog 16 - Magic Area Preview
Devlog 17 - "Free Running" Mode
Devlog 18 - Rank-Up & Perks
Devlog 19 - Full Soundtrack
Devlog 20 - Free Running Polish
Devlog 21 - Finishing Up
Devlog 22 - Last Additions
Devlog 23 - iOS Submission
Devlog 24 - Prize Codes
Devlog 25 - Making a Press Kit
Devlog 23 - iOS Submission!
I submitted Swipey Rogue for review to the App Store this morning! It feels nice to let go of it! I was hoping to submit a week and a half ago, but I found some issues and there were still a bunch of little things that were nagging at me. I addressed all the issues and snuck in some extra polish where I could.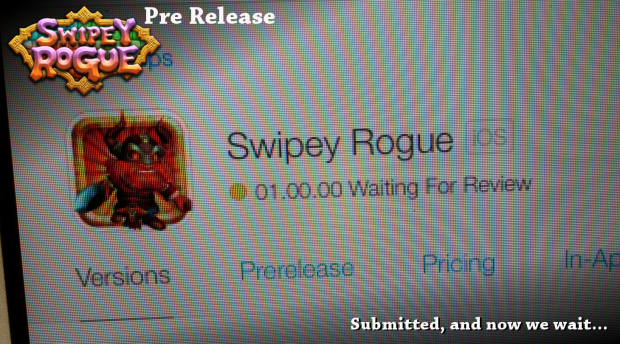 I spent a whole day putting together all the screenshot assets (in all the different dimensions) needed to fill out the store page. It was fun.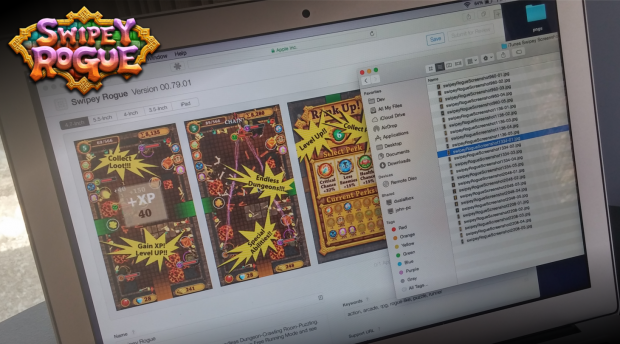 I'm pretty sure I've filled out every single part of all of the forms and agreed to all of the various agreements. *phew* Hopefully it will all become routine after I do it a few times.
Advertising Service Integration
I decided to use multiple services and a mediator to manage them. I had already integrated Unity Ads so, at first, I just planned to add Chartboost to pick up the slack. Since the Chartboost integration went so smoothly, it gave me courage to try a mediator. I picked Heyzap because they also offer ads, so by integrating them I get 3 services and mediation. I still only have interstitial video ads (which the player can pay to remove), and reward video ads. There are no banners or interstitial still ads. We'll see how it goes. It was a learning process. I've integrated a few ad services into 2 mobile games before Swipey Rogue so I wasn't going into it completely blind. Still, it's a huge topic and I'm no expert.
Last Last Minute Polish
While fixing a bugs related to the advertising service integration work I was doing, I put a little bit of time into adding some extra pizazz and animated movement to the menu events. I wanted to make the prize minigame more satisfying, and I wanted to emphasize that beating challenges in Challenge Saga gives you gems. Here's a couple work in progress shots I took while I was developing.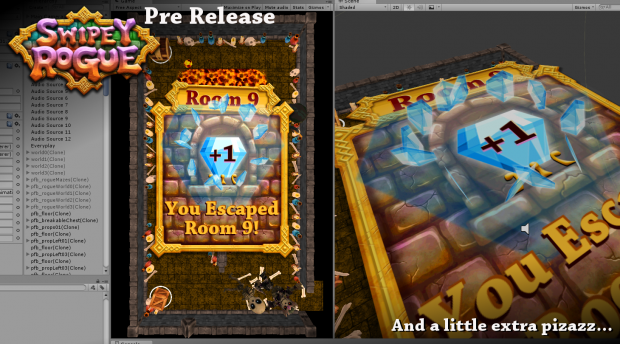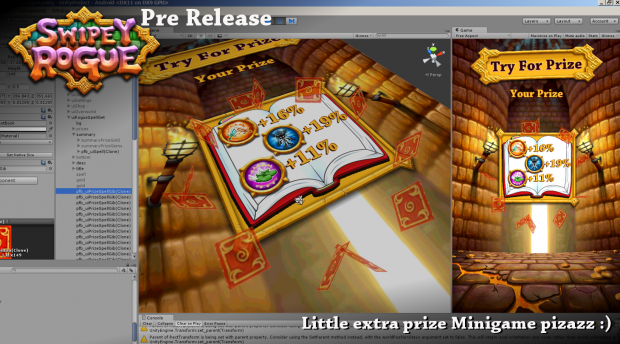 Promo Video Work
I have only made development videos so far (devlog type of stuff). I need to make some proper marketing / promotional videos next. Right now, I'm working on getting the Android leaderboards and achievements working so that version is ready. When that's sorted I'm going to make some trailers.

I've started experimenting with short clips on Vine that I can share on twitter. Here's a look at them. I'm going to use a similar technique to do the proper full promo trailers.
Thanks!
Thanks again for having a look at the progress on the game. Things finally feel like they're wrapping up. I'm going to dive into Google Play services this afternoon. I hope I can get that stuff sorted quickly because I would love to release the iOS and Android versions at the same time. After that, I'll be looking into a web version (I may try itch.io or gamejolt) that can be played on any browser.
- - - - - - - - - - - - - - - - - - - - - - - - - - - - - - - - - - - - - - - - -