- - - - - - - - - - - - - - - - - - - - - - - - - - - - - - - - - - - - - - - - -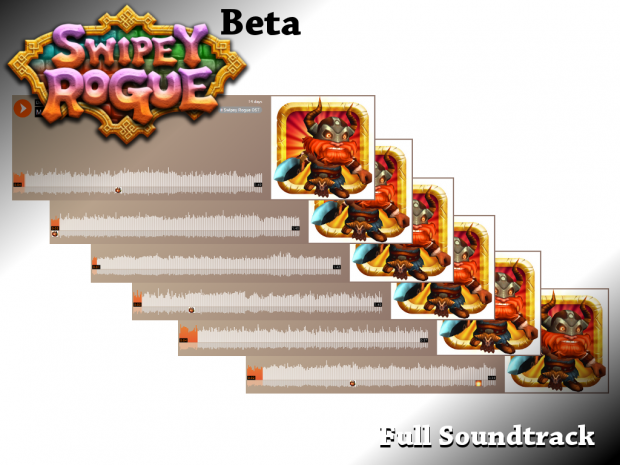 Current Development Logs:
Devlog 1 - Introduction
Devlog 2 - Video Update & New Dungeon Tile
Devlog 3 - Props & Loot
Devlog 4 - Composer, Progression & Videos
Devlog 5 - 2D Art Overhaul Begins
Devlog 6 - Video, New Enemies, 50 levels!
Devlog 7 - Video, Stats & Accomplishments
Devlog 8 - Heavy Construction
Devlog 9 - Road to Beta
Devlog 10 - In-Game Shop & Menus
Devlog 11 - Services & UI Progress
Devlog 12 - Beta!
Devlog 13 - Frozen Area Preview
Devlog 14 - HUD Finalization
Devlog 15 - Gadget Area Preview
Devlog 16 - Magic Area Preview
Devlog 17 - "Free Running" Mode
Devlog 18 - Rank-Up & Perks
Devlog 19 - Full Soundtrack
Devlog 20 - Free Running Polish
Devlog 21 - Finishing Up
Devlog 22 - Last Additions
Devlog 23 - iOS Submission
Devlog 24 - Prize Codes
Devlog 25 - Making a Press Kit
Devlog 19 - Full Soundtrack:
With almost all of the assets now completed, Swipey Rogue is very near completion. Some hardware problems are holding up the final art from getting created (perk icons), but in the meantime, I'm completing all the remaining little features to get this open beta / press build ready to distribute.
So, it seemed like a great time to share all the music that has been created by Declan Bell for the game. Be sure to check out his soundcloud. I was fortunate to work with Declan. The project got much more than just a contract composer. He participated in game design, game review, and game testing thoroughly since the beginning of the project offering many great ideas and catching lots of bugs and issues.
Main Theme and Interlude:
This is the main theme of the game. It plays in the front end menus. I wanted something that hinted at rollicking adventure with a touch of epic and some hints of humor. Declan nailed it very early on so it has been nice to be able to listen to this throughout development.
Molten Area Theme:
This was the first of the themed areas to get it's own soundtrack. We wanted something that really brought out the humor and tension. This one was the start of it all, before there even were other areas in the world.
Gadget Area Theme:
The Gadget Area is full of mechanical devices. I wanted something that would seem appropriate to a Rube Goldberg kind of setting. Again, Declan nailed it on this one. It really brings out the humor and "madcap hijinks" that the game setting creates. It was important for me for there to be a lot of humor in the musical themes. The game is intentionally hard and you die a lot while playing. The humorous hints in the musical themes help keep the vibe light and easy. It also brings the player in on the joke.
Frozen Area Theme:
In the Frozen Area, you lose 1 health per second. This area is definitely meant to be "hard mode". I wanted a musical theme that invoked more tension than the other areas and a feeling of bleak loneliness. Once again, Declan found the perfect sound to match the setting and gameplay in this area.
Magic Area Theme:
The Magic Area needed to have that "magical" feel. Declan immediately began brainstorming "magical" sounding instruments and came up with this theme. It matched that gameplay and aesthetic of the area perfectly. Each area's theme quickly became my favorite each time a new one came online. I think the Magic area has remained my favorite, but it's a close tie with the Gadget area. I like them all really.
Thanks!:
And again, many thanks for dropping in and visiting to see how I'm doing. The delays with the hardware issues that my contract artist Anthony is facing is unfortunate, but that's the way things go. I'm happy to have the little extra time to get some extra polish and finish up some more challenge room designs. I'll post up soon when I'm looking for beta testers.
- - - - - - - - - - - - - - - - - - - - - - - - - - - - - - - - - - - - - - - - -