Version 1.5 is Released!
After being in development and beta testing for more than 3 months, Back To Los Angeles version 1.5 has finally arrived. This version took more than expected due to a lot of changes and quality of life improvements that have been taken into consideration for this version. This version couldn't be possible without the help of all the people on Discord who helped me out to test all the new additions and changes, so big thanks to them! Anyway, back to the important stuff.
Gameplay
SWAT 4 has always been an arcady game; guns weren't nearly as lethal as they should, ammo types felt janky most of the times and the whole gameplay just didn't felt as a realistic CQB simulator. First and foremost, Ballistics have recieved an overhaul. Ammo types, muzzle velocities, ricocheting, weight... everything has been revamped to ensure a more accurate representation of ballistics and their lethal aspect. Every kind of ammo now has a purpose, different types of ammo may work better on different situations. You will notice that gunplay has become a much tougher experience: You go down easier, they go down easier. Armor now is a critical aspect of your loadout. A few new ammo types have been added to complete this new system:
Hollow Point Rifled Slugs: Perfect for non armored bad guys
5.56x45mm Mk 262: Perfect for the Colt Accurized Rifle
Introduction of JHP, JSP and AP rounds for the Tec-9
M249 SAW now has JHP and AP rounds available to the player (and also for the bad guys)
Movement Speed has been slowed down, compared to previous versions. Now the game feels much more smooth, as an attempt to improve room clearance and the CQB feel in general. To achieve this, sidestep and backstep speed has been improved. Remember how these kind of movements made you incredibly slow and vulnerable? No more. Gun handling has been improved too, especially pistols. Pistols used to be incredibly inaccurate, they couldn't even achieve a proper 3" Group at 20 feet, despite being known for being accurate pistols in real life, such as the Kimber Custom. Equipping speed has been reworked too, now the bulk and weight of the gun is taken into account, meaning that pistols are usually deployed a lot faster than rifles, and a large etcetera.
And lastly, enemy archetypes have been taken up a step further. Not only they have a lot of variety in guns, now they can have different personalities and some other cool features. Firstly, they can retrieve whatever gun they have close to them if you fail to cuff them in time, a broken feature in SWAT: Elite Force version 7.0, which affected the overall gameplay. A nice feature introduced in SEF was the different traits certain suspects could have: Insane and Polite. I wanted to explore different scenarios on where these traits would made sense, based on the whole plot of the different missions the game has, and i'm glad to say that this adds a bit of spice to the whole feel of the game, and immersion. Another interesting feature is one that affects the wandering chance of suspects. I wanted to explore this aswell, to keep the player on edge.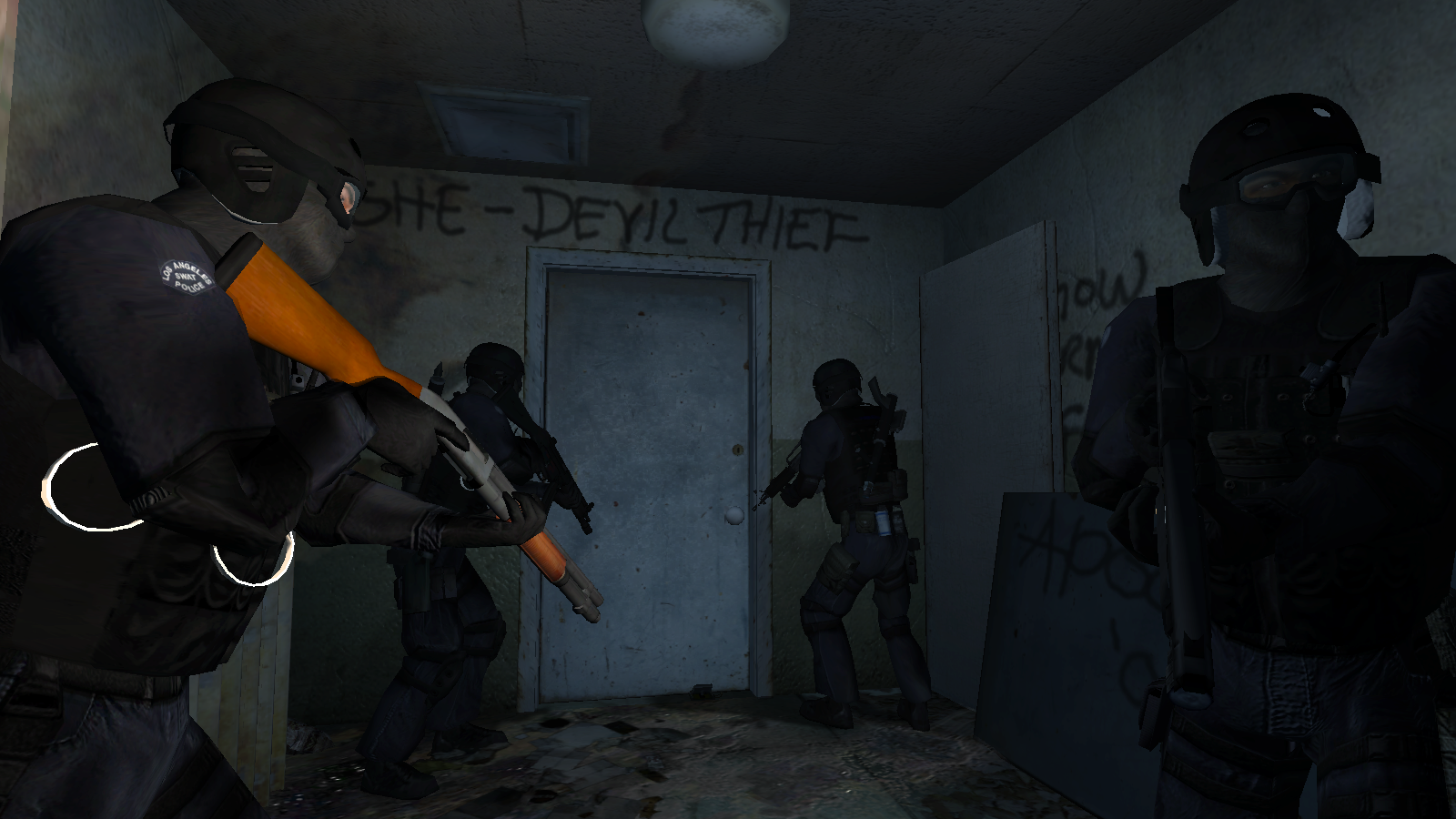 Multiplayer
Multiplayer has always been one of the most important aspects of Back To Los Angeles, this version has taken the experience up one step further compared to other versions. First and foremost, new voicelines and commands have been added to improve the overall teamwork and communication. One cool detail on this version is that Multiplayer voicelines have recieved a clean up (No radio static anymore), taken from one of the original SWAT 4 betas, this aim to improve the overall feel of the game. And lastly, new Multiplayer skins have been to allow greater customization: 7 new skins, some of them even with two variants have been added, with a nice atention to detail to fit with the mod's setting.
Gear
One of the first new additions of Back To Los Angeles v1.5 was the introduction of fully custom high poly models for most of the guns, first seen on the First Responders mod. Roughly 70% of the guns have recieved a complete face lift, including Aimpoint and Suppressed variants. A few new guns have been introduced on this version:
Colt M16A2 + Suppressed Variant.
Remington 870 Police Magnum + Pistol Grip Variant + Express Variant.
H&K G3KA4 + Aimpoint Variant + Suppressed Variant + Aimpoint/Suppressed Variant.
Beretta 92FS + Suppressed Variant.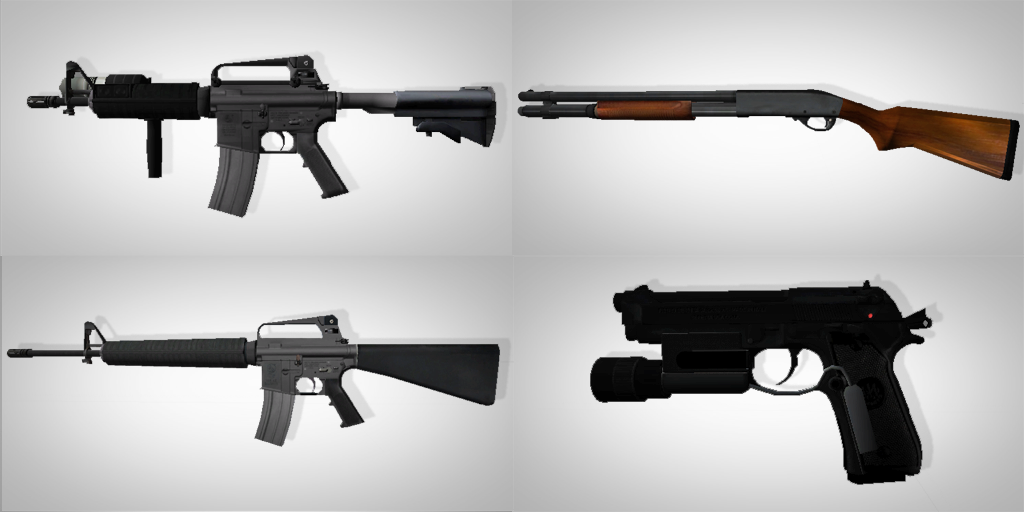 And some gear has been improved aswell:
New PASGT model with 6 variants: Glasses, Goggles, Gas Mask (Fernez, GP5 and S10), Face Shield
New Pro-Tec model with 3 variants: Glasses, Goggles and NVG's.
New models for most guns (Variants included): M4A1, G36K, MP5A4, MP5KA4 and MP5SD5, UMP45, Benelli Nova and Benelli M4, M1911, Glock, M16A1, Colt CR6720.
Most vanilla gun models have recieved a small facelift to make them look better.
Miscellaneous
Sound has been overhauled again. Gun sounds now sound much more clean than before (No atmospheric sounds), this not only adds to the whole feel of the game, it also improves gameplay, allowing the player to hear all the surrounding sounds better. New reload sounds, shell casings, footsteps bullet hit sounds and a large etcetera have been added too. You can now run while aiming down the sights, for better "slicing the pie."
Closure
This is only a small summary of the numerous changes v1.5 has. You can always check the changelog provided on the mod's folder. Also i recommend to stay tuned for the mod's GitHub page, if you want to follow every new change or downlaod the source code. Don't forget to join the official Discord server, a lot of stuff happens there, including beta releases of future versions of the mod. I'm always looking for testers so make sure to apply there if you are interested.
Thanks to all the people that has helped me out to improve and test version 1.5, these have been some intense months... It means a lot to me. I'm always motivated and love to develop this small mod that is growing bigger every day. Again, THANKS TO ALL.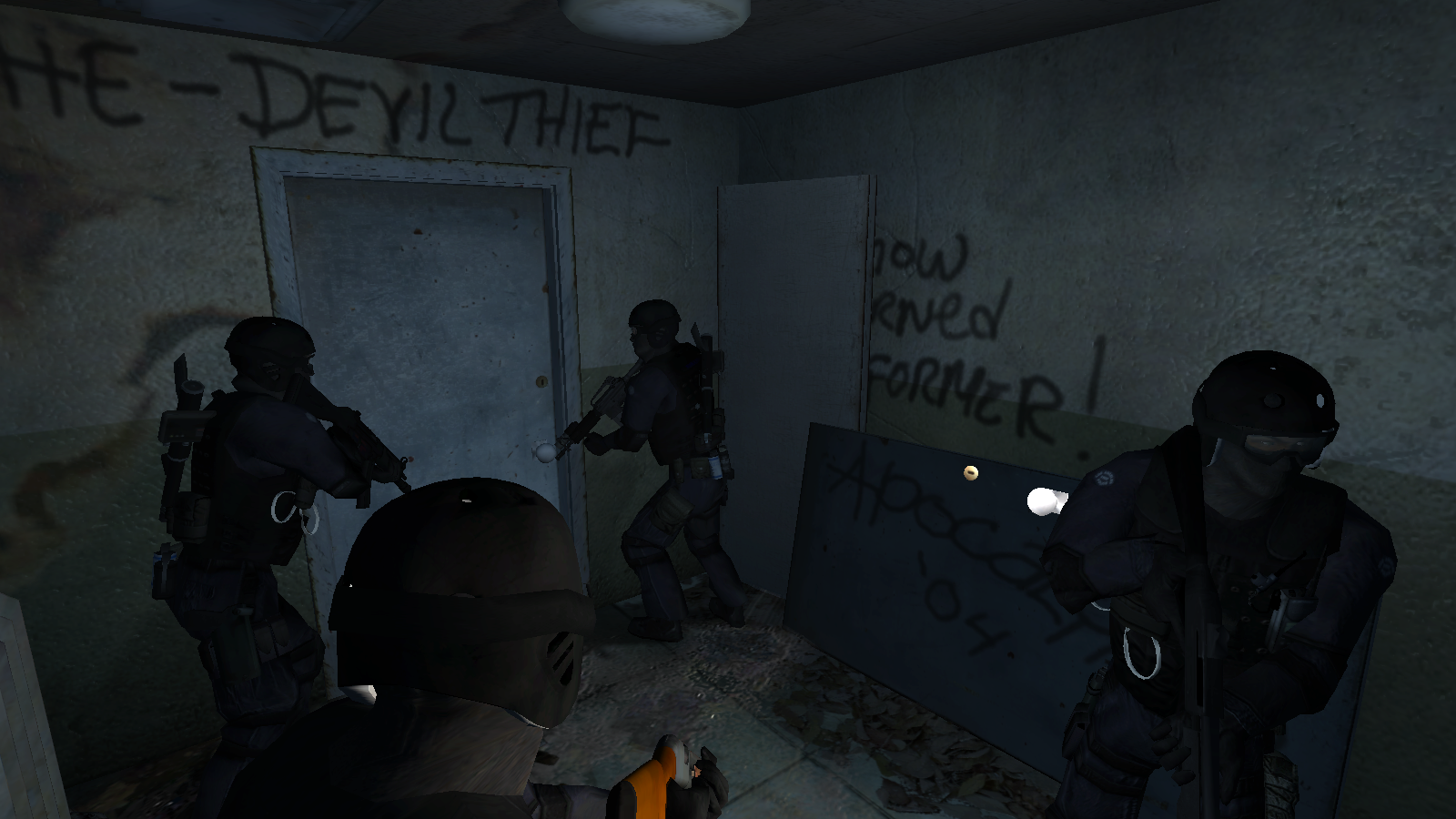 Special thanks to:
S4
Doge
Beppe
Sphee
Rukrim
Ryker
The Suggester
Mantas