Mod introduction
Hello SWAT 4 folks!
I have recently started playing SWAT 4 game again and I must say I'm still enjoying it a lot, mostly thanks to its tactical style of gameplay. Still, I thought it would not be bad if some of the textures used in the game would receive a bit of retouch. After all, the game is now 10 years old already. As I could not find any overall graphics-focused mod for SWAT 4 game and because I had a bit more free time this winter, I decided to fiddle with some of the game textures by myself...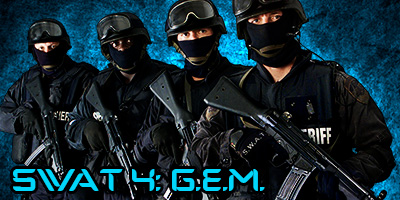 This mod was never intended to be any ambitious project, it's mainly an enhancement to the existing original graphics. I simply wanted to use my winter free time and give some of textures a bit of retouch before the spring comes and I'll be living without a computer enjoying outdoor activities again. As the scope of this mod had to be limited to winter-time only, the goal for this mod was focused on changing just and only texture files. There are NO new 3D models, weapons, persons, maps, interface or gameplay changes included in this mod at all. All changes are done only to the textures. This gives it one nice benefit - a maximized compatibility with the other gameplay-focused mods allowing you to enjoy both types of mods simultaneously.
The mod is almost complete now, so it's set for release already in March or April 2015. Until then, I will publish several articles describing and showing you details of this mod. Let's start with the first one - the SWAT team itself.
SWAT team members
As you surely know, Reynolds, Girard, Fields and Jackson as your SWAT team-mates are following you to every mission and as such are always closest to you. That's why their textures were also the first graphics I modified in the game, both for visual and functional enhancement.
For the visual improvement, I have replaced facial textures of all SWAT team members with hi-res textures, so you'll be able to recognize more details on their faces now. As for the functional improvement, I always found blue team vs. red team recognition unnecessarily challenging as their uniforms are simply too similar to recognize them at a glance. I wanted to be able to distinguish these two teams more easily while keeping their uniforms faithful to the real-life SWAT uniforms.
Officer Jackson (before & after) // Blue and Red team uniforms
Talking about police...
SWAT 4 missions are taking place in the streets and houses of New York City, so while we are talking about police units here, let's take a look at their cars too. I did some research I found out that despite resembling NYPD forces, their cars in the game are actually not depicting NYPD cars very accurately. So I decided to change those too.
Remember, this mod does not include any new 3D meshes. All changes are done only on a level of textures. And with sometimes very bad UV mapping used in the game's 3D models, it was not always possible to be 100% accurate with texture modifications, especially when it came to cars. Still, I tried to take maximum output even from these limited options and despite all technical obstacles, I eventually managed to make the police cars look more like their real-life counterparts. And when I was in a process of modifying police cars, I slightly enhanced also textures of the other regular cars in the game too.