If you are interested in playing the game you can download it here:

---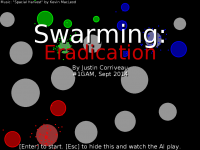 Swarming: Eradication

started out as a OneGameAMonth project, but after I "finished" the game at the end of September I decided that I enjoyed working on it so much that I should continue development. There are many improvements that I feel the game needs before it can be considered finished. Several major improvements have already made it into the current release since the 1GAM release, and there are more to come. Here's a list of the sort of things I have planned.
Upcoming Features and Changes:
- The ability to choose your color.
This isn't a big deal, but I still think it will be a nice thing to have.
- Mouse controlled menu.
It's a really bad design decision to have a keyboard controlled main menu in a game that is entirely mouse controlled. The only reason I went with a keyboard controlled menu for the first release was because it was quick to implement.
- The ability to select the number of opponents for the match.
I will likely cap it at 3 or 5 opponents, depending on how the game performs.
- The ability to choose the number of planets in the match.
The current matches have 30 planets. I'd like to allow matches to have up to 100 planets at least. I don't want the matches to get too big because it will become increasingly difficult to keep track of what is happening without a minimap. And I really don't want to implement a minimap.
- Improved feedback for unit selection and moving.
Right now when you are dragging units from one planet to another it can be difficult to tell if your cursor is touching the planet, especially when the planet is small and covered with a swarm of enemies. I would like to add some way of indicating that you are about to send units to the planet, and maybe even have some destination indicators for the units.
- More sound effects.
This one is in the same category as the previous bullet point. While I don't plan on adding any sound effects for space battles (there's no sound in space), I would like some sound effects for planet captures and losses, warning sirens for impending attacks, and other things.
- Various aesthetic and visibility improvements.
There are too many small things to list, and some of them are the sort of things you will only notice if you've spend 100 hours working on the game and play-testing like I have.
This is everything I currently have planned. There might be things that I have forgotten, and I'm sure there will be other things that I will come up with later. I'm also interested in any ideas you have, so I encourage you to leave any ideas or feedback in a comment.
Support This Game!
If you like how the game is turning out so far, the best thing you can do for it is to show your support right here, or on the game's GameJolt page.